Grab your copy of these drawing prompts for October 2020! Get into the fall and Halloween spirit by doing a drawing a day challenge.
These simple drawing prompts for kids, and adults alike, are the perfect way to be creative each day of October.
Drawing prompts foster creativity and encourage your kids to make art that they can share with family and friends. The drawing prompts provided are for beginners and advanced artists. Everyone can enjoy these drawing prompts.
Start your October festivities this year by planning to do a drawing a day with these drawing prompts.
Drawing Prompts October 2020
Available to you are 31 days of drawing prompts. Do a drawing a day, or draw as often as you'd like.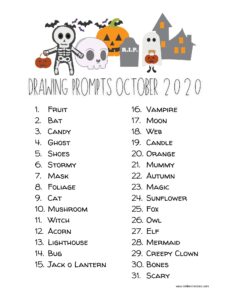 Download the October drawing prompts and print on 8.5" x 11" paper. Print on normal copy paper. You can download the file as a PDF or a JPG.
The drawing prompts include prompts related to fall and Halloween themes, and include:
Fruit
Bat
Candy
Ghost
Shoes
Stormy
Mask
Foliage
Cat
Mushroom
Witch
Acorn
Lighthouse
Bug
Jack o Lantern
Vampire
Moon
Web
Candle
Orange
Mummy
Autumn
Magic
Sunflower
Fox
Owl
Elf
Mermaid
Creepy Clown
Bones
Scary
You can combine themes to draw a vampire playing in fall leaves, a spooky mushroom, or an orange mummy. 
Using your Drawing Prompts for October 2020
My children love to draw and color. I buy them craft supplies from the local dollar store and I will ask for craft supplies as gifts for their birthday and other holiday's. 
You can get budget friendly materials from any dollar store in your area.
My favorite things to buy are colored construction paper, coloring books, crayons, colored pencils, glitter glue, and any other deeply discounted items I can find to replenish their craft supplies.
With Halloween around the corner, you can get lots of Halloween and fall themed items on sale at places like Michael's craft store or Target. They have one dollar aisles, and I have found tons of amazing holiday craft supplies from these stores.
You can use your drawing prompts to do a drawing a day or even a craft a day using the prompt.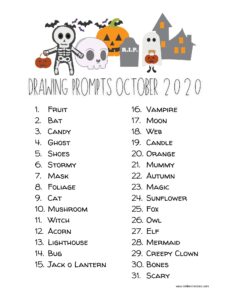 These easy drawing prompts will provide you and your family a lot of fun during the month of October!
Related Posts:
Other Ideas for your Drawing Prompts October 2020
There are so many ways to use your drawing prompts. Doing a drawing a day is only one way to enjoy them.
Other ways you can use your prompts for October 2020 are:
Mixed Media Drawing Craft
Scavenger Hunt
Drawing Competition 
Mixed Media Drawing Craft
I was thinking about crafts that I could do with my children the other day, and as I was looking through their craft supply box it hit me – mixed media drawing crafts!
When I do mixed media drawing crafts, I like to use different kinds of paper and old magazines. 
I love reusing or recycling paper items so that I can work towards a zero waste lifestyle. Doing mixed media crafts is a great way to use these items that would otherwise end up in a landfill.
To create your own mixed media drawing craft, you will need paper to draw on, your drawing prompts, old magazines, colored pencils, crayons, or markers, scissors, and glue.
You will select the drawing prompt for that day and then cut out items from your magazine that you can draw on, or around, for the prompt. 
For example, if the prompt for the day is "vampire" you could cut out a man in a suit, cut the head off of the man, glue this magazine photo onto a piece of paper, and then draw your vampire head and surroundings!
For the mermaid prompt, you could find a picture of a woman in a bikini and then give her a mermaid tail and put her in a spooky underwater setting.
Use your imagination! This is a great craft for kids.
Scavenger Hunt
A great activity to do around your house, or at a local park, is a scavenger hunt. We live out in the country, so creating a scavenger hunt to do outside is simple and easy to do. My kids love any excuse to get outdoors and go on an adventure.
Select some prompts from the drawing prompts October 2020 printable, and create a scavenger hunt for your family. 
A fun way to do this project would be to cut out small squares to draw on before your October drawing challenge begins. 
Throughout the month, use the squares to make your drawing a day. On the weekend before the end of the month, use the drawings you have made to create your scavenger hunt.
Glue the squares onto a piece of paper and hand copies to your family to use as their scavenger hunt boards.
Scavenger hunts are a fun way to spend a day outdoors with the whole family.
Drawing Competition
Do you ever attempt to do a personal challenge to only stop halfway through the month? I have found that one of the best ways to stick with a challenge is to hold a competition!
Use your drawing prompts for October to hold a drawing competition for you and your friends or family.
Everyone will compete by doing their own drawing of the day. At the end of the day, everyone will get together and vote for the best drawing. 
Each day can be a different competitive theme. Day one could be the best use of color, and day two can be the most creative.
When competing with friends who can't compete in person, use a program like Zoom to hold a daily, or weekly, winner announcement ceremony. This is a fun way to keep in touch with family and friends you can't see in person.
Competition is a motivating way to keep on track with your drawing a day challenge.
How will you use your drawing prompt for October 2020?
The drawing prompt ideas for each day in October will inspire you to be more creative this fall. Start a new drawing habit for relaxation or fun.
Begin a new bullet journal hobby, or have a lighthearted competition with family and friends.
Make this October the best yet with your free drawing prompt for October 2020.

Latest posts by Sasha Hutchison
(see all)