Halloween is right around the corner, and a free Halloween aesthetic background is the perfect way to get into the holiday spirit. These vsco wallpaper collages fit the iPhone perfectly and you can download them free below.
Now that we are living more and more in a digital world, using digital decorations is easier than ever. I created these Halloween and fall aesthetic backgrounds so that you could use them for your digital decorations too!
It's Fall Y'all
Every year when the fall season begins, we go to a farm here in central Texas named Sweet Berry Farm. They have hay rides, flower picking, a corn field maze, a pumpkin patch, and so many more fun family activities.
This year the farm most likely will not be open due to social distancing measures put in place, but that doesn't mean that we can't create new ways to celebrate this time of year.
One way to celebrate the fall is by using digital products to get your family into the spirit of the changing seasons.
Digital products include putting seasonal wallpaper backgrounds onto your phone. Every time you look at your phone you will be reminded of everything that you love about Halloween and the fall.
Halloween Aesthetic Background
I love Halloween. Dressing up is one of my favorite things to do. My children love to dress up as well. Last year my youngest was a pumpkin and my eldest was Elsa from Frozen. She was one of 20 other Elsa's at school.
What isn't there to love about Halloween? You can watch horror movies, you can carve pumpkins, wearing a costume anytime of the month is acceptable, and it is a great excuse to indulge in all of your candy favorites!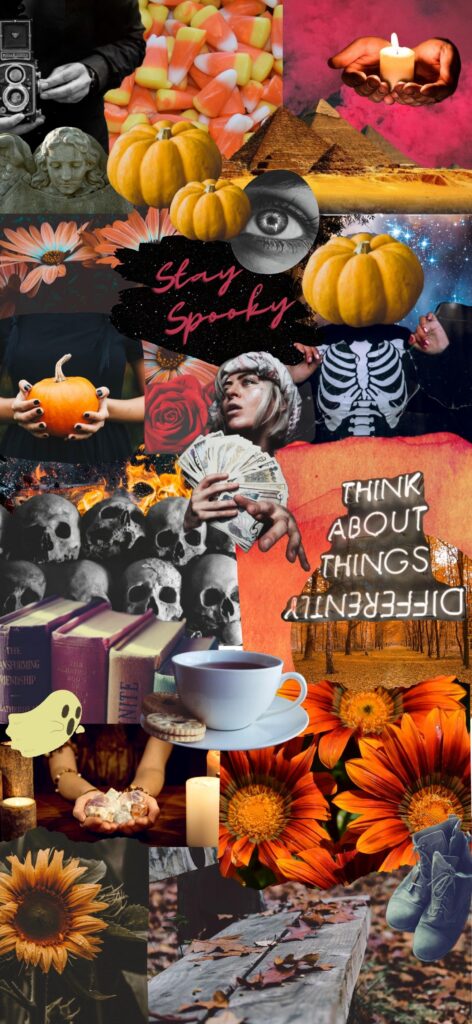 My husband loves horror films. I am a big coward, but I will watch them with him. I love classic Halloween movies, because they remind me of being a kid. A classic Halloween movie that is always on repeat in my house in the month of October is The Nightmare Before Christmas.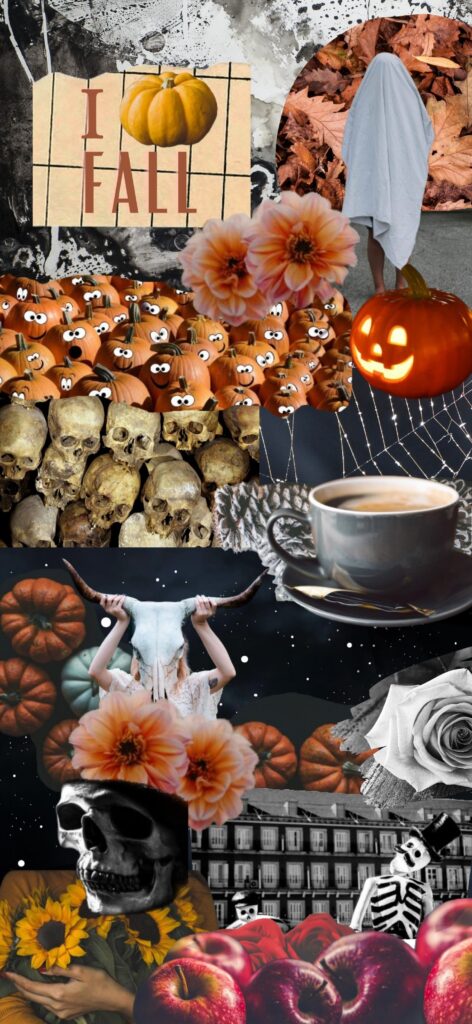 I just recently bought the movie Labyrinth for my kids. Who doesn't love David Bowie with big 80's hair surrounded by puppets? This is another great Halloween classic! I highly recommend adding this movie to your October movie film nights. My kids' loved this movie and were completely engrossed from start to finish.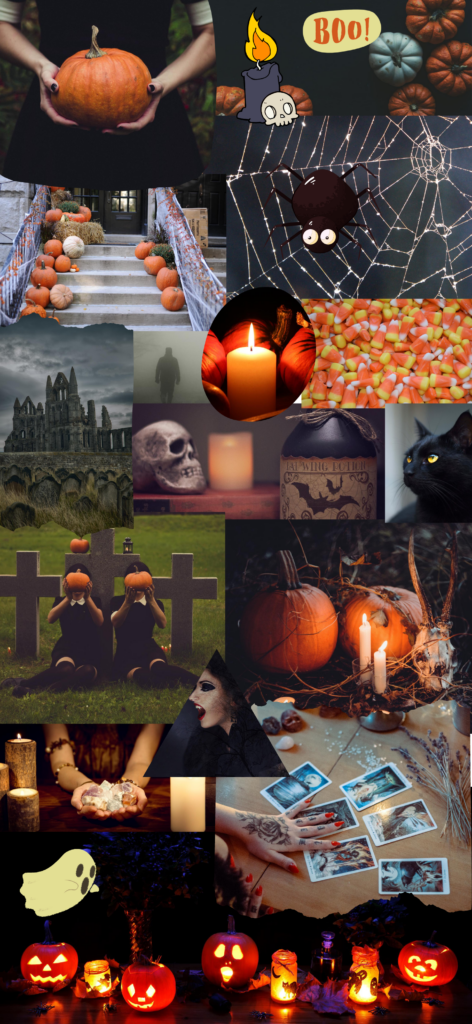 Taking the parts that I love about Halloween, I have created two Halloween aesthetics for you to download. These are wallpapers to download for your phone. The wallpaper images are a collage of all things Halloween. Get festive with your own Halloween aesthetic background.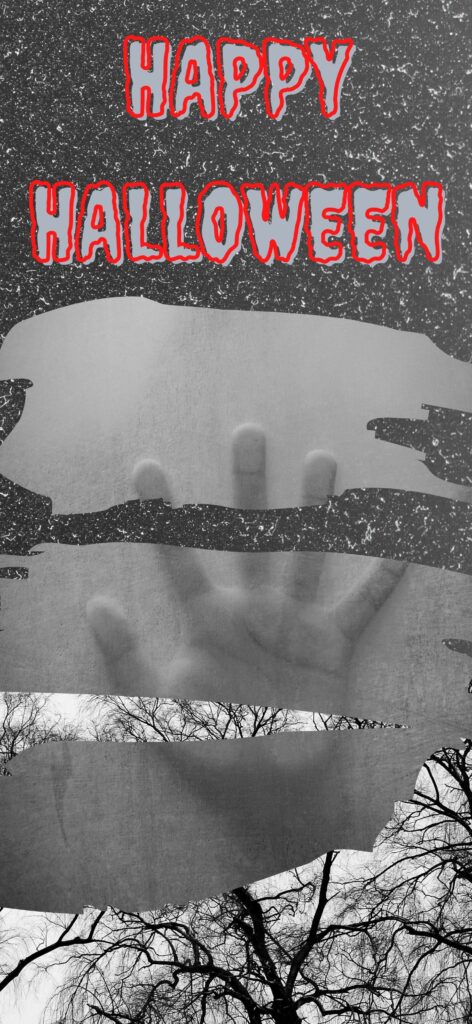 The dimensions of the free downloadable wallpaper are 1436 pixel by 3113 pixels, which is the screen size for an iPhone 11. The image is in a JPG format.
Fall Aesthetic Background
Fall is my favorite season of the year. I love pulling out my sweaters, my fall boots, and drinking hot tea in the evenings while lying under layers of throw blankets.
This is also another time of year when I start new baking projects and get more creative in the kitchen. I started baking more bread this year due to having a lot more time indoors. I have added a savory pumpkin sage bread recipe to the list of baking projects I want to try my hand at this year.
Another thing I like to do in the fall is go on drives with my family. We love to see the colors of the changing leaves. Believe it or not, in Central Texas there are a lot of amazing scenic drives you can enjoy.
The drive from the Austin Hill Country area out to Marble Falls is especially wonderful. The rolling hills and various trees gives you a beautiful scenic view. If you haven't done a road trip in the Central Texas area, you are missing out! 
When we go on day trips, we will usually take a picnic with us and stop at one of our favorite local parks. Bringing fall themed foods with us, like apple and pumpkin pie, makes this a memorable family adventure.
The fall weather evokes feelings of coziness and warmth. I wanted to capture all of the things I love about fall into a fall aesthetic background for your mobile device. Things I love about the fall  are the changing leaves, sipping tea on a cool autumn day, and meals with family.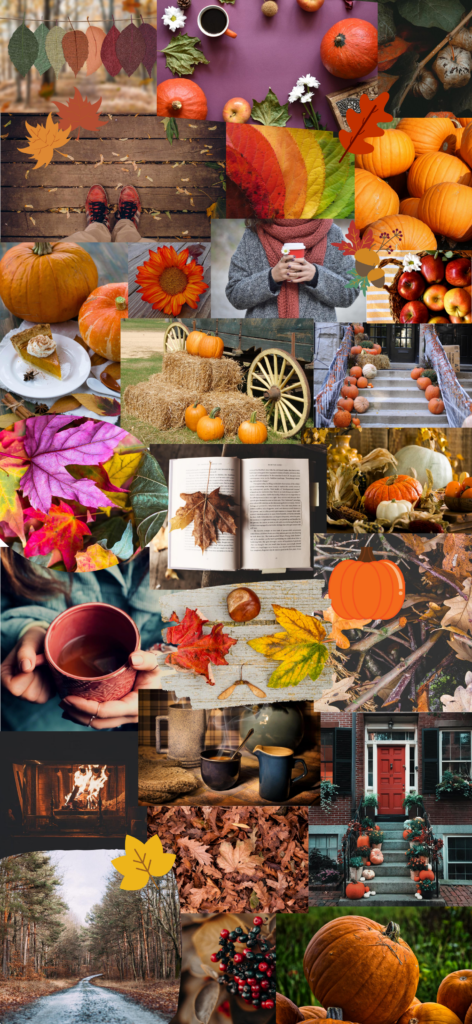 This free fall aesthetic background is a JPG file. The dimensions are 1436 pixels by 3113 pixels. Download and use on your iPhone. Share this collage with all of your family and friends. 
Start a new tradition of changing your iPhone wallpaper with each new season.
Other Fall Fun
To add to our digital products we will be enjoying this year, we will also be creating fall themed collage crafts!
Crafting with kids is a fun way to create lifelong family memories. Frugal DIY crafts are a great way to entertain the kids on a budget. 
I plan on doing collage art projects on a heavy card stock with pieces of construction paper that I have saved from previous projects we have done this year. 
Once the collage has been created, I want to use stencils to cut out the collages into art that we can hang around the house to celebrate Halloween and the fall season. 
I was thinking that large, and mini garlands, would be a creative way to use our art collages around the house. You could also make a mobile to hang in your child's bedroom.
Another project we could do with our collage art, is to make a Halloween or fall themed wreath to hang on our front door. 
We can create the wreath with the wild grape vines that grow around our home, and then attach our cut out collage pieces with glue. When dry, we can hang on the door. This project is cheap and festive!
How are you planning on celebrating Halloween and the fall this year?
Download the free Halloween and fall aesthetic backgrounds to jump start your Halloween and fall seasonal decorating this year! Are there other ways you plan on using your Halloween aesthetic background?

Latest posts by Sasha Hutchison
(see all)