Christmas is right around the corner and this easy Santa Claus drawing guide will teach you how to draw your first Santa.
This drawing guide is perfect for kids and beginners of all ages. Use them for toddlers, preschoolers, school aged children, kids, and parents!
You can download the guide with the guidelines already placed over the image or you can download the image without the guidelines and use it as a coloring page.
I first learned how to draw by using guidelines. Drawing grid box by grid box taught me how to tackle an art project piece by piece. 
This is my favorite way to teach my children how to draw. It turns any drawing project into bite sized pieces.
Take time this year to learn how to draw your first Santa. You can use this guide over and over again.
Make Santa drawing themed gifts to give to the Santa lovers in your life. Use the drawing guide and coloring page for all of the craft projects on your list.
There are four pages of printable PDF documents you can download! Get started on your Santa drawing today. 
Santa Claus Drawing for Beginners
The Santa Claus PDF download will guide you through drawing your first Santa. 
To begin this project, first download the Santa on 8.5" x 11" regular copy paper.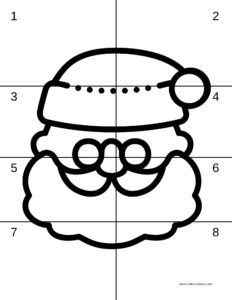 Learn to draw using the Santa with the guidelines. 
Print out the blank guidelines for your drawing. Grab a pencil, pen, marker, or crayon for this drawing.
Starting with the square marked number one, you will draw what is in each section of the grid on your paper. 
Draw one square at a time. There are eight sections to draw for this project.
After you have drawn your Santa, feel free to color him in and decorate with glitter, sequins, or cotton balls for his beard! 
Drawing with guidelines is a very easy way to get comfortable drawing something that you have never drawn before.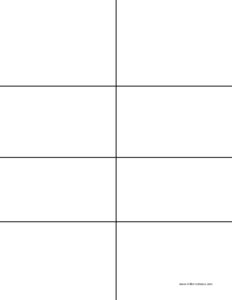 Beginners and kids will love creating their own Santa Claus drawing by using the guideline method. 
This method teaches you to view a drawing not as the big picture, but as small objects that turn into the final drawing.
Download the Santa Claus guidelines printables and learn how to draw your first Santa.
Santa Claus Tracing Project
Another way to learn how to draw a Santa Claus is by tracing over your pre-drawn Santa printable.
To do this project you will first print out the Santa PDF without the guidelines on normal 8.5" x 11" copy paper.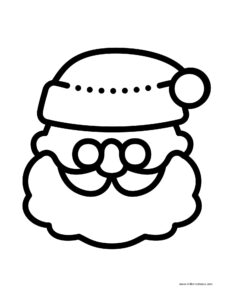 Once your Santa Claus is printed out, place a sheet of paper over him and trace the drawing. Use a marker, crayon, or pencil to trace. 
Tracing is one of the easiest ways to learn how to draw. This project gives the artist an easy win, which makes them inspired to keep practicing art.
I remember doing tracing projects when I was a kid. It was very helpful for teaching myself control when drawing and learning how to move my wrist to create different shapes. 
After you have mastered tracing your Santa Claus drawing you can color your Santa drawings. Practice as many times as you need.
Have fun with this project!
Santa Claus Drawing for Coloring
You will find two Santa Claus coloring pages available for download in a PDF file format. 
Download the Santa Claus drawings and print on 8.5" x 11" paper. You can print on a normal weight copy paper, or a heavy weight paper.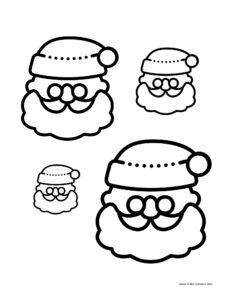 The coloring pages consist of Santa Claus' face in black and white. There is one large Santa, two medium, and two small images. Color in after you have printed.
These color pages are fun for the whole family. You can color your Santa Claus templates with crayons, colored pencils, pencil, watercolor, and paint. 
Decorate with stickers, glitter, cotton balls, or any other festive adornments.
Once your colored Santa's are complete, hang on the wall as art, or re-purpose into other projects and gifts. 
We were super inspired by these santa drawing guides here and here.
How can you re-purpose those Santa Claus drawings?
There are tons of great projects you can do with your completed Santa Claus drawings. 
Turn your Santa drawings into wall art to give away, a homemade ornament, or homemade greeting cards.
Reusing your Santa art is a frugal way to create gifts for the whole family. It is also a great way to reduce waste for a greener Earth!
Below I will teach you how to turn your Santa drawings into greeting cards.
Re-purpose all of your colored Santa Claus drawing pages with this fun and easy craft project for kids.
Santa Claus Drawing Greeting Card
Each year we take a family photo to send out as our holiday greeting card. My children also make homemade greeting cards for family and friends. Kids love sending handmade cards and gifts to everyone on their gift list.
Use the Santa Claus coloring pages to help your children make holiday greeting cards.
For this project you will need colored construction paper, glue, crayons, scissors, and your Santa coloring pages.
First, print out the coloring pages. Color the Santa Claus drawings in festive colors for the holiday season.
Cut out your Santa's and glue them to your greeting cards. Make your greeting cards out of the colored construction paper. 
After the cards are dry, personalize your holiday greeting cards. Add Santa themed greetings such as:
Ho Ho Ho!
Happy Holidays, Love Santa
Happy New Year to Santa's Little Helper
You Think You've Been Good This Year? Ho Ho Hold Up!
These cards will delight everyone you know at Christmas time. Send homemade cards to all of the people you love.
Be creative and have fun with this project.
How will you use your Santa Claus drawing and coloring pages?
These Santa Claus templates will provide you and your family with tons of fun. Use your Santa drawing templates to learn how to draw Santa Claus, for coloring, to repurpose into other projects, or just for a crafty day at home.
Make gifts for the upcoming holiday season with your Santa Claus drawing templates!
Related posts:

Latest posts by Sasha Hutchison
(see all)