These free pumpkin carving templates will make your porch the talk of the neighborhood this year. Perfect for beginners, the pumpkin carving template printables for download are a great way to help your kids get into the Halloween spirit!
Halloween is a magical time of year. You get to eat as much candy as you want, dressing up in costume is encouraged, and scaring others is allowed! 
Every year for Halloween I try to think of ways to decorate pumpkins. Keeping the pumpkin carving templates I use simple works the best for me and my family.
I have created pumpkin carving templates for toddlers, kids, and adults alike. You can print all of the templates or you can only use select ones. Share these easy templates with family and friends!
Pumpkin Carving Templates
There are five pages of pumpkin carving templates available for download in a PDF format. Print them all, or only print what you like.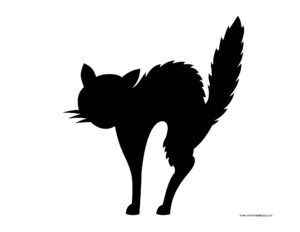 Download the pumpkin carving templates and print on 8.5" x 11" paper. Print on normal copy paper.
The pumpkin carving template printables available to you are a vampire wearing sunglasses, a goofy mouthed monster, a moustached man, hearts of different sizes, and a scaredy cat. The heart templates can be mixed and matched to create a cute love themed pumpkin lantern.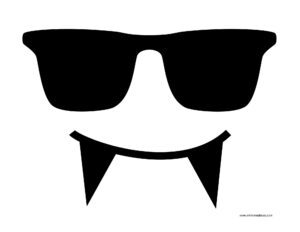 Introduce your little ones to pumpkin carving with these easy pumpkin carving templates.
Preparing Your Pumpkin for Carving
Before printing out your template be sure to prepare your pumpkin for carving. To do this, you will need a serrated knife and an ice cream scoop. 
First, you will place your pumpkin on some newspaper. I like to do this part outside as it can get messy! 
Second, you will cut the lid off of the pumpkin. This lid is the top of the pumpkin. You can cut a three inch area around the stem and then remove.
Third, you will remove all of the insides of the pumpkin with your ice cream scoop. You can scoop directly into a trash bag, or save the seeds to roast for eating. A tip I have always liked is to use your scoop to scrape the inside of the pumpkin where you plan on carving as thin as possible. This will make the actual carving much simpler.
Once your pumpkin is prepared, you are ready to print your pumpkin carving template!
How to use the Pumpkin Templates
To use your pumpkin carving printables, first download the templates. Next, print out the template you would like to use.
Once printed you will cut around the pumpkin. Leave two inches of space around the design. You will then cut small snips into the paper towards the template. Make the snips at half inch intervals.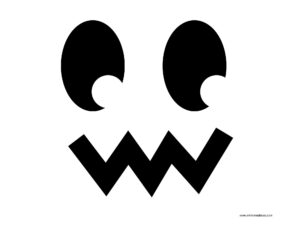 You will be snipping along the edge of the design so that your template can be taped to your pumpkin more easily.
After you have your design ready, you will affix the template to your pumpkin with tape.
To carve your pumpkin, you will use a paring knife. Slowly cut into the design on the black parts of the template and cut these sections out. Once these sections are removed, you can take the template off of your pumpkin and do any finishing touches you think are necessary.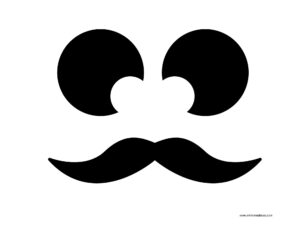 To illuminate your pumpkin, use a candle or a battery operated faux tea light candle. Line your pumpkins up on your porch and enjoy!
Other Ways to use Your Pumpkin Printables
Pumpkin Carving Template Painting Stencil
Pumpkin Carving Template Mask
My children are young. This means that my husband and I do the pumpkin carving and our children paint their own pumpkins. You can use the templates as a guide for your children to use when painting their own pumpkins.
Pumpkin Carving Painting Stencil
For this project, you will need printed pumpkin carving templates, acrylic paint, scissors, tape, a foam or wide bristle brush, tape, and pumpkin.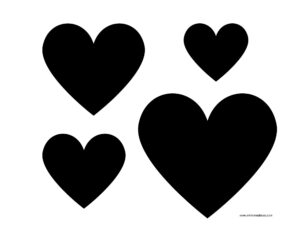 To use your pumpkin carving templates for painting, first print a pumpkin design. Cut out the black parts of the template and then around the design like you did when preparing the template for carving.
Once again, you will snip around the stencil in one inch intervals into the design about half an inch.
Tape this design to the pumpkin and paint with an acrylic paint color of choice. Use a foam paint brush for this project or a wide bristle brush.
Your children will love being able to paint their own pumpkins while you carve yours. They can paint their pumpkin one color, or many colors. Let them get creative with this project!
Pumpkin Template Mask
Another fun project to do with your pumpkin carving printables is to make them into masks!
For this project you will need your pumpkin carving templates, scissors, glue, a pencil or pen, cardboard, tape, and a popsicle stick. 
Choose the pumpkin carving template you want to use for your mask. Next, print out your template. With your scissors, cut out a place for your eyes.
You will now cut your template to the size you want it to be for your mask. Once you have done this, place your template down on your piece of cardboard. Trace your mask shape onto the cardboard and mark where you will need to cut for your eyes. Cut the cardboard.
Finally, you will glue your mask to the cardboard and tape your popsicle stick to the part of the mask closest to your face on the left side of the mask.
Hold a spooky play or use the masks for a costume contest. Your family will have a great time using their homemade masks.
How will you use your pumpkin carving templates?
The pumpkin carving templates will be a big hit with your family and friends. Use them for pumpkin carving, making jack o lantern themed masks, or as a stencil for your little ones to use to paint their own pumpkins.
The possibilities are endless! Share these templates with your family and friends. Make this Halloween unforgettable with these pumpkin carving templates.

Latest posts by Sasha Hutchison
(see all)