These free snowflake templates are an easy way to learn how to make your own snowflakes for the winter holiday season!
Making paper snowflakes is something that I grew up doing here in Central Texas. It rarely snows here, so creating a winter wonderland of handmade paper snowflakes was something I looked forward to every year.
Now that I am an adult with my own children, they are now included in this annual pastime. Making homemade snowflakes is a great way to spend an afternoon as a family. 
We will pull out the craft box, put on a holiday movie such as Elf, and start making snowflakes out of whatever paper and decorations we have in the craft box! This is a frugal project for everyone.
Begin your holiday season by creating snowflakes from these free snowflake templates. This is an easy project for beginners and expert snowflake makers!
Free Snowflake Templates
There are six pages of templates available to you. Four of the pages are templates with a how-to guide on how to make your own cut out snowflakes. The fifth page is a snowflake you can cut out to hang or use as a coloring page, and the sixth page is a snowflake doodle guide.
The free snowflake templates are printable PDF files. Download and print on 8.5" x 11" paper.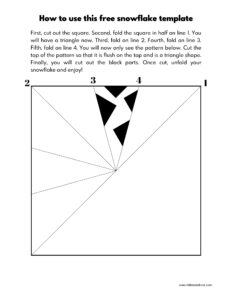 Print out the snowflake projects you would like to learn how to cut out, and even design your own snowflake to cut and use as decoration!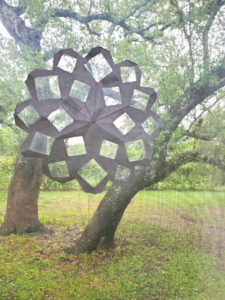 The coloring page is a fun way for toddlers and smaller children to be included in your snowflake project day.
Using Your Free Snowflake Templates step by step
Each snowflake template includes one snowflake to cut out and instructions. To use your template you will:
First, cut out the square. 
Second, fold the square in half on line 1. 
You will have a triangle now. 
Third, fold on line 2. 
Fourth, fold on line 3. 
Fifth, fold on line 4. 
You will now only see the pattern below. 
Cut the top of the pattern so that it is flush on the top and is a triangle shape. 
Finally, you will cut out the black parts. 
Once cut, unfold your snowflake and enjoy!
This process is simple. After you have cut out snowflakes a few times, you will be able to design and make your own snowflakes!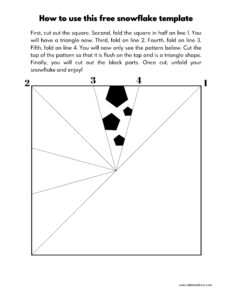 Once your snowflakes are cut out, decorate them. You can use crayons, glitter, sequins, metallic paint, or any other decorative embellishment.
Metallic paint gives a great effect to these snowflakes. You can buy metallic acrylic paint for this project or you can make your own. 
To make your own metallic paint, add a small amount of colored paint to silver acrylic paint. The more silver paint you have in the mixture the lighter it will become. The metallic effect is perfect to pair with a glitter finish.
Make a blue silver metallic paint and then use silver glitter to complete your snowflake. The effect would be very festive.
You snowflakes are ready to use after they have been painted. Make a garland out of them, hang them in a window, or put on your Christmas tree.
Snowflake Doodle
Included for download is a fun snowflake doodle guide. Use your guide to learn how to make simple snowflakes.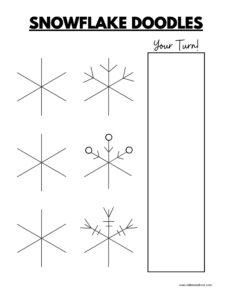 After you have practiced drawing snowflakes, add them to your winter themed drawings throughout the holiday season.
This is a great project for kids and beginners. Get creative with your snowflake doodles!
Other Project Ideas With Your Free Snowflake Templates
The free snowflake templates can be used for other great projects. Try the project ideas below to have lots of crafty fun!
Snowflake Ornament
Snowflake Wreath
Snowflake Ornament
Use your snowflake templates that you create, or the free snowflake coloring page, to make a snowflake ornament.
For this project you will need paper snowflakes, scissors, glue, acrylic paint, crayons, colored pencils, glitter, and other decorative items of your choosing. 
To do this project you will first print your snowflake template. Print on a heavy weight paper so that the ornament is more durable. I recommend using the snowflake coloring page for this project.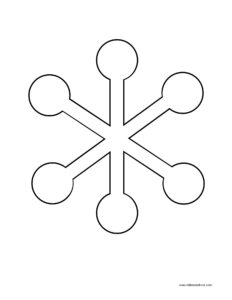 Once your snowflake is printed, paint your snowflake, color with crayons or colored pencils, or cover the snowflake in glitter. A great idea would be to paint your snowflakes with different colored metallic paints. You can then add sequins of the same color, or a contrasting color to the snowflakes.
When the decorated snowflake is complete, punch a hole in the top and place a ribbon through the hole. Hang on your Christmas tree, on doorknobs, or around the house.
Making paper ornaments is a simple and easy craft to do with children and adults of all ages!
Our drawing plan is simple but there is a more complicated one here.
I should also share the cutest snowflake doodles that you can use for bullet journaling here.
Snowflake Wreath
Creating a simple snowflake wreath with your free snowflake templates is fun and easy.
For this project you will need paper snowflakes, scissors, glue, acrylic paint, crayons, colored pencils, glitter, and other decorative items of your choosing such as sequins and fabric to make a bow.
To complete this project you will need to first print out your snowflakes. I recommend using a heavier weight paper for this project and the free snowflake coloring page to complete this project. 
Once your snowflakes are printed out, color the snowflake with paint, colored pencils or crayons. You can also choose to keep your snowflakes uncolored.
After you have colored your snowflakes, you will glue the snowflakes together to form a wreath shape. You will then leave the wreath to dry.
Finally, when the wreath is dry, you can decorate your wreath with glitter, sequins, or other adornments. You can also add a finishing touch by making a fabric bow. Attach to your wreath with glue or by tying it to your wreath with a ribbon.
This is a frugal and budget friendly project for the whole family. Great creative and hang your wreath on your door or on your mantle after it has dried!
How will you use free snowflake templates?
Learning how to make your own paper snowflakes has never been easier with these free snowflake template printables.
Cut them out and hang around your home in a window, as a garland, on a wall, or on a door. You can also use the free templates to make ornaments or a wreath! Have fun with your templates and make your holiday season special this year.

Latest posts by Sasha Hutchison
(see all)