You've decided to DIY your wedding invitations, hooray!
But before getting started, pick what DIY approach you'll be taking for your invitations:
With a template
Doing everything from scratch
It's important to do your research and understand what your preferences are when doing DIY invitations. Are you trying to save money? Do you enjoy doing some crafting? How much time will spend on the project? Would you rather spend this time working on other parts of the wedding?
When it comes to DIY wedding invitations, it's best to leave plenty of time for the putting together and the mailing. We've made a list of DIY invitation ideas and kits to make those invitations as special as possible.
Related Posts:
Diy wedding invitations kits
Rustic & Vintage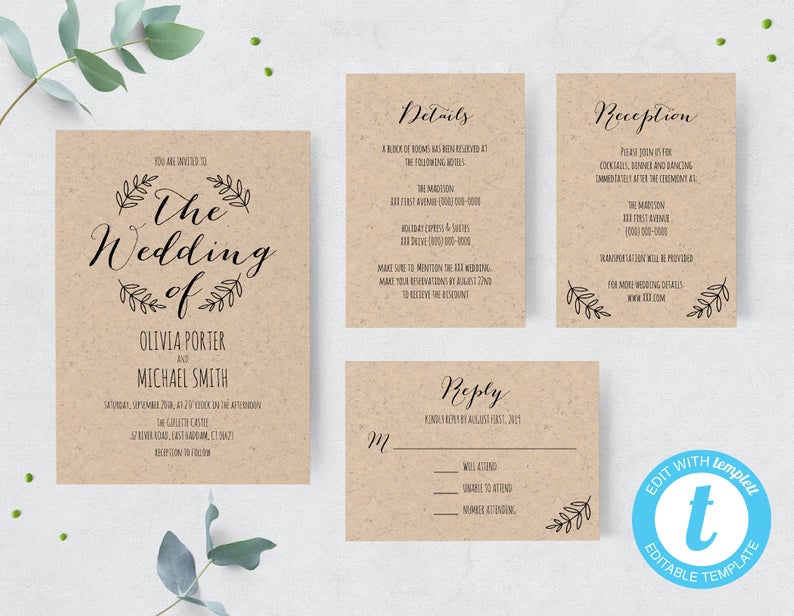 Interested in doing some DIY but want some guidance on the set? Here's an easy do-it-yourself set complete with invitations, replies, details and reception cards. Templates come for all 4 items as well as a Kraft background.
Buy this set on Etsy.
Autumn Watercolors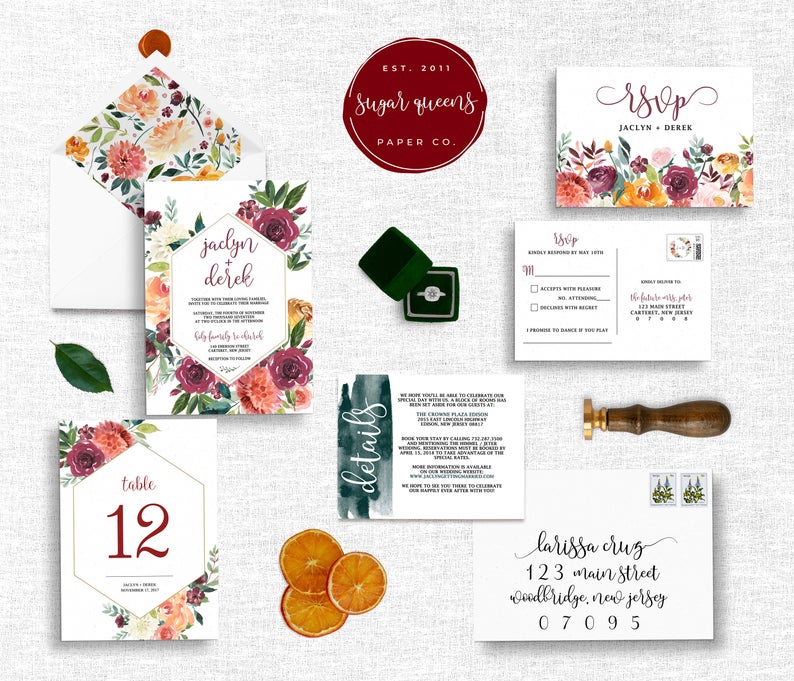 Looking to give your wedding invitations an autumn theme? Look no further than this beautiful invitation set. Romantic chic calligraphy using a beautiful marsala maroon red – colorful with a tast of autumn to it.
Buy this set on Etsy.
Trees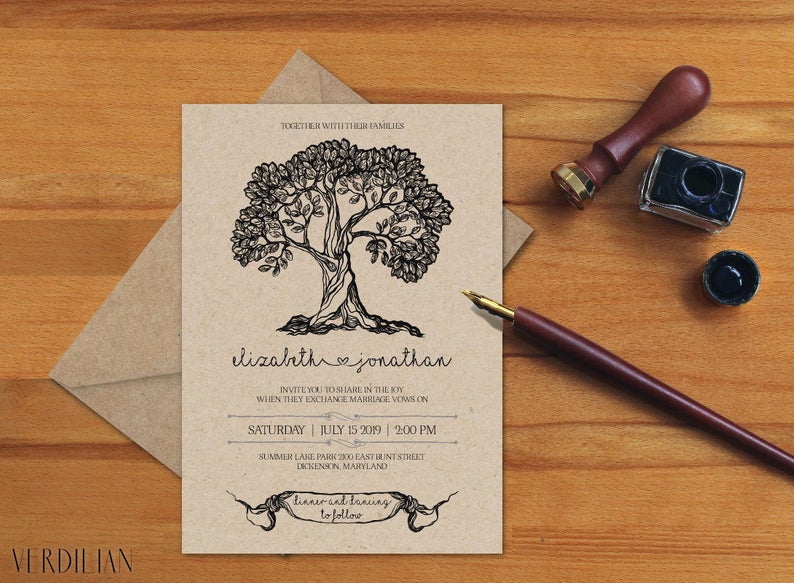 Want to give a touch of nature to your invitations? Get this tree wedding template that adds a beautiful customized touch to your wedding.
Buy this template on Etsy.
Forest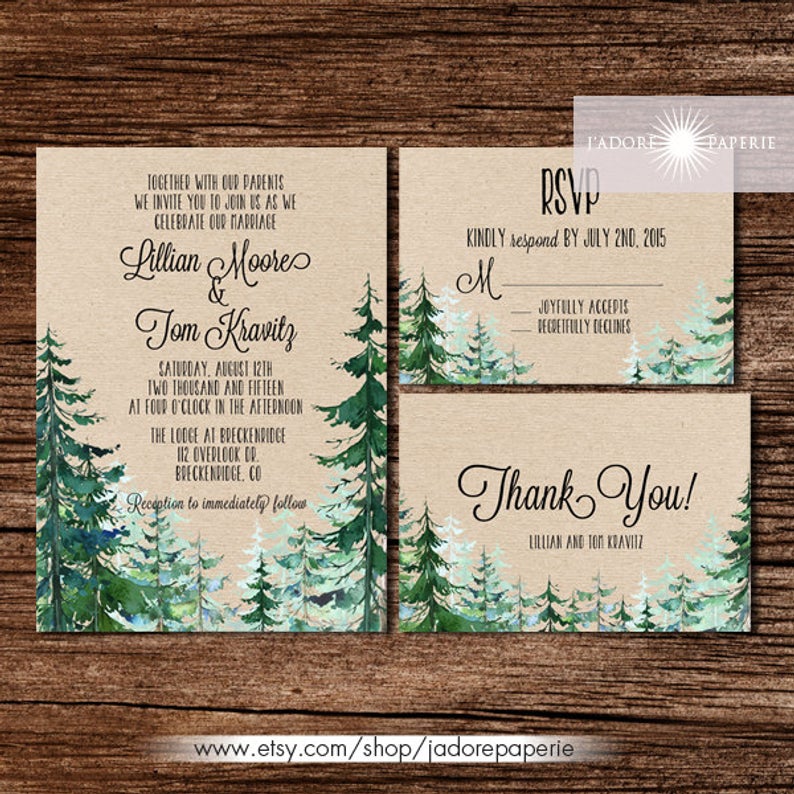 Another rustic invitation but this time created with a lovely mix of watercolors. The perfect invite for a couple doing an outdoor wedding in the mountains. Printed on Kraft paper.
Buy this set on Etsy.
Lighthouse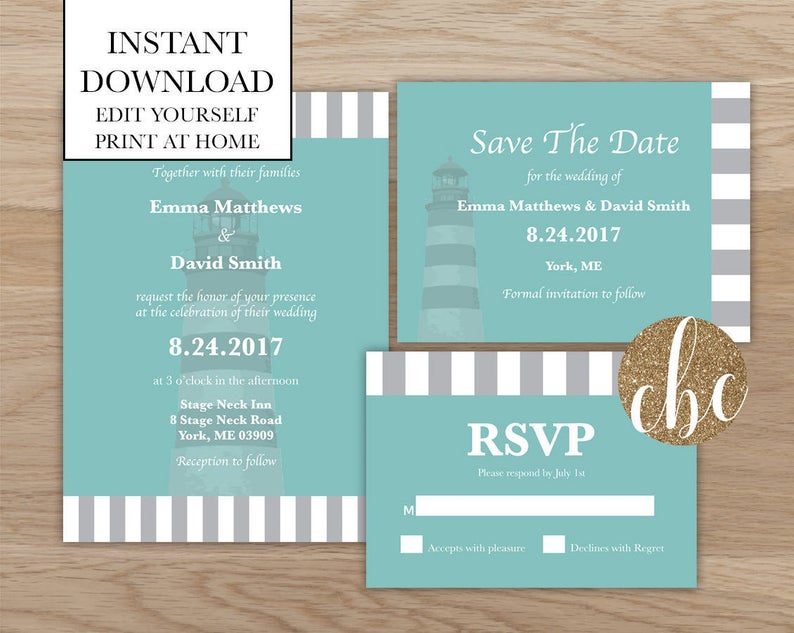 Chic and classy invitation. Instant download and you get to personalize it at home.
Buy this template on Etsy.
Red rose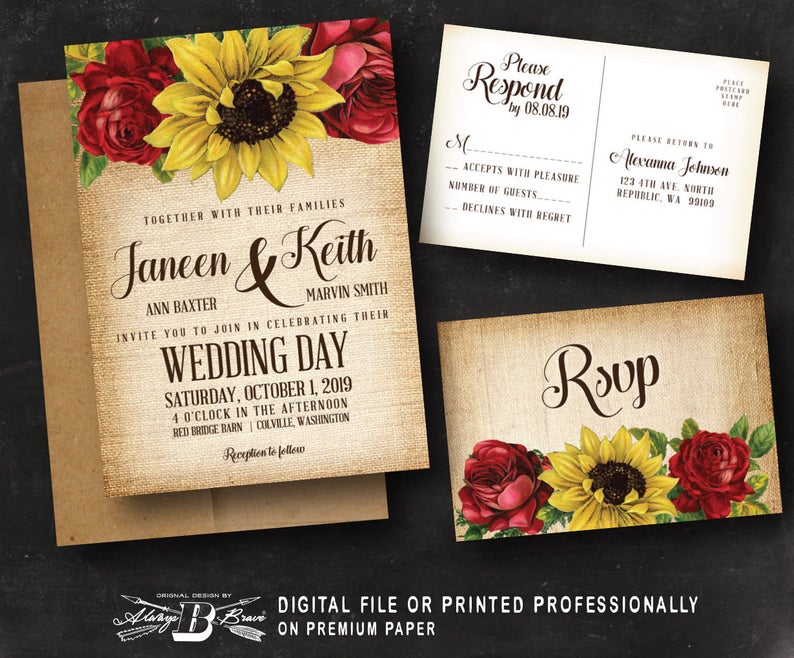 A red rose and sunflower wedding invitation, together with a beautiful postcard. For those doing a rustic wedding, this is the perfect invitation.
Buy this set on Etsy.
Related Posts:
Evergreen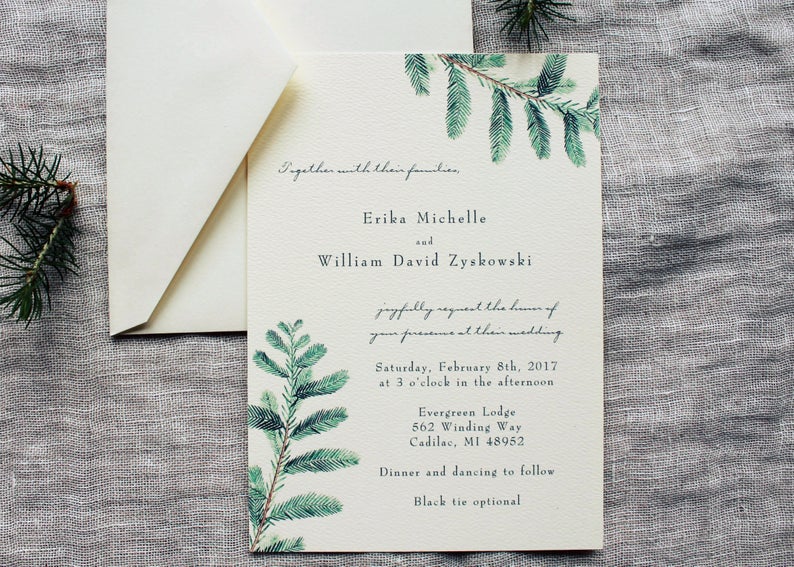 Evergreen wedding invitations for those looking to add a touch of nature to their wedding. Classy and elegant.
Buy this template on Etsy.
Minimalist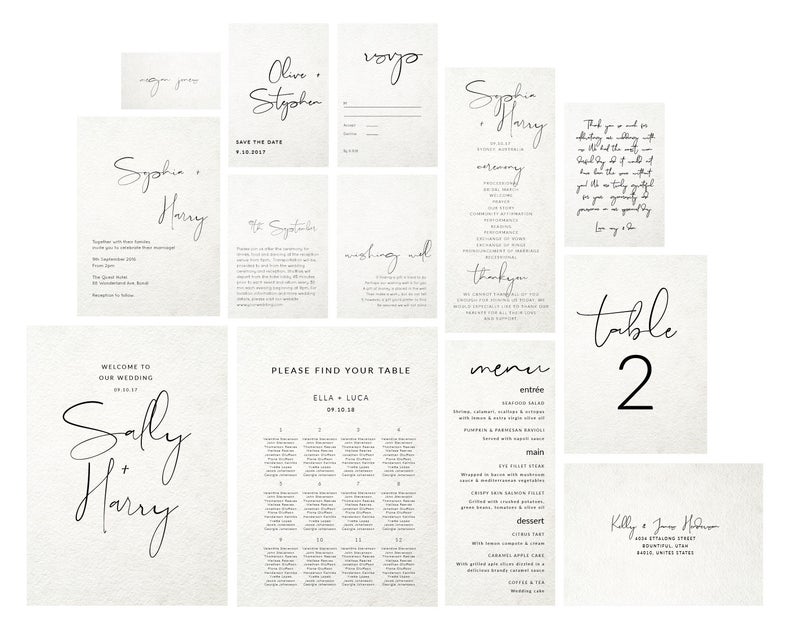 A perfect invitation set for the aspiring minimalist. A complete DIY set with customizable fonts and colors!
Buy this set on Etsy.
Bohemian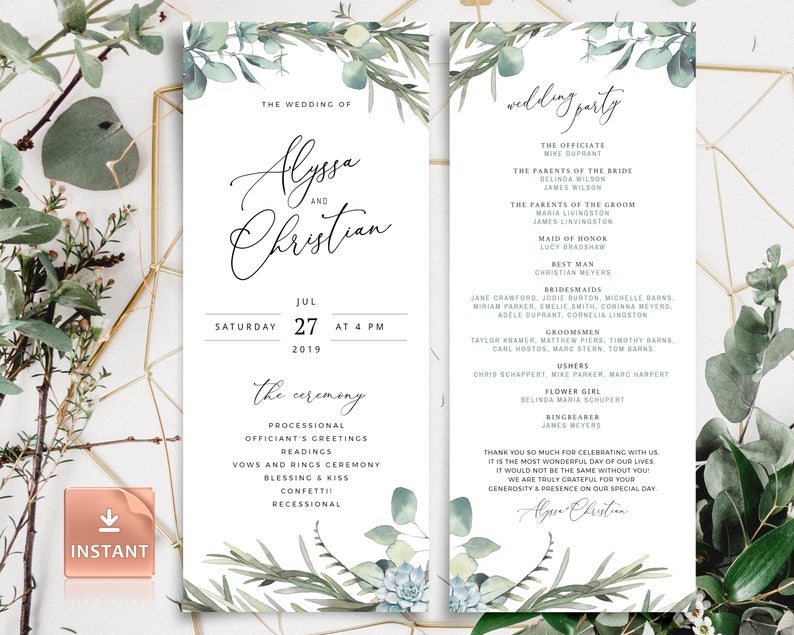 Rosemary Eucalyptus Greenery means using a beautiful Bohemian theme. This set comes together as a bundle all ready for at-home printing.
Buy this set on Etsy.
More Diy wedding invitations ideas
Rustic Inspired Wedding Invitations
A handmade invitation perfect for a vintage, rustic themed wedding. A nice fold out style with plenty of room for creative wording and cute fonts. This website has many options with free printables and some great ideas. Idea from Mountain Modern Life.
Pop up invitations
Unique and fabulous specially designed invitations. The figures are laser cut and the back is made of textured card-stick in dark purple. You take out the letter from the envelope and the last thing you expect is a beautiful cutout figurine. Idea from Little Green Box
Rubber Stamp Floral Wedding Invitations
Rubber stamps give your invitation a nice custom look. Simple but elegant. If this is the look you're going for, why not try this DIY idea? Idea from Oh So Beautiful Paper.
Watercolor Wedding Invitations
If you like painting and watercolors, this is the invitation for you! Watercoloring stationary has become a huge trend, thanks to its raw and romantic decorations. A very nice personal touch to your wedding day stationary. Idea from Something Turquoise.
Handmade Wedding Invitations With Burlap
These DIY invitations are made of thick board, burlap, twine and nice cameos. Each invitation is unique with a different cameo. A very elegant and detailed invitation for your guests. Idea from Love and Lavender.
Elegant Kraft Paper Wedding Invitation
A beautiful kraft paper background with white bunting and decorations. Simple and elegant – the perfect printable if you're looking to not spend too much time on the invitations. Idea from Clementine Creative. 
Delicate Floral Wedding Invitation Suite
An entire set that contains the frames, table numbers, place cards and favor tags, all in three colors. Cute invitations with a touch of floral. Get them at Ruffled Blog.