Need a cat drawing for coloring? You are in the right place cat lover!
You can use your templates as coloring pages or easily re-purpose the cat drawing coloring pages into craft projects. 
The cat lover in your life will be delighted to receive your handmade cat drawing or craft. Personalize each one to create a gift that will be remembered in years to come.
Moreover, you can use your cat drawing as a template for learning how to draw your first cat! This is the perfect project for beginners. 
Kids will love using these printables for all kinds of art projects.
Cat Drawing for Beginners Guide
Use the cat printables to learn how to draw a cat. The best way to do this project is to begin by printing out your cat on 8.5" x 11" copy paper.
First, choose the cat you would like to draw. You have four printable pages to choose from.
After your cat is printed out, place a sheet of paper over the cat and trace the drawing. 
Tracing is an easy way to learn how to draw. It gives the artist an easy win, which makes them inspired to keep learning.
Once you have mastered tracing your cat, you can learn how to draw a cat by using the grid method. This is a simple way to learn how to draw.

After the grid is laid out, you will make the same size grid on a piece of blank paper.
You will draw what is in each section of the grid. Without a doubt, this is a very easy way to get comfortable with drawing something that you have never drawn before.
Give it a try! You will become a better cat artist in no time.
Cat Drawing for Coloring
You will find four pages of cat illustrations available for download. Print them all, or only print what you like. 
Download the cat printables and print on 8.5" x 11" paper. You can print on a normal weight copy paper, or a heavy weight paper.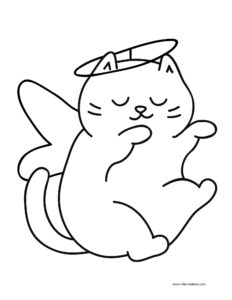 The cat drawings for coloring consist of a cat wearing a bow, a cat dressed up as an angel, and a holiday cat in a scarf. Three of the pages are large cat and the fourth page contains small cat.
Coloring pages are fun for the whole family. You can color templates with crayons, colored pencils, pencil, watercolor, and paint. Decorate with stickers, glitter, or anything else you choose.
Once your coloring pages have dried, you can hang them on the wall as art, or you can re-purpose them into many different other projects.
Last year I hung twine on the wall, and started hanging my children's artwork with miniature colored clothespins. It is an adorable way to display the art of your toddlers and kids.
Here is a different style cat drawing that almost looks like an animation in a storybook and another one here if that is more your thing.
What can you do with all those cat drawing pages once they are colored?
There are so many great projects you can create with your cat drawing coloring pages. The simple and easy project ideas below will enrich your holiday season! 
Repurpose your coloring pages with these easy craft projects.
Cat Drawing Project Ideas:
Cat Drawing Wrapping Paper
Cat Drawing Journal Cover
Cat Drawing DIY Ornament
Cat Drawing Greeting Card
Cat Drawing Wrapping Paper
A great way to recycle your color pages is to use them as wrapping paper for all of your gift giving throughout the year.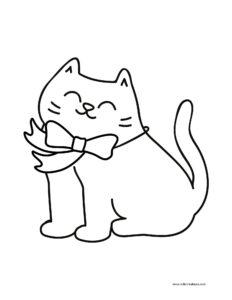 This is a frugal way to save money on wrapping paper and adds a personal touch to your gifts. Your family will love getting personalized wrapping paper.
To create your own wrapping paper, first print and color your cat. Next, wrap gifts in your colored art, or you can cut out your cat drawing and attach it to already wrapped presents as an additional adornment.
Another great DIY idea is to take recycled newspaper, wrap your gifts in the paper, and then use a cut out cat drawing as a gift tag for your gift. 
Get creative with your gift giving this year with your repurposed cat coloring pages.
Cat Drawing Journal Cover
Bullet journals are a popular way to journal about your day, keep track of your habits, plan your life, or have a place to create doodles.
A perfect addition to your journal, is to use your personalized drawing as a journal cover.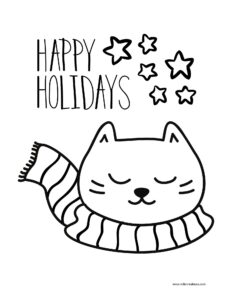 For this project you will need a heavyweight paper to print your cat template on, coloring pens or pencils, glue, scissors, and a journal.
First, print out the cat of your choice. Next, color your cat template. You can color with crayons, paint, or glue and cover in glitter. The choices are endless!
Finally, cut your finished drawing out, or cut the paper to the size of your journal cover.
Glue your drawing to your journal and enjoy your creation!
Cat Drawing DIY Ornament
You can make ornaments or holiday decorations out of almost anything. This project is a great way to re-purpose your cat coloring pages. 
To make your ornament, you will need printed cat drawings, coloring pens, pencils, crayons, or paint, a hole punch, scissors, and a short piece of ribbon to hang your ornament.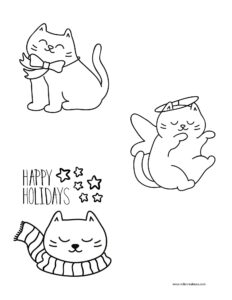 Print out your cat printable. First, color or paint your cat drawing. Second, cut around your cat drawing in any shape you choose once the drawing is dry. Third, put a hole punch at the top of your drawing and tie the ribbon through the hole.
You are now ready to hang your cat ornament. This is a fast and easy project for kids to enjoy. They can make ornaments to hang around the house, on door knobs, on a holiday tree, or to give as gifts.
Cat Drawing Greeting Card
Every year we send out a new family photo for the holidays. In addition, my children always jump at the chance to make their own homemade greeting cards. 
Use the coloring pages to make your next set of holiday greeting cards.
You will need colored construction paper, glue, crayons, scissors, and your cat drawing templates.
For this project, print out the coloring pages. Color the drawings in festive colors, or in an array of colors.
Cut out the cats and glue them to your greeting cards. Once the cards are dry you can personalize your holiday greeting cards.
Add cat themed greetings such as:
Meowy Christmas
Happy Holidays You Crazy Cat
Have a Meow-some New Year
Have a Purr-fect Holiday Season
These cards will delight the cat lover who receives them. You can use the templates for birthday cards, Halloween cards, and Thinking of You cards. 
Get creative and have fun with this project.
Related:
How will you use your cat drawing and holiday cat drawing?
These cat drawing templates will provide you and your family with hours of fun. Use your cat drawing templates to learn how to draw a cat, for coloring, to have a crafty day at home, for projects that re-purpose them, or pass them on to your cat lover friends.
Make gifts for the upcoming holiday season or decorations for cat themed parties. Cat lovers everywhere will love these cat drawing printables.

Latest posts by Sasha Hutchison
(see all)