Perfect for all cat lovers, these free cat paw prints can be used for decorating a cake, for cards, or many other cat themed gifts and crafts. 
You can also choose to download a free cat paw print PNG clip art file for use on your Cricut or other print and cut machine. Make your own custom tote, vinyl decal, or t-shirt. This paw print PNG file makes creating easy!
Free Cat Paw Prints
You will find four pages of free cat paw prints available for download. Print them all, or only print what you like. Mix and match so that you can create the purrfect project!

Download the cat paw prints and print onto a heavy weight paper to use as is. You can also use your cat paw prints as stencils.
The templates consist of small cat paw prints, medium cat paw prints, and large cat paw prints that are solid or outlines. 
Also available for download is a cat paw print "LOVE" printable. All printables are in the PDF file format. 
The cat paw print "LOVE" art is also available as clip art in the PNG file format. The background is transparent so that you can use it for your Cricut, or other cut and print machines. 
There are so many great projects you can create with your free cat paw prints. Kids will also love making gifts for the cat dads and moms in their lives.
Cat Paw Print Project Ideas
Cat Paw Print Stamp
Cat Paw Print PNG for Cricut
Cat Paw Print Wall Art
Cat Paw Print Cake Decorations
Cat Paw Print Stamp
Making cat paw print stamps is a simple craft you can do to create a ton of fun projects and gifts. You can make stamps out of everyday items around your house.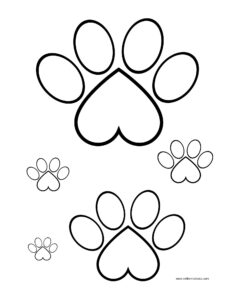 To make your stamp, print out the cat paw print template of your choice. Then cut out the template and trace it onto a sponge or other item you want to make a stamp from. Cut away the parts of the sponge that are not the traced paw print and use that as your stamp. 
Now you are ready to use your stamp! Use your stamp to make cat paw print homemade wrapping paper, for painting projects, or use fabric paint for a cute cat paw print t-shirt design. 
This is a kid friendly project that they will love. They can make all of their cat mom and cat dad presents for the year with just this stamp. 
Cat Paw Print PNG for Cricut
Cricut machines are very popular in the crafting community right now. You can use this machine to do all kinds of projects.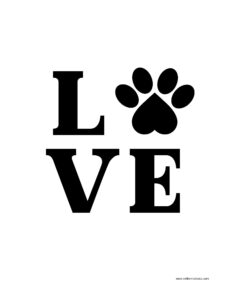 You download a clip art image to your computer and then your Cricut machine uses this as a template to cut out or emboss the design onto whatever material you choose.
Cricut machines can cut materials such as paper, fabric, vinyl, leather, and wood. This makes it a very versatile machine for all craft enthusiasts!
I have created a "LOVE" PNG file for your personal use. Make sure that the software for your product uses a PNG file format. Download and then upload the image into your program.
Create a card for the cat mama in your life, a scrapbook page in your memory book, a vinyl decal to gift away as Christmas presents for the cat lovers in your life, a tote bag, or use as a decal on a homemade tumbler.
This cat paw print PNG file will make awesome gifts that will keep people talking for years to come.
Cat Paw Print Wall Art
The cat paw print printable templates can be used to make wall art to give as gifts throughout the year. With Christmas right around the corner, make a piece of wall art for the cat owners you know.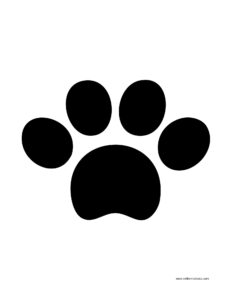 To do this project you will first choose which paw print you would like. For this project, I would recommend using all different sized paw prints. You can use different colors for each size to create a fun look to your painting. 
Print out your paw prints of choice and then cut out the actual paws so that you can create a stencil you paint over. You will then lay the stencil on your canvas and paint onto the canvas over the stencil.
This is a great craft for kids, because it is simple and can be completed in a short amount of time. 
Have fun with this project!
Cat Paw Print Cake Decorations
The cat paw print templates can be used as cake decorations. You can use the cat paw print as a stencil or you can make a cake topper with your stencils.
To decorate a cake with the cat paw print stencil, first decide which stencil you want to use. Similar to the stencil for the painting project above, you will print out your stencil and then cut the paw pieces out of the paper. 
You will then lay your stencil onto your crumb coated cake and then ice over the stencil with a contrasting frosting color. You can also spray over the stencil with some color mist. This will achieve a fun and festive cat themed cake. 
Making a cake topper with your caw paw print templates is super easy. You will choose the paw print of your choice and then print out the template. 
Cut out the template and also a blank template of the same size. You will glue one side of the topper and then sandwich around a toothpick onto the corresponding piece of paper. 
Decorate your toppers by coloring them or by printing them on colored card stock. 
Cat paw prints are an adorable way to decorate all kinds of cakes and other baked goods. Use the free cat paw print templates to make your next masterpiece.
What will you use your free cat paw prints for?
Start thinking about your next cat paw print project, or use the project ideas above as your guide. Choose the cat paw print templates you want to use, and have fun with your projects.
Make gifts for the upcoming holiday season, decorations for cat themed parties, or so much more. Cat lovers everywhere will love these cat paw print printable templates.

Latest posts by Sasha Hutchison
(see all)