Are you a proud PAWrent or fur mama? If so, then these free paw print outlines will be a great addition to your next pet project. You can also make gifts for all the other furry friends in your life.
These free paw print outlines can be used for all types of paw print projects.
Free Paw Print Outlines
There are five pages of different paw print outline templates to choose from. Download and print the free paw print outlines. You can print out on cardstock and trace them onto colored construction paper, or use them as printed.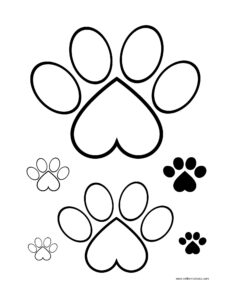 After you have chosen the template you would like, cut them out and use them for your projects.
The templates consist of small, medium, and large paw prints that are solid or outlines. Also included are some "Fur Mama" templates so that the fur mamas in your life can show their fur baby pride! 
You can also grab your copy of the "Fur Mama" paw print PNG. This has a transparent background and can be used as clip art in your next craft project.
There are so many fun projects that you can do with these free paw print outlines. Include your kids so that they can enjoy crafting gifts for their pets and family member's who have pets.
Paw Print Outline Project Ideas
Paw Print Crafts
Paw Print PNG Cricut Project
Paw Print Pumpkin Lantern
Paw Print Outline Tattoo Flash Art
Paw Print Crafts
These templates can be used to create so many different craft projects. When using the paw print outlines for crafts with kids, use them in projects such as paw print ornaments, a paw print bookmark, or paw printing painting projects.
Paw Print Ornament
To make a paw print ornament, you will first choose which paw print outline to use. Next you will print out your outline, cut it out, and create a stencil from this outline.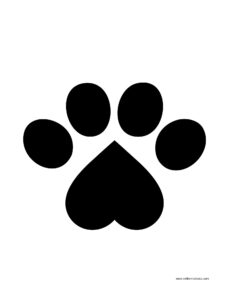 Trace the outline onto an ornament background. You can make an ornament out of wood, soft dough, paper, fabric, etc. Once you have traced your paw print outline onto the ornament, color the paw print in, paint the paw print, or create a glitter paw print.
The paw print with the heart shaped paw would be the perfect paw print outline to use for this project. You can write the name of your favorite pet into the heart and hang it on your tree for the holiday's. 
A cute idea would be to use this for a small Christmas tree dedicated to the pets in your life. 
This is a great project, because you can use whatever materials you have around the house.
Paw Print Bookmark
Making a simple paw print bookmark is easy. Cut out your bookmark shape from a piece of heavy paper. Then choose the paw print outline you would like for your project. Print out the paw print and use a stencil or glue the paw print onto your bookmark.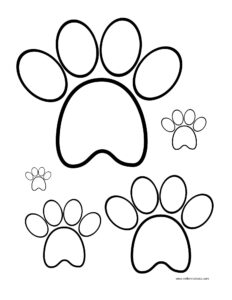 This craft is easy for little ones. My preschooler loves creating puppy and kitty themed crafts.
Give these bookmarks to the book lovers in your life. They can be used as anytime gifts, mother's day presents, father's day presents, or as a stocking stuffer.
Paw Print Painting
There are many painting projects you can do with your paw print outlines.
Print the paw prints out, and then use them as a stencil on all sorts of different materials. Trace the stencil onto your material of choice and cut out. Then dab your stamp into paint and put onto paper.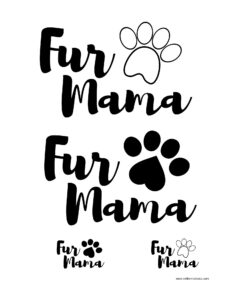 The materials you can use are ones easily found around the house. Styrofoam, potatoes, or sponges are just some of the things I have turned into stamps to use for craft projects with my children.
This is the perfect frugal DIY project anyone can do with recycled materials.
Paw Print PNG Cricut Project
Are you a fan of scrapbooking or vinyl decals? I have provided you with a "Fur Mama" paw print PNG file with a transparent background to use with your Cricut or other print and cut out machines.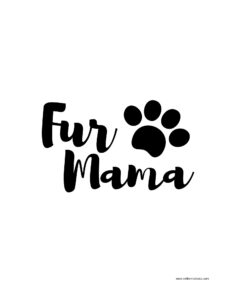 Make sure that the software for your product uses a PNG file format. Create a card, scrapbook page, vinyl decal sticker for your car, or decal for your tumbler with this paw print PNG file.
Use this clip art file for your next paw print project, and create a gift the fur mama in your life will always cherish.
Paw Print Pumpkin Lantern
Halloween is right around the corner, and there are paw print outlines of all shapes to create a pumpkin lantern honoring your furry friends.
To do this project, you will choose the paw print outline of your choice. Use one big paw print, or mix and match sizes to create a pumpkin covered in prints.
Print out your template, cut out, and use it as a stencil on your pumpkin. Next, tape the design to the pumpkin and then use a knife to cut the paw prints out.
Finally, Illuminate your pumpkin and enjoy your new cute paw print pumpkin lantern.
Paw Print Outline Tattoo Flash Art
Do you want to honor your favorite furry friend, or love of animals, with a piece of forever art? The paw print outlines can be used as flash art for your next paw print tattoo.
Consider creating your own tattoo idea by printing out the paw print outlines and then drawing a mandala design in them. You can also add your pets' name. 
There are many paw print outlines to choose from. Be creative and take your love for animals to the next level!
What will you use your free paw outlines for?
The project ideas for these templates are endless! Print them out and make your next budget friendly project with them. Share these free paw print outlines with the other animal lovers in your life. Everyone will love crafting with them.
Celebrate the pet owners in your life with these paw print outlines.

Latest posts by Sasha Hutchison
(see all)