Okay maybe Netflix and chill isn't completely free, but it's much cheaper than going to bars or out to eat.
We're trying to save our way to financial independence and a $1M net worth (read more about that here), and Netflix and chill nights are a way for us to get there faster.
Right now, my husband and I are in the middle of a very intense Halloween streaming binge.
We're not huge TV people but come Fall, we really get into our favorite Halloween movies.
Here are a few of the ones we've watched so far:
What Lies Beneath
Scooby Doo
Halloweentown
Hocus Pocus
Practical Magic
Psycho
IT
The Addams Family
We're not really picky in terms of which service we use and we actually have annual memberships to all three:
And of course, we have our handy dandy rabbit ears that let us get basic cable.
Hint: They don't look like the rabbit ears you remember as a child with foil covered antennas.
Although lately we're HOOKED on Amazon Prime Video
Do you remember going to Blockbuster with your parents and getting to pick out a movie for $3.99?
The concept of renting a movie became a bit obsolete for awhile with Netflix and the annual subscription model.
Well it's back with Amazon Prime Video – which you get for FREE with a Prime membership.
We've been using Netflix forever and have been really happy with Hulu, which is something we've added in the last year (mostly because I want to watch the Bachelor/Bachelorette – I'll admit it!)
This year though, I realized that Amazon Prime had a video component too.
I have been a Prime customer forever now (it's pretty much mandatory when you live on the opposite side of the country from friends and family and ship gifts home for the holidays).
Well, this year I discovered Amazon Prime Video and we pretty much use that exclusively (with our Fire TV Stick with Alexa Voice Remote).
Amazon's Fire TV will tell you when another service has that movie for free
What I love about it, is that you can search for a movie and it will tell you *where* you can find the movie (in your already existing streaming subscriptions) FOR FREE.
Meaning, if you look up a movie and click "more ways to watch" it tells you if Netflix has that movie (so you don't have to pay for it if Amazon Prime doesn't have it for free).
I LOVE that because I hate having to bounce in and out of my Netflix, Hulu and Amazon Prime accounts trying to find a specific movie that I want to watch.
Admittedly, we've been renting a few of our favorite Halloween movies for a few dollars if none of our subscriptions have them for free, but I love that feature to save money.
If you just want to try prime for your own Halloween movie marathon:
Try Amazon Prime 30-Day Free Trial
Where can you find a list of Halloween movies to stream?
Now to the important question – where can you find a list of good halloween movies to stream?
Here are some resources:
I'll be checking some more Halloween movies off my list soon. I think we're on a bit of a Hitchcock kick so we'll keep going with that.
What are your favorite Halloween movies? 
Related Post: How we cut our cable bill by cancelling DirectTV and using rabbit ears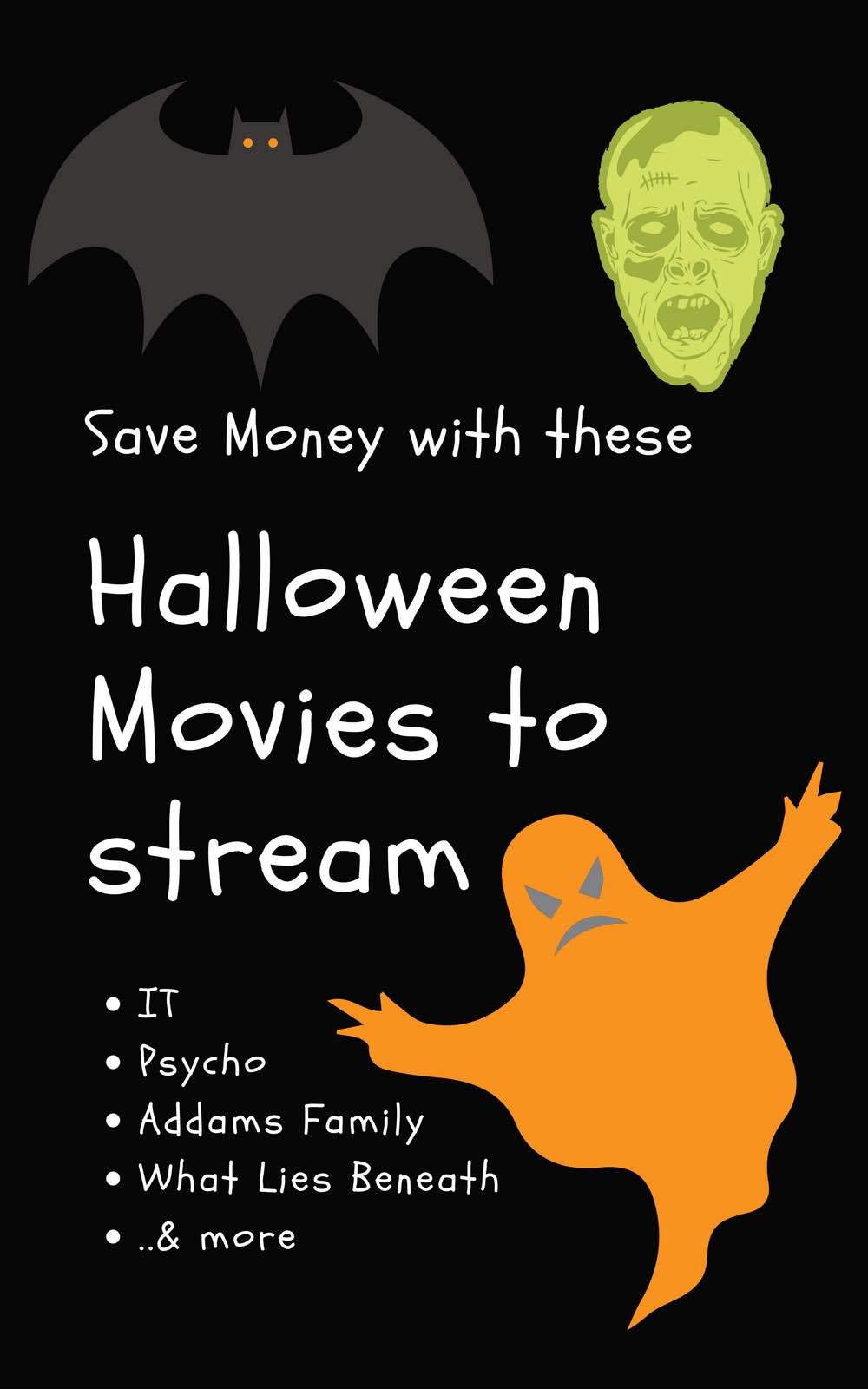 Got Money Goals?
Join 1,200 subscribers who receive weekly financial inspiration from Millennial Boss.
J paid off nearly $100k of debt and is on her way to financial independence. She hosts a
Money Podcast
and is obsessed with tracking her net worth via the free app
Personal Capital
(although she won't tell you what it is). She loves her dog and drinks iced coffee year round.
Latest posts by Millennial Boss