All of my life I imagined the things I would have when I was successful. I imagined a big house with a new car in the driveway. I imagined lavish vacations and expensive dinners. I imagined big screen TVs and fancy electronics.  Last and most importantly, I imagined a bit fat salary to support this lifestyle.
Well, I didn't have to wait long. I got all of those things less than two years ago at 25 years old.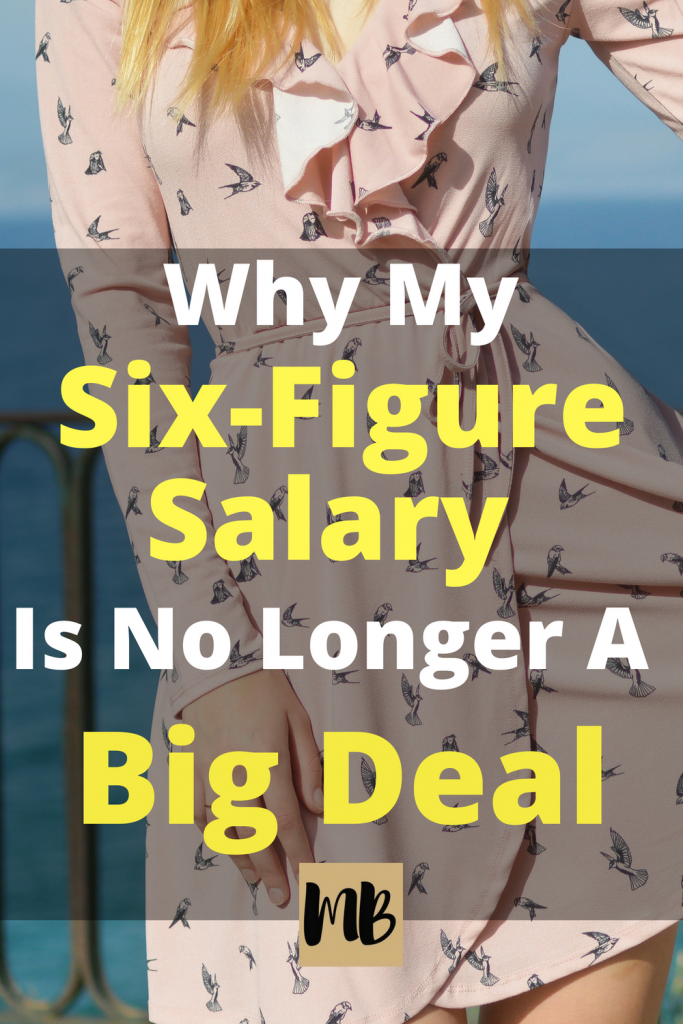 Why Making 6 Figures Means Nothing
I started making over $100,000 at 25 years old. For someone who grew up in a small house in a middle class neighborhood, this salary meant I MADE IT. I now made more money in a year than my parents made combined.
I did what every 25-year-old would do with that amount of money, I spent it.
But not on bars and clothes like most people would expect of a 25-year-old but on a BIG FREAKING HOUSE. My boyfriend (now fiancé) and I bought a 3600 square foot house in the suburbs.
We took out 0% interest credit cards from furniture stores to fill each room up with the basics.
I purchased a brand new car (after driving 10-20 year old cars prior) and parked it in the driveway.
The dog, the dinners out, and the luxury vacations followed.
AND I LOVED IT!!
For someone who less than two years prior was unemployed, depressed, and living with my parents, I WAS SO PROUD of where I had come in just two short years.
I was making a six figure salary and I was killing it.
or so I thought.
Wake Up Call
I quickly realized that owning, heating, and maintaining a house of that size was super stressful.  I freaked out when I saw my first water bill. My green, picture-perfect lawn was costing me $170 a month.
My first car payment EVER was rough and my dog was expensive too.
I started getting in fights with my fiancé about finances and I was not happy.
Shocker.
Sounds like #firstworldproblems, right? Girl gets everything and then is still not happy. Cry me a river.
But I was motivated. I started reading about debt and discovered two blogs that changed my life No More Harvard Debt and Mr Money Mustache.
I soon realized that I was not as successful as I thought. I had student loan debt, a car loan, a big mortgage, and no savings. The only thing I had going for me financially was a six figure salary that I used to get loans.
Turns out, I hadn't made it. I still had a long way to go.
Define Success Like No One Else
Society teaches us to define success in terms of stuff. If you are successful, you buy nice stuff. Simple.
Which of the two families in the image below do we perceive as more successful? 99% of society would choose the family with the big house and the nice car.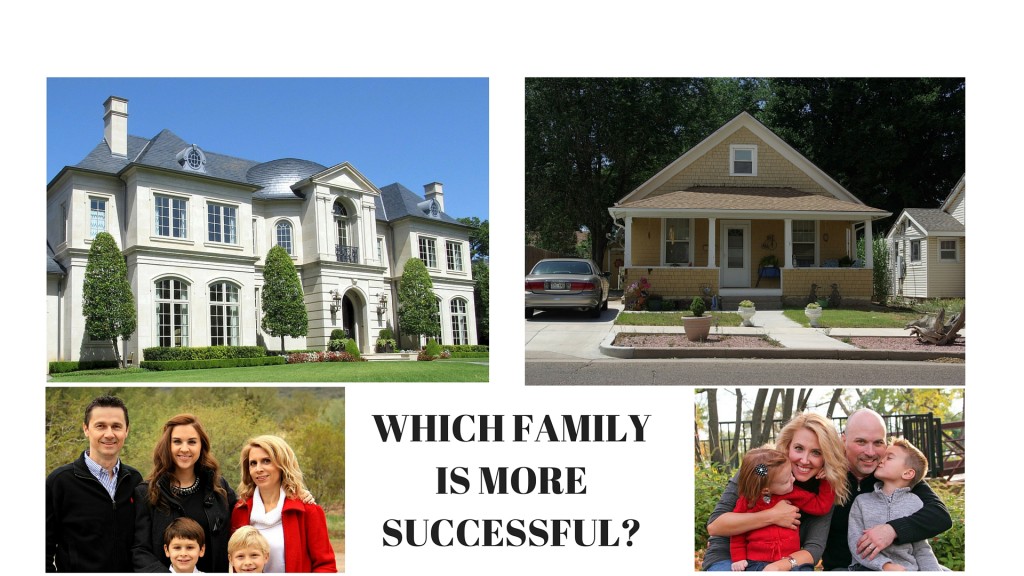 In reality, we don't really know which family is more successful by looking at their stuff.  The family with the Honda and the smaller house could have no debt and $1M in investments.  The family with the mansion could have $1M left on their mortgage, a car loan for a BMW, and credit card debt.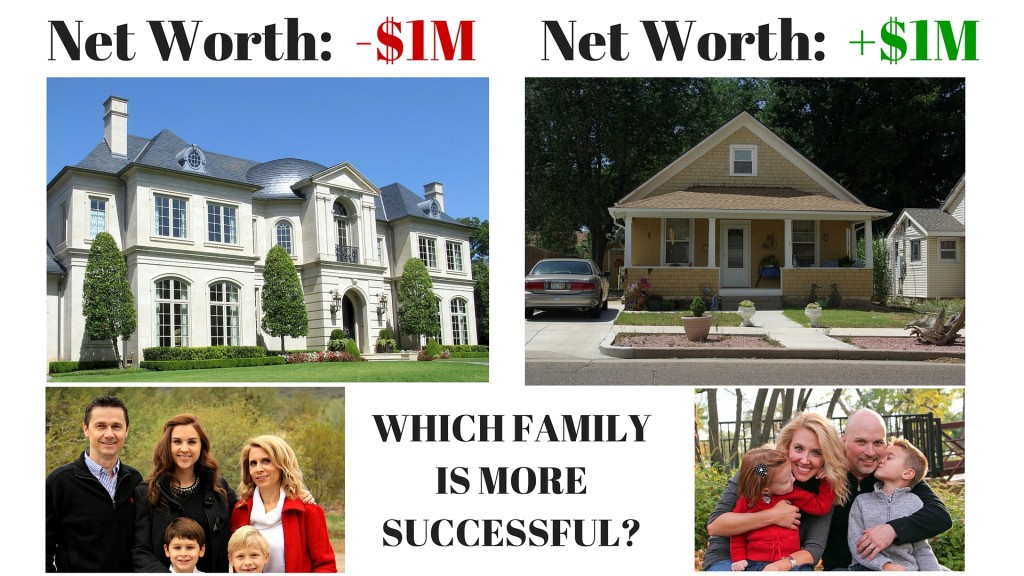 With my big house, new car, and expensive lifestyle, I was that family on the left (on a smaller scale). I was masquerading to have a life that I didn't yet earn.
Insert New Life Goals
Now that I define success differently than 99% of American society, I plan to do the following:
Stop Linking Salary With Success
Do What Makes me Happy
Help Others
Become Financially Independent
I look forward to the journey.
Update: I've paid off nearly $90,000 of debt since writing this post. 
Update 2017: I've now hit a $200k Net Worth.
How do you define success?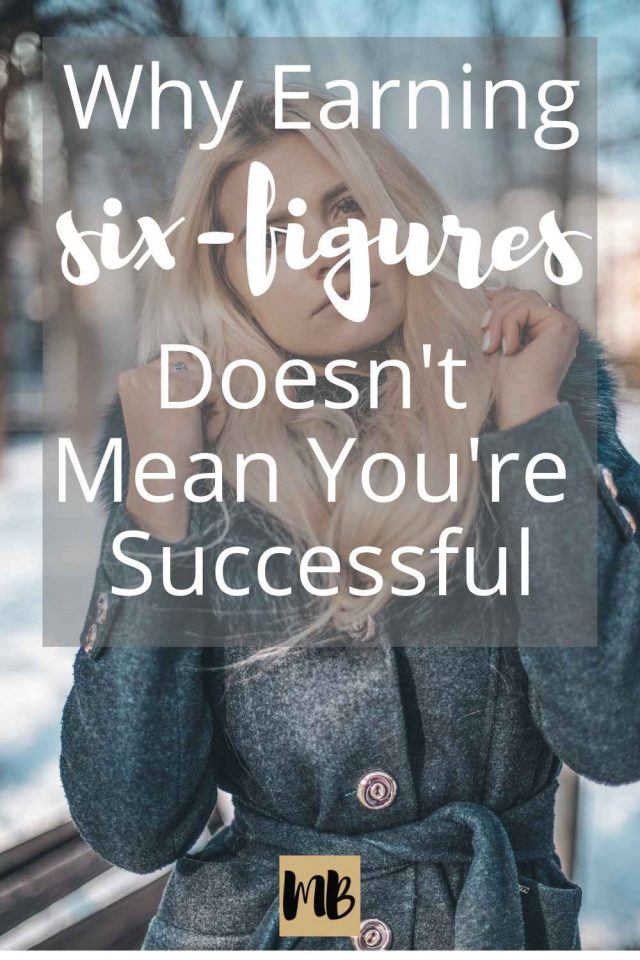 J paid off nearly $100k of debt and is on her way to financial independence. She hosts a
Podcast
and is obsessed with tracking her money saved via the free app
Personal Capital
(although she won't tell you what it is). She loves her dog and drinks iced coffee year round. She also is the creator of
The Side Hustle Course
where she teaches people how to sell printables on Etsy and blog.
Latest posts by Millennial Boss