I've made more of an effort to read before bed in the last year.
Truthfully, the reason I started reading before bed was because I joined a few book clubs when I first moved.
I'm so glad I introduced reading into my nighttime routine though because I swear I sleep better (and I learned a bunch of new things!)
Here are the books that I read in the last year and my recommendations.

Nonfiction Books That Were Good
Vagabonding by Rolf Potts
Rolf Potts is that quiet friend who subtly calls you out on your bullsh*t.
I read this book and realized that I was approaching travel in the entirely wrong way.
Here I was, this millennial woo-girl, mesmerized by the glamour of travel but ignoring the truth.
All of the experiences I was purchasing were possible in my own country, and even in my hometown.
For example:
My favorite part of travel is unexpectedly connecting with other people, particularly locals.
If I have a great conversation, where I learn a little bit about how someone else lives, I am super excited.
As Rolf points out, I don't need to fly half-way across the world to connect with other people. I can go to a local bar down the street and hear some stranger's story.
When I read that, I was thinking, "Damn, that's so true."
That's just one example where Rolf makes you see travel in a new light.
I highly recommend you check out Vagabonding: An Uncommon Guide to the Art of Long-Term World Travel

 by Rolf Potts.
The Proper Care and Feeding of Husbands by Dr. Laura Schlessinger
This book was gifted to me when I got engaged and it blew my mind a bit when I read it.
Mostly because I am all #girlboss and girl power so I never thought I would read a book titled "The Proper Care and Feeding of Husbands." I'm no 1950's housewife.
It surprised me though because I think the book was good for me. It definitely made me think about my actions and made me try to be a better wife.
Sometimes I don't realize that my alpha-female ways may have a negative effect on my husband. Or worse, I don't care because I think I shouldn't have to hold back because I'm a woman.
Dr. Schlessinger raised some good points (along with lots of offensive points haha – she doesn't hold back) but I appreciate that I got the book.
It's important to me that I read diverse perspectives and hear opinions that challenge my own from time to time, even if they offend me. Bubbles and echo chambers are no good.
I will probably read it again this year when I need a reminder to be more supportive.
Check out The Proper Care and Feeding of Husbands

if you need to break your own alpha female echo chamber.
4-Hour Work Week by Tim Ferriss
This book deserved a good re-read this year.
Tim Ferriss set up systems to create passive income for himself and then he dedicated a decade to traveling the world and learning new things.
He became a kickboxing champion, learned multiple languages, became a competitive salsa-dancer, and perfected his diet and workout routines.
He essentially lived 100 peoples lives at once, having a bunch of seemingly unrelated experiences that most of us only dream about.
He actually inspired me to start creating passive income for myself.
I reached a level of $800 per month in passive income in January of this year and I am on target to increase that in February.
More importantly though, Tim taught me to be a better manager through his focus on productivity versus hours worked.
I managed a large team for two and a half years and Tim taught me to stop caring about the bulls*t and start focusing on the right things.
Check out The 4-Hour Workweek: Escape 9-5, Live Anywhere, and Join the New Rich

for some major life inspiration.
The Simple Path To Wealth by Jim Collins
This book and the author, Jim Collins, shaped my investment philosophies.
I had the pleasure of meeting Jim in person in late 2015 and highly recommend this book to any investors.
It's a pro-index fund and anti-timing the market investing book.
If you don't really know what that means, then this book is extra for you!
I actually gifted the book to my sister last year so she could start investing.
Check out The Simple Path to Wealth: Your road map to financial independence and a rich, free life

by Jim Collins for some good money reading.
Nonfiction Books That Were OK
The One Thing: The Surprisingly Simple Truth Behind Extraordinary Results by Gary Keller
My husband was reading this book and highly recommended it to me.
I honestly can't recall much about the book after I read it last summer.
I read a lot of non-fiction business books and this one didn't particularly change the meter.
My husband loved it though so we agree to disagree on this one.
Check out The ONE Thing: The Surprisingly Simple Truth Behind Extraordinary Results 

to give it a try yourself.
Will It Fly? by Pat Flynn
I'm a fan of Pat Flynn's Smart Passive Income podcast and I got a signed copy of this book when I met him at FinCon.
The book demonstrates step-by-step how to come up with a business idea and covers how to rapid-test your idea to make sure it will work before diving straight in. It has tons of exercises to help you go through the whole process.
I put this book in the OK section because the concept of rapid testing was introduced to me in The 4-Hour Workweek and The $100 Startup so it wasn't a new concept. Also, I have tons of ideas and just not enough time to do them, although lately I've been better about implementing my ideas.
What this book really helped me do though, was to outline my personal, professional, and financial goals for the next 5-years. My husband and I completed the goal-setting exercise together and it was fun to see each of our 5-year plans laid out, especially the personal ones.
Check out Will It Fly? How to Test Your Next Business Idea So You Don't Waste Your Time and Money

to get your next business idea off the ground.
Tools of Titans by Tim Ferriss
I recently picked up Tools of Titans, Tim's latest book, and it's good.
It's not an easy read like the 4-Hour Work Week though.
Tim describes Tools of Titans as a recipe book, filled with recipes for greatness from some of the greatest achievers of our time. He's interviewed people in all categories from ultra-marathoners to CEOs.
I've been skimming and skipping through the interviews and have enjoyed it so far but I'm not loving it the same way as his first book.
It's also freaking huge. There's like 20 pounds of book right there. I need to workout more just to hold up this book.
Check out Tools of Titans: The Tactics, Routines, and Habits of Billionaires, Icons, and World-Class Performers

by Tim Ferriss.
Fiction Books That Were Good
I seriously don't think I'd read a fiction book since Harry Potter.
But, fiction books are all the rage in book clubs, so I read more of them this year.
And I'm so glad I did!
Fiction before bed is super relaxing. Who knew?
Below are my recommendations for fiction books.
The Nightingale by Kristin Hannah
This book was really good.
The kind of good where you look forward to getting in bed every night so that you can read a little bit more.
The book is set in the French countryside in WWII and tracks the lives of two sisters – Isabelle and Vianne.
Isabelle is more of a rebel and is working as a Spy for the Allies. Vianne is the complete opposite and a homemaker.
Vianne's house is occupied by a German soldier (didn't even realize that was a thing?) and she is forced to change because of the war.
It truly is a page-turner. The girls in book club were all riled up. We loved it.
I highly recommend The Nightingale.
Buy The Nightingale: A Novel

 by Kristin Hannah.
The Girl on the Train by Paula Hawkins
This was another hit at book club and I'm looking forward to watching the movie.
The Girl on the Train was a page-turner and definitely worth a read.
The main character is the definition of a hot-mess with a strange obsession with a couple she sees from the window of the train everyday.
One day she sees something disturbing and she can't let it go.
As her life falls apart, you start to question whether she is really a hot-mess after all.
Buy The Girl on the Train

 by Paula Hawkins.
Fiction Books That Weren't Very Good
A Small Indiscretion by Jan Ellison
OK, I feel badly about including this one in the 'not good' list because it was a page-turner, but I just didn't like how it ended.
I recommend it as a beach read, and I definitely enjoyed it as such, but it won't change your life.
At the center of the book is a middle-aged mother whose son got in a car accident and nearly died.
Even though the story is set in the present day, the mother tells the story of her life twenty-years before when she worked abroad in London as a young woman.
The book has affairs, and drama, and craziness that makes it an interesting read but in the end, I was just kinda like OK, I read it.
If you're looking for that beach read to just take your mind off things, check out A Small Indiscretion: A Novel

 by Jan Ellison.
Until She Comes Home by Lori Roy
I read this book for book club and then didn't even go to the meeting when it was discussed because I hated the book so much.
This book is set in 1950s Detroit and tracks the disappearance of a young special needs girl.
It had all the right things like a thrilling plot and unlikely friendships, but it just missed the mark.
If you want to give it a try, check Until She Comes Home: A Novel

 by Lori Roy.
Good Ebooks by Female Entrepreneurs
I purchased three Ebooks in the last year as well.
I enjoy supporting female entrepreneurs and have learned a bunch of cool things.
Ebooks are typically lighter than regular books so don't expect the same level of content and research.
They're still valuable though.
Jazzythings Cookbooks
Jazzy is an instagram celebrity who provides major fitspiration and clean eating advice.
I bought my sister two of her cookbooks for her birthday.
The first one was the Cookie Cookbook and the second was the Clean Eating Cookbook.
I highly recommend checking out the Jazzythings ebook offerings.
The Six Figure Chick Branding Guide
The Six Figure Chick is another instagram personality that I follow.
She started her own six figure business and now has a second business where she is a career coach to other budding female entrepreneurs.
I bought one of her branding guide ebooks when I was first launching my instagram page.
CiCi has over 100,000 followers on multiple Instagram accounts so she knows what she's doing.
Check out The Six Figure Chick ebooks for Instagram and branding help.
More ideas for your reading list
Creative entrepreneur Michelle Hickey put together this list of 50+ personal development books.
She's a co-host of a podcast for creatives and knows her stuff.
If you're looking to expand your reading list, you'll want to check this one out.
Download the free reading list here.
Have you read any of these books? What did you think of them? 
Any recommendations for books not listed here?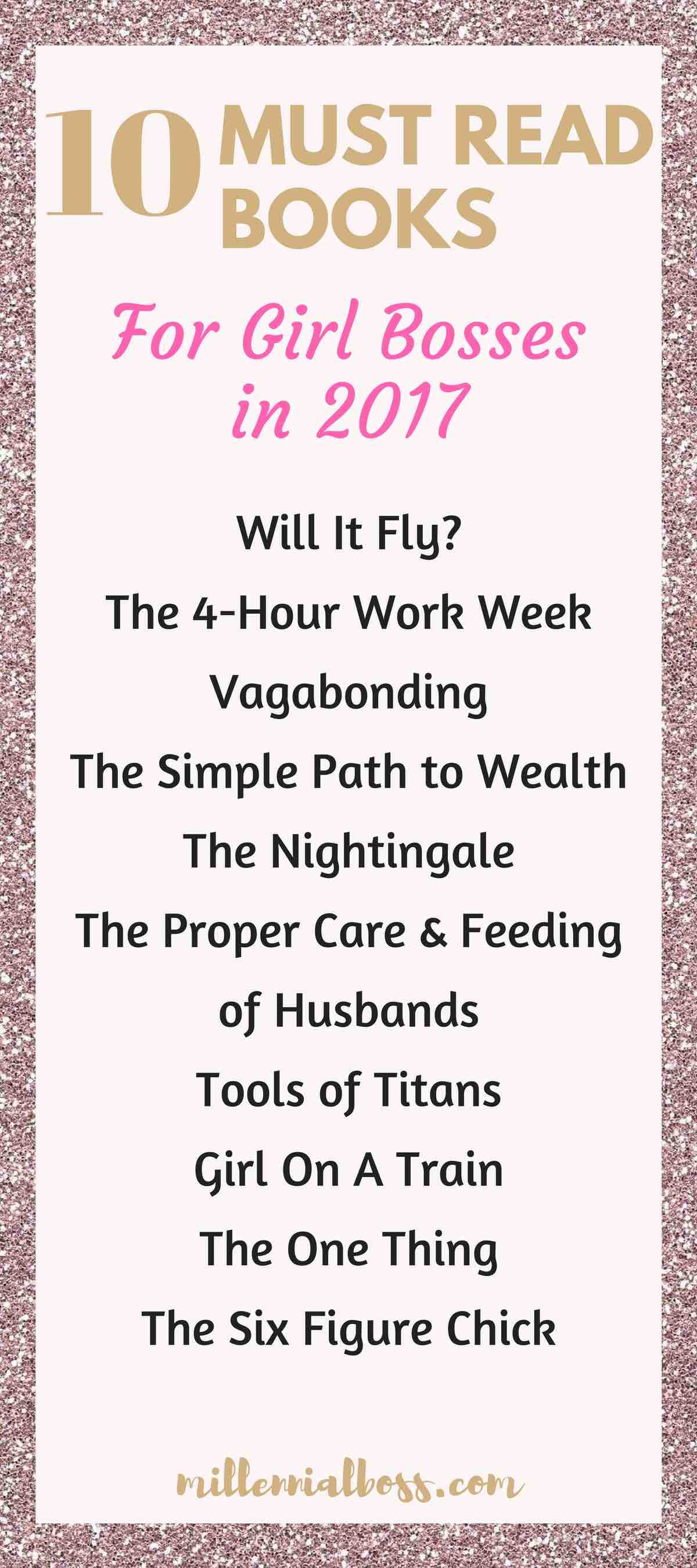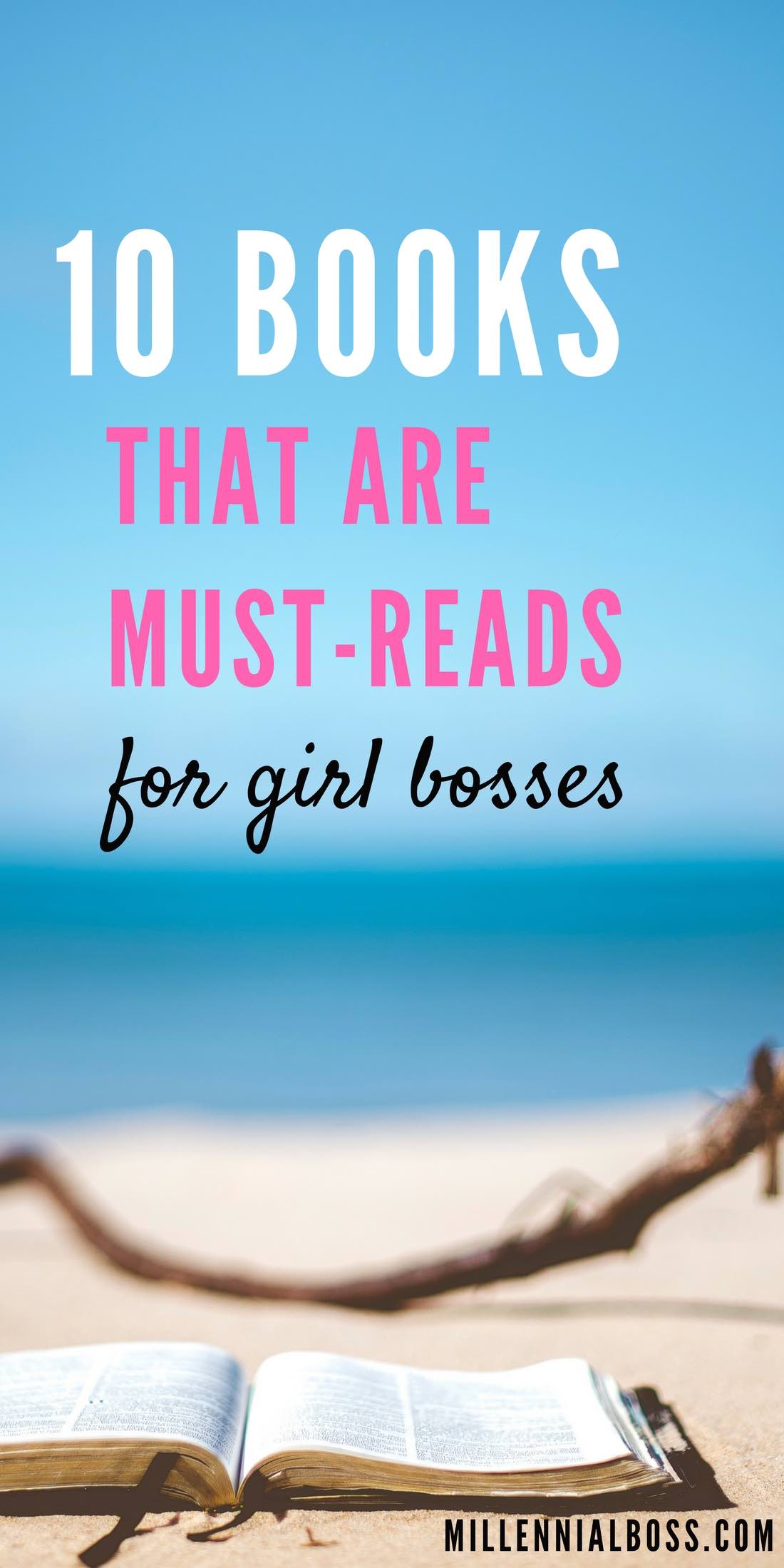 Latest posts by Millennial Boss
(see all)