Millennials love their wine more than any other generation. They account for nearly half of all the wine consumed in the United States each year. That figure does not surprise me at all. I developed a liking for wine after studying abroad in Italy and now make wine a regular part of my life. I love drinking wine with friends, attending wine tastings, and trying new wines.
That is why when I was approached by Traveling Vineyard to write a sponsored post on their wine guide program, I jumped on the opportunity. Here is my interview with Wine Guide Laura Iosbaker about her experience working with Traveling Vineyard.

First of all, what is a Wine Guide?
A Wine Guide organizes wine tastings and receives a commission on sales.
I (Laura) work through Traveling Vineyard which is a special direct sales company that lets people earn a flexible income by doing what they love – enjoying great wines with friends. There are more than 5,000 Wine Guides across the country.
Uh-oh, how is this different from the pyramid schemes that are out there?
Two reasons – first, we don't make money directly on our team through the sign up cost of other wine guides.
Second, it's wine! You're not asking people to buy more "stuff" they don't need such as jewelry or clothes. People like trying new wines and drinking wine with friends.
You don't have to be pushy at all. The wines sell themselves and people have a great time at the tastings.
Do you have to host the tastings yourself?
No, I actually don't host most of my tastings. I'm responsible for the experience while at the tasting.
Friends and family gladly host the tastings and I have many repeat hosts. Hosts can earn free and discounted wine for hosting the event.
How did you get started with Traveling Vineyard?
In February 2014, I started looking into direct sales products. I researched saturation rate in the market and compensation plan among other factors and decided on Traveling Vineyard. I now work for Traveling Vineyard as a Wine Guide and teach college classes on the side.
What do you like about being a Traveling Vineyard Wine Guide?
I love the flexibility. I needed to take a break for a few months for personal reasons. I was able to move my schedule around and still take all the time I needed for my family while making enough to cover my bills.
I also like that I don't have to push to schedule tastings. People seek me out because it's a fun experience.
How much money can you make being a Wine Guide for Traveling Vineyard?
You can make up to 35% commission on each sale. You can also earn bonuses and incentives such as extra pay, wine, and even all inclusive vacations.
The chart below shows how much money you can make being a wine guide (in thousands).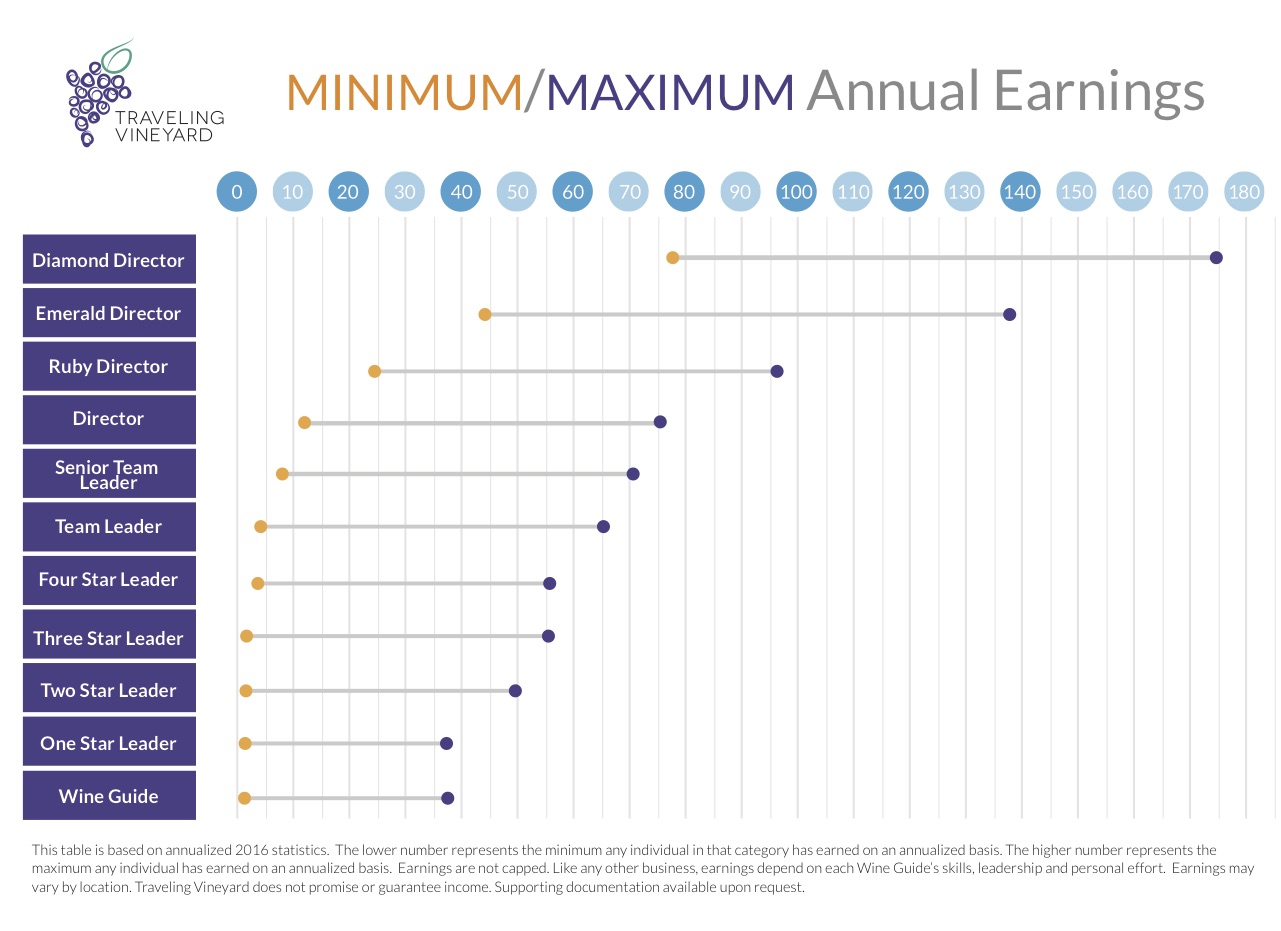 What is the upfront cost to become a Wine Guide?
You need a tasting kit called the Success Kit to hold your first tasting. It's $189 plus shipping and includes $150 worth of wine.
The Success Kit includes:
2 Tasting Sets of 5 bottles each – enough for your first two events
Tasting glasses and a carrying box
6-bottle wine carrier
Business paperwork – order forms, start-up guide (orders can also be made via mobile app)
Marketing materials – brochures and flyers
Wine accessories
Sommology Kit – a training program and cheat sheet all in one

Do I have to rebuy the success kit after every couple of events?
After the first two events, you replace the wine for your tasting sets – at $75 per set – but if your event met the standards for a 'qualified event' (which is determined by the orders you collect), Traveling Vineyard credits you the cost of your next set.
A successful tasting means a free tasting set.
How many people do you need to host a successful event?
My personal recommendation is to get a minimum of six people. I've hosted a maximum of 30 people when I organize couples events.
Do you use social media to market your tastings?
I have a business Facebook page and send out event invitations via Facebook.
I share specials and tips on the business Facebook page.
What do you think about the Traveling Vineyard wine?
So good! Traveling Vineyard has a great product—award-winning wines that are sourced from grapes all over the world, and blended to perfection by their expert winemakers.
If you're interested in becoming a wine guide, check out www.travelingvineyard.com. 

Latest posts by Millennial Boss
(see all)