My husband said to me the other night, "Hey. Let's do a mini-retirement someday."
I LOVED IT.
Seriously, it elicited a stronger reaction than if he had given me a 100 roses.
I've been wanting to take a gap year every since talking to Noah and Jillian on the podcast, two people I know who have taken or are planning to take gap years.
Jillian's story is actually pretty amazing.
She has 6 kids; 4 adopted
She's taken 5 mini-retirements with her husband
Traveled all around Europe
Renovated 3 houses
Reached financial independence
Hit a $750,000 net worth
Started her own business
I read her blog pretty regularly and her writing is raw and from the heart.
That's why I was so excited to hear she was launching a "plan your own mini-retirement" course.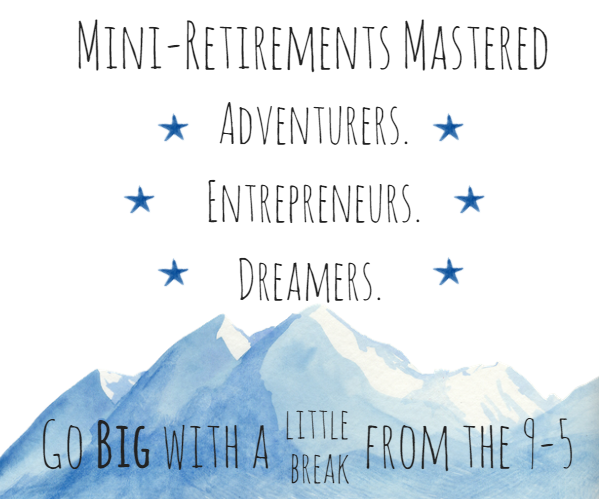 Mini Retirements Mastered – sign up here
The purpose of the course is to prepare someone to take the leap into mini-retirement. Like legit prepare, step by step.
This includes the financial preparation needed, the logistics, the dreaming part of it, the emotional support and everything else that comes with a mini-retirement.
I have early access to the course and the format is videos and printables. It's administered by teachable which is an easy to use platform.
There are also bonus videos by other financial experts on travel, entrepreneurship, and retirement included at the end of the course.
You also get support from Jillian and she's super passionate about helping people realize their dreams.
She takes it super, seriously.
If you want to hear amazing free advice from Jillian, check out her episode on FIRE drill podcast.
We talked to her for over 30 minutes so you'll get a good sense of what the course might be like, when it opens again.
Episode 21: Living an Amazing Lifestyle on Less with Jillian from Montana Money Adventures
Are you interested in taking a mini-retirement? Where would you go?
Julie paid off nearly $100k of debt and is on her way to financial independence. She hosts a
Podcast
and is obsessed with tracking her money saved via the free app
Personal Capital
(although she won't tell you what it is). She loves her dog and drinks iced coffee year round. She also is the creator of
The Side Hustle Course
where she teaches people how to sell printables on Etsy and blog.
Latest posts by Millennial Boss