Would it be possible to do Grand Teton National Park in one day? What if you were staying at Signal Mountain Lodge?
My husband and I asked ourselves this before our road trip through Washington, Idaho, Montana, Wyoming and Colorado this past month.
Well, we can confirm YES it's possible!  We managed to have a blast in the Tetons in one day and loved our stay at Signal mountain lodge. Read below for the review.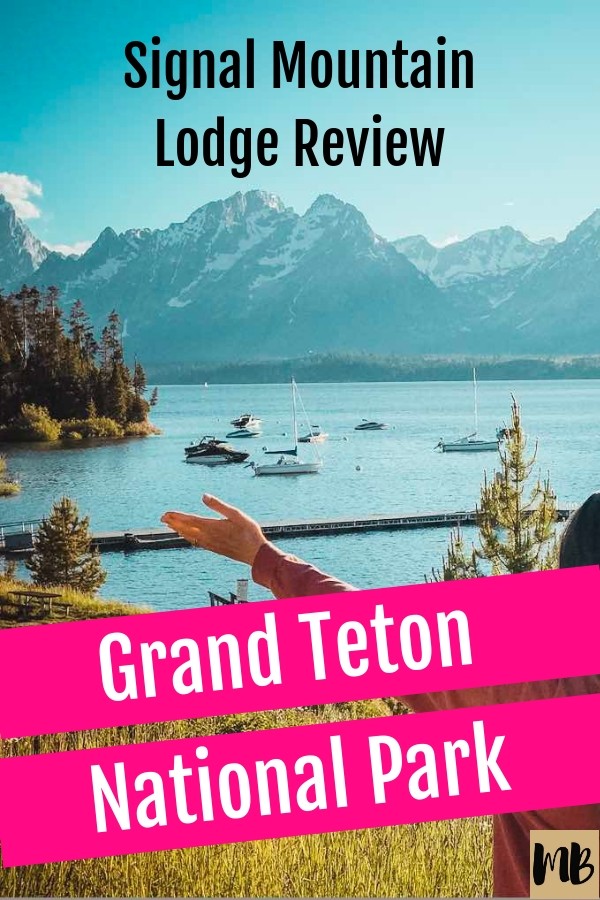 What to do in Grand Teton National Park in One Day
The first thing I'll mention is that the Tetons are so beautiful that you'll probably be entertained just driving around and pulling over at the view areas.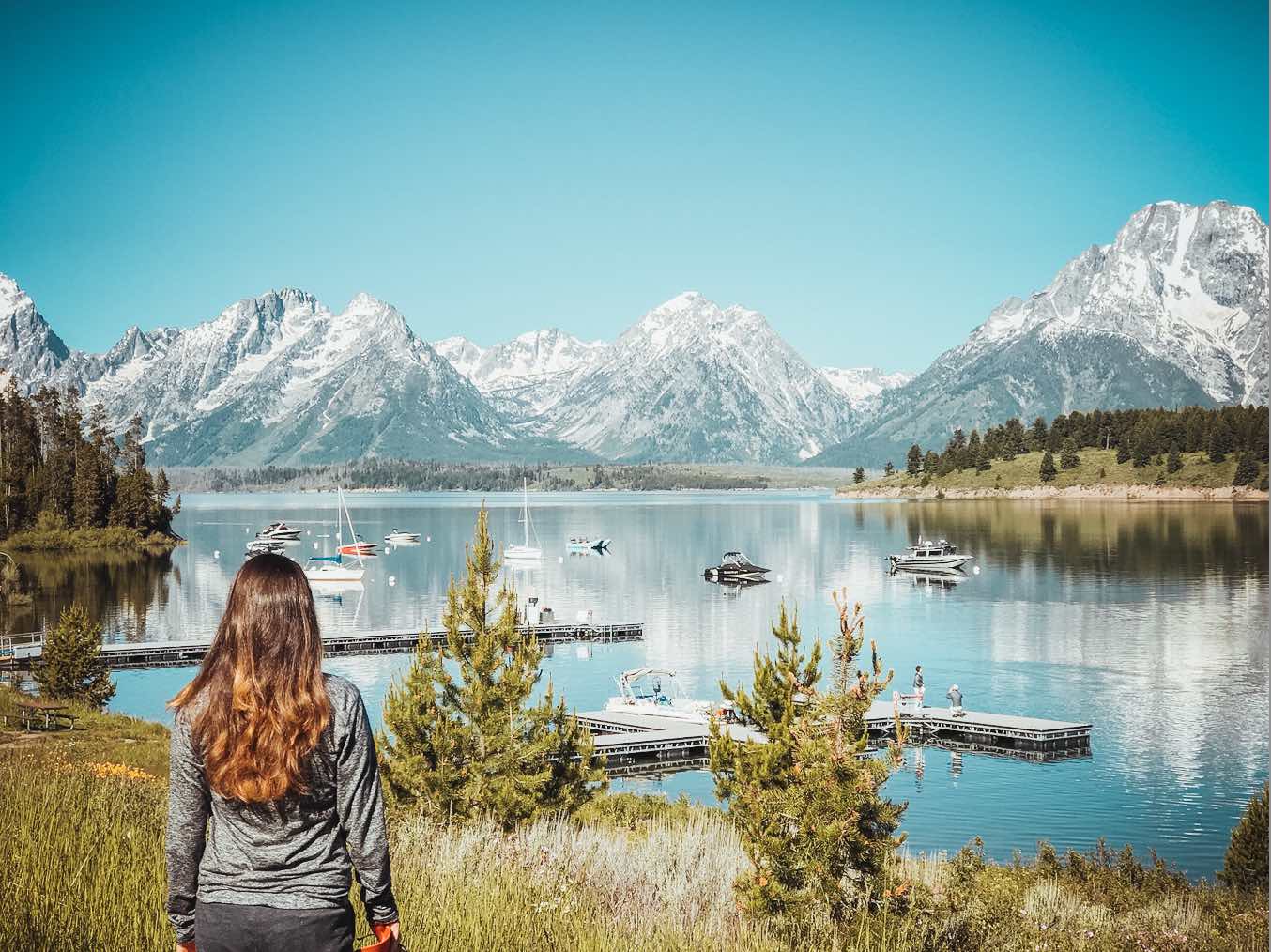 I think I took over 200 pictures in 24 hours.  Maybe more.  I kept having to remind myself to "be in the moment" but I also wanted to capture the moment.
The photo above was taken behind Signal Mountain Lodge.
Grand Teton National Park Photography
We took some beautiful pictures during our trip to Grand Teton.  We also saw a bear!!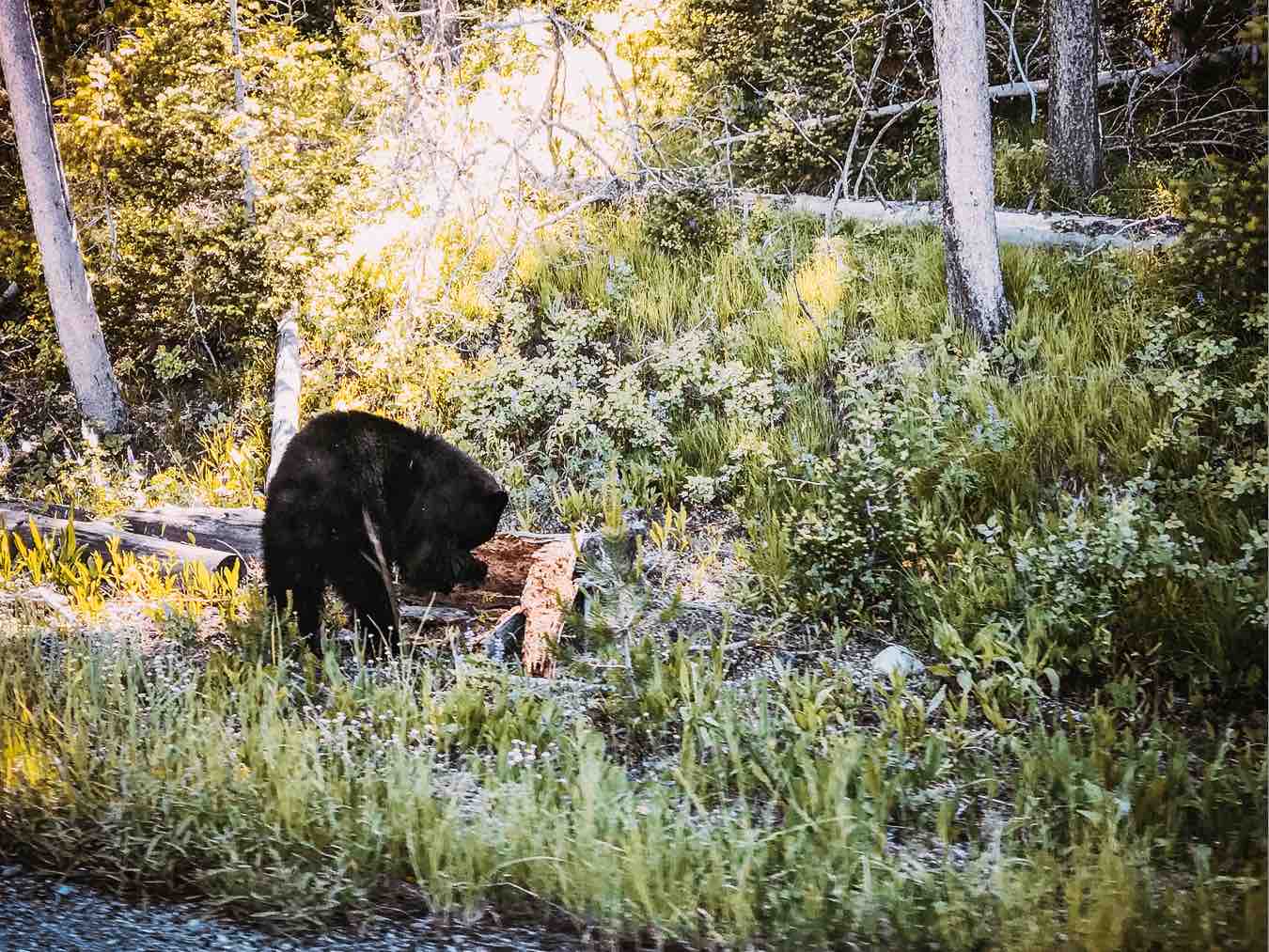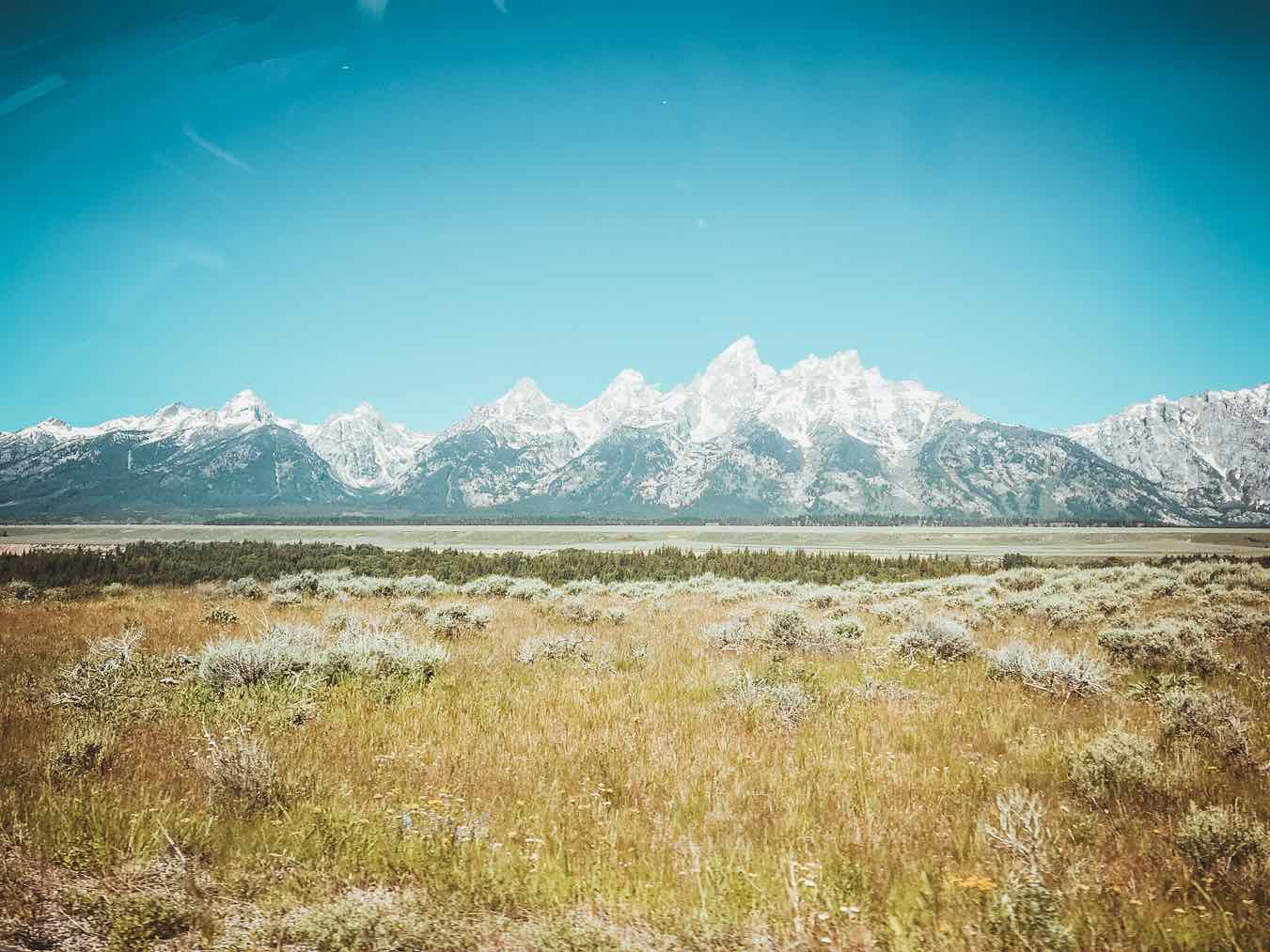 Both of these pictures were taken from our car.  We also pulled over to grab this shot of Jackson Lake.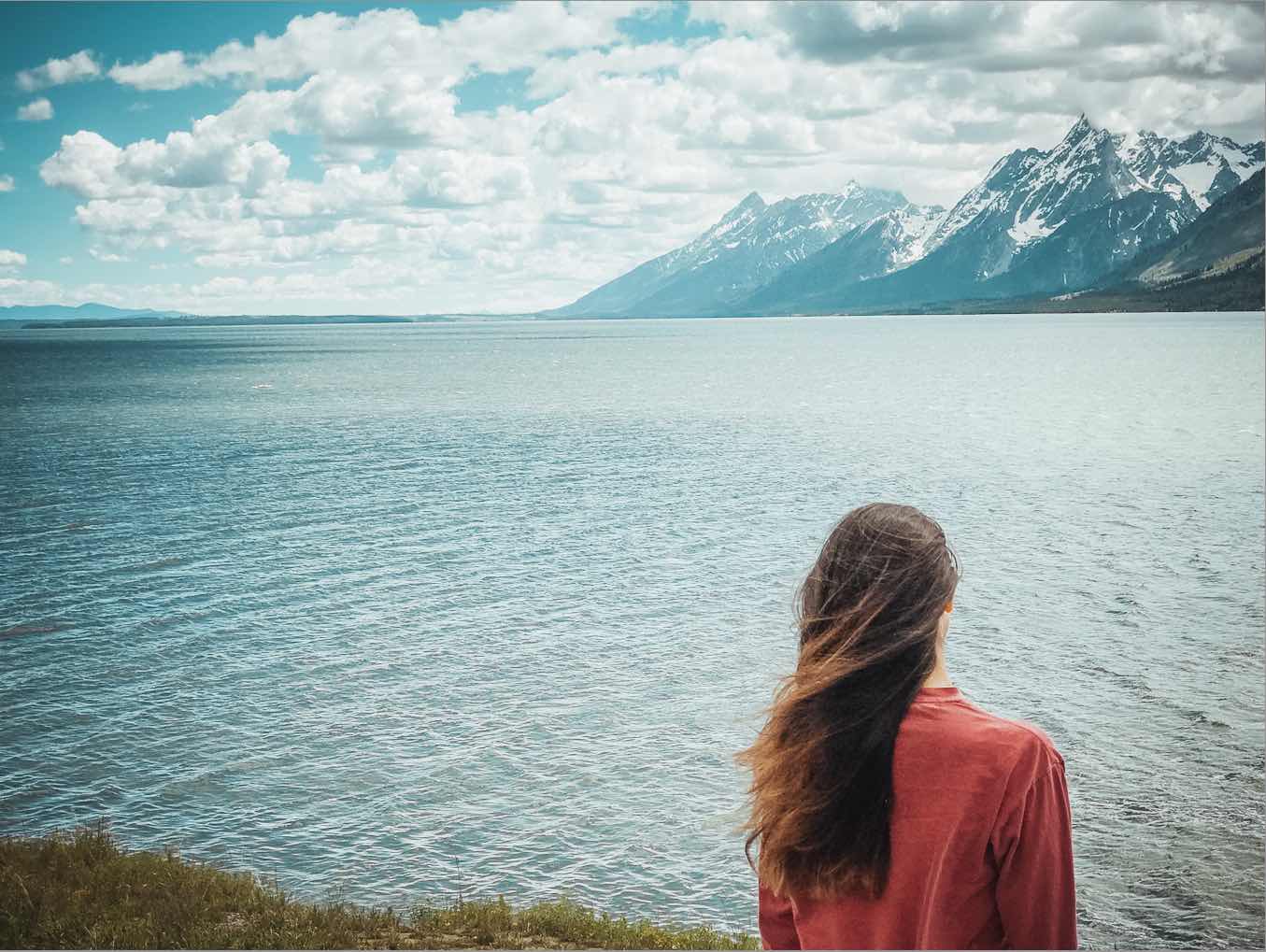 If you're into photography and beautiful pictures, you'll have a blast just driving around Grand Teton and snapping photos.
We visited in June and the weather was perfect.
Where to Stay in Grand Teton National Park
We had three choices of where to stay when we booked our trip:
We could stay at a campground in Grand Teton
We could stay at a lodge in the park
We could stay at an Airbnb in Jackson and drive into the Park to explore
We decided to stay at Signal Mountain Lodge in the park for two reasons.
We had guitars with us since we were just coming from a guitar festival in Bozeman, MT and my husband thought the guitars would get ruined if they were in the car in the hot weather if we camped.
Since we only had one day, we didn't want to stay at an Airbnb outside the park and cut into our time in the park.  We wanted to take advantage of every minute and stay in the park.
Note:  The Airbnbs were definitely cheaper than the lodge though and would allow us to eat our meals in house and save money.  It just didn't make sense for us this trip.  I do have a $40 credit for anyone who signs up for their first Airbnb stay using this Airbnb link, if it makes sense for your trip.
Review of the Signal Mountain Lodge in Wyoming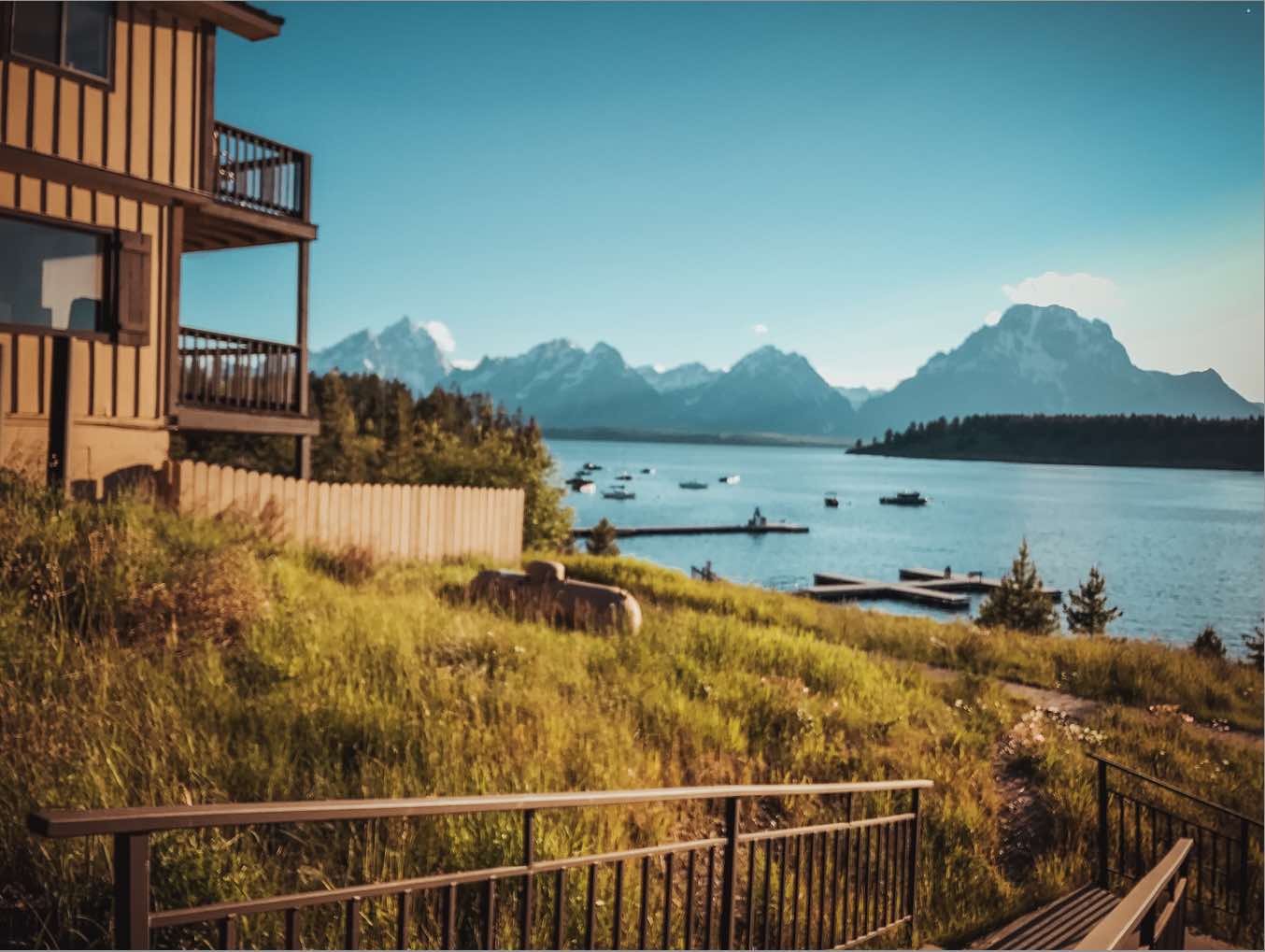 There was only one room available at the Signal Mountain Lodge in Wyoming a few weeks before the trip and I snagged it.  I'm so glad I did!
The Signal Mountain is the only lodge right on Jackson lake in the Tetons and the views are absolutely breathtaking.
It's open May through October and you can book here.
I.  Signal Mountain Lodge Cabins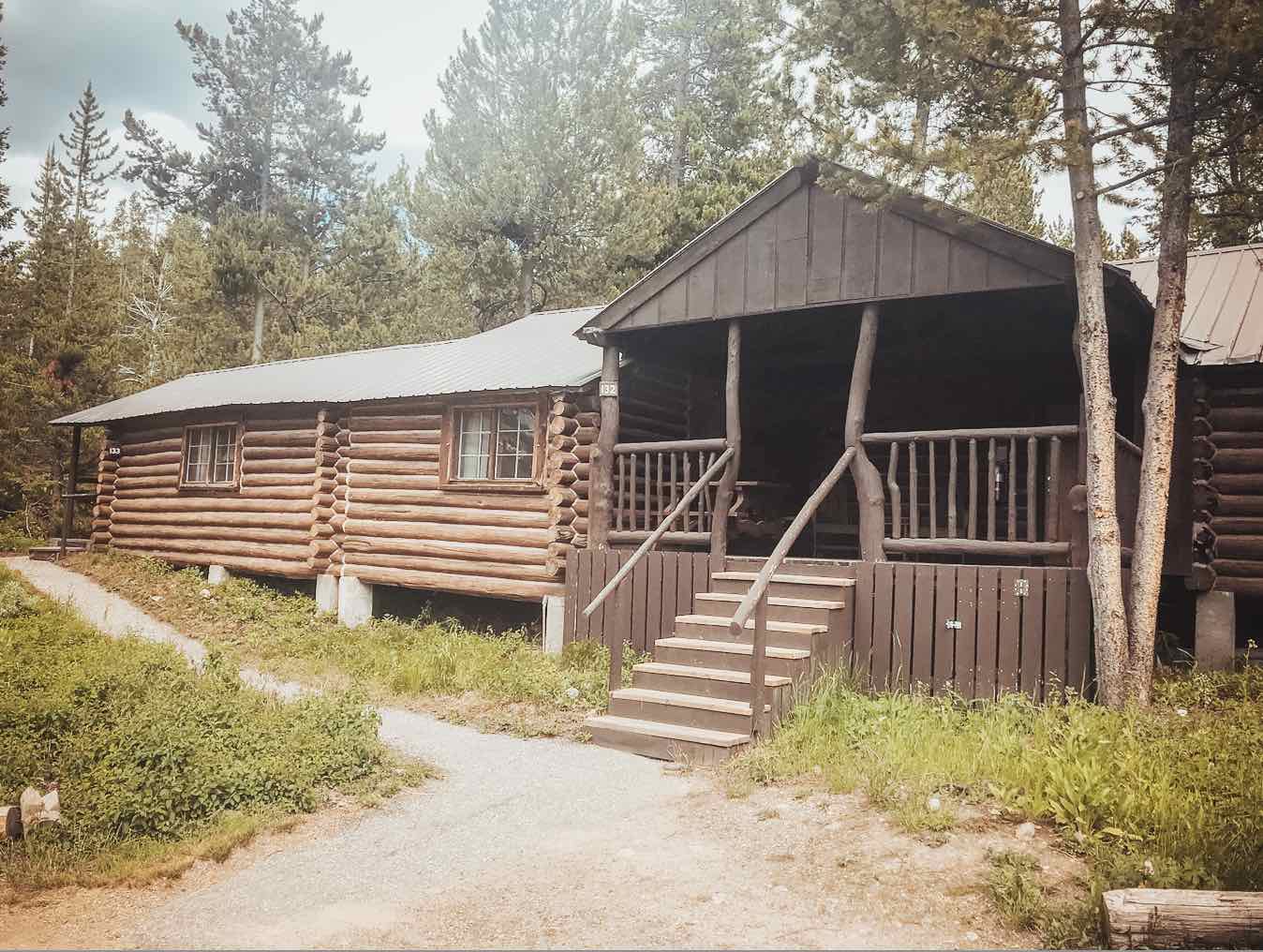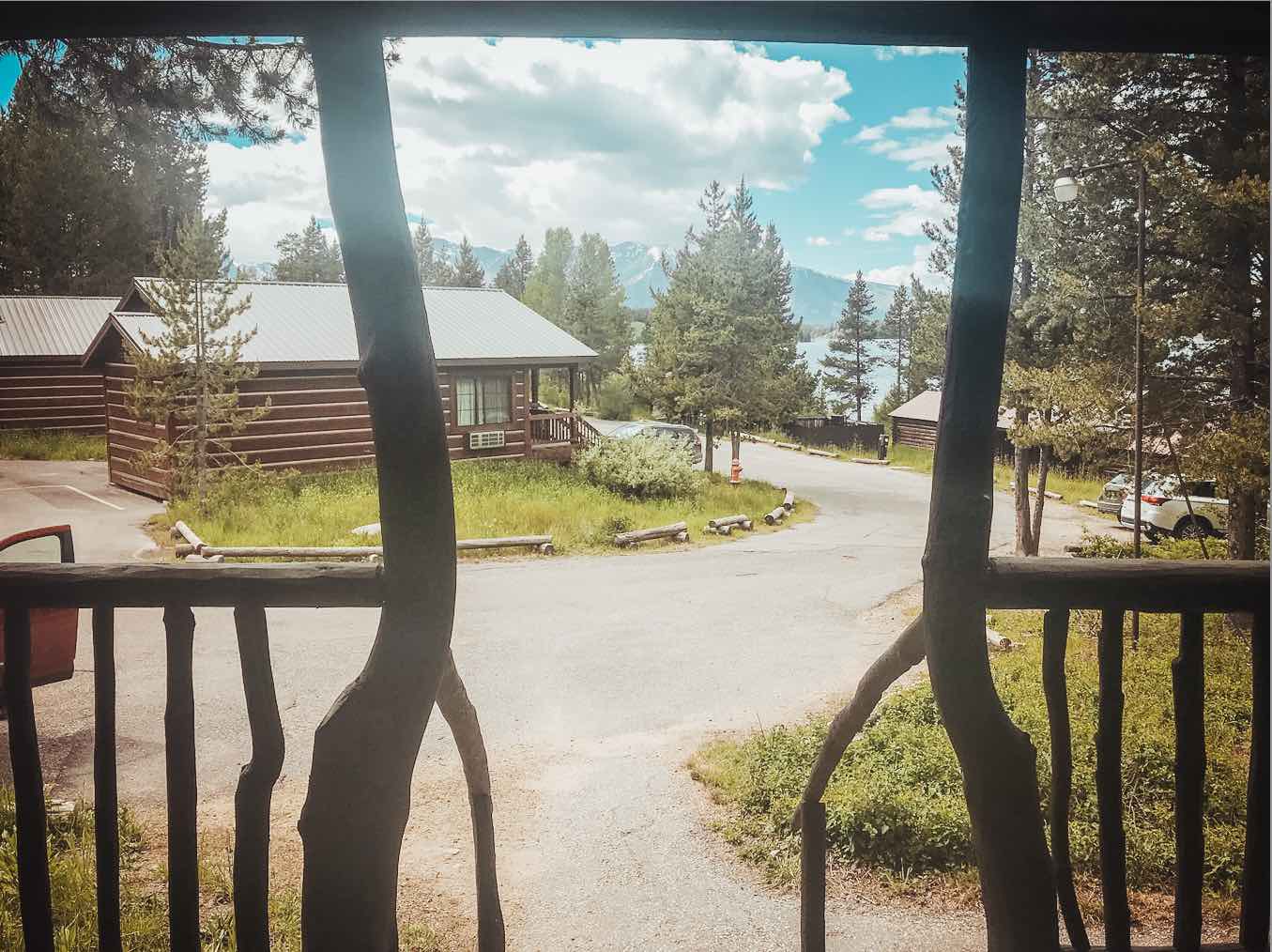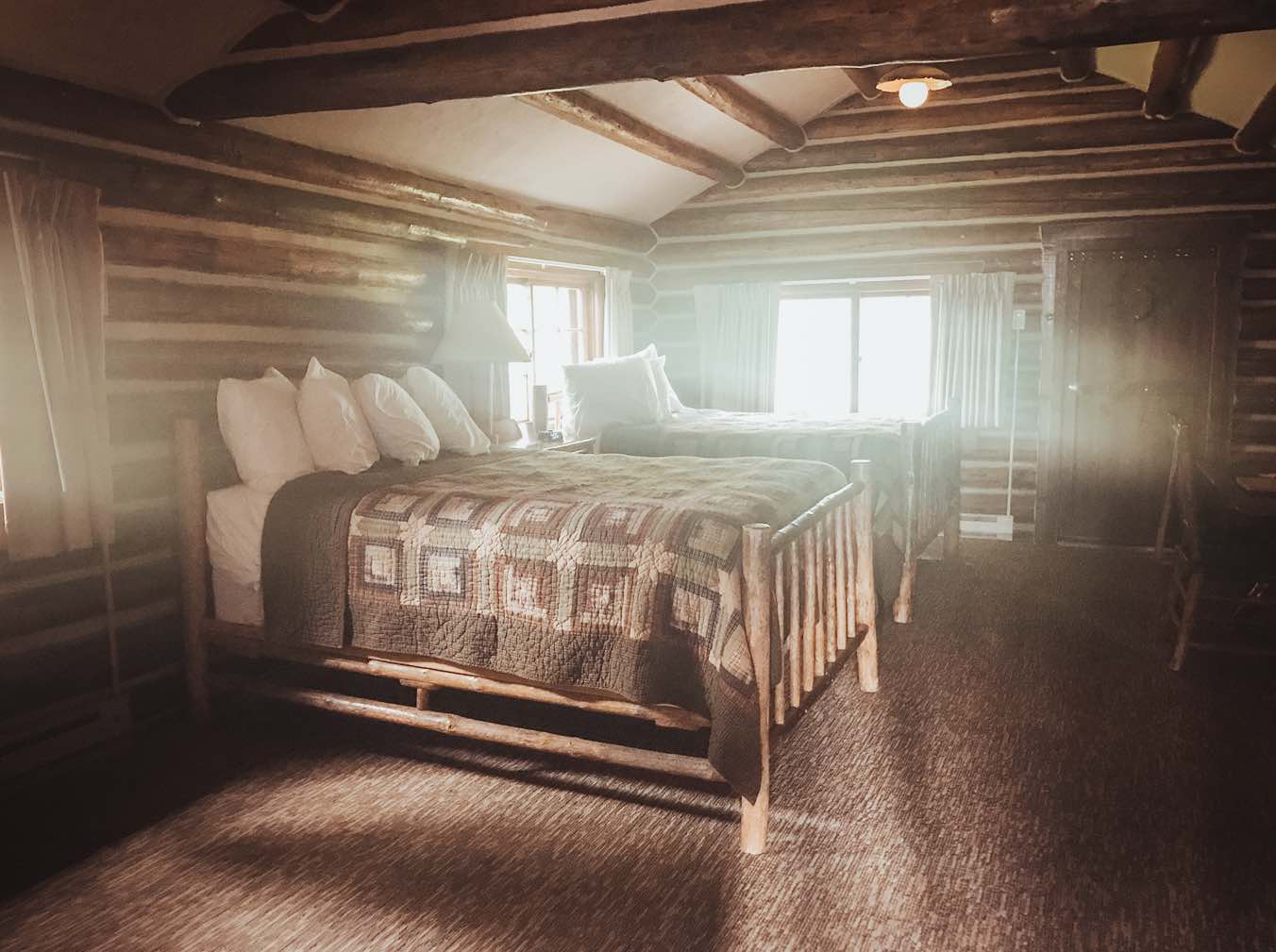 We stayed in this cabin for around $250 for one night.  It was perfect.  The cabin had two queen beds inside and front and back porches.  The front porch had a small view of the lake.
We planned on sitting in chairs and watching the sunset on the porch but we ended up enjoying a glass of wine at the Trapper's Grill at the lodge.  More to come on that.
II.  Signal Mountain Lodge Campground for Tents and RV camping
If you don't want to stay in a cabin, you can stay in a campground on the Signal Mountain Lodge property.  We ended up walking around the campground at night for fun and it was super nice.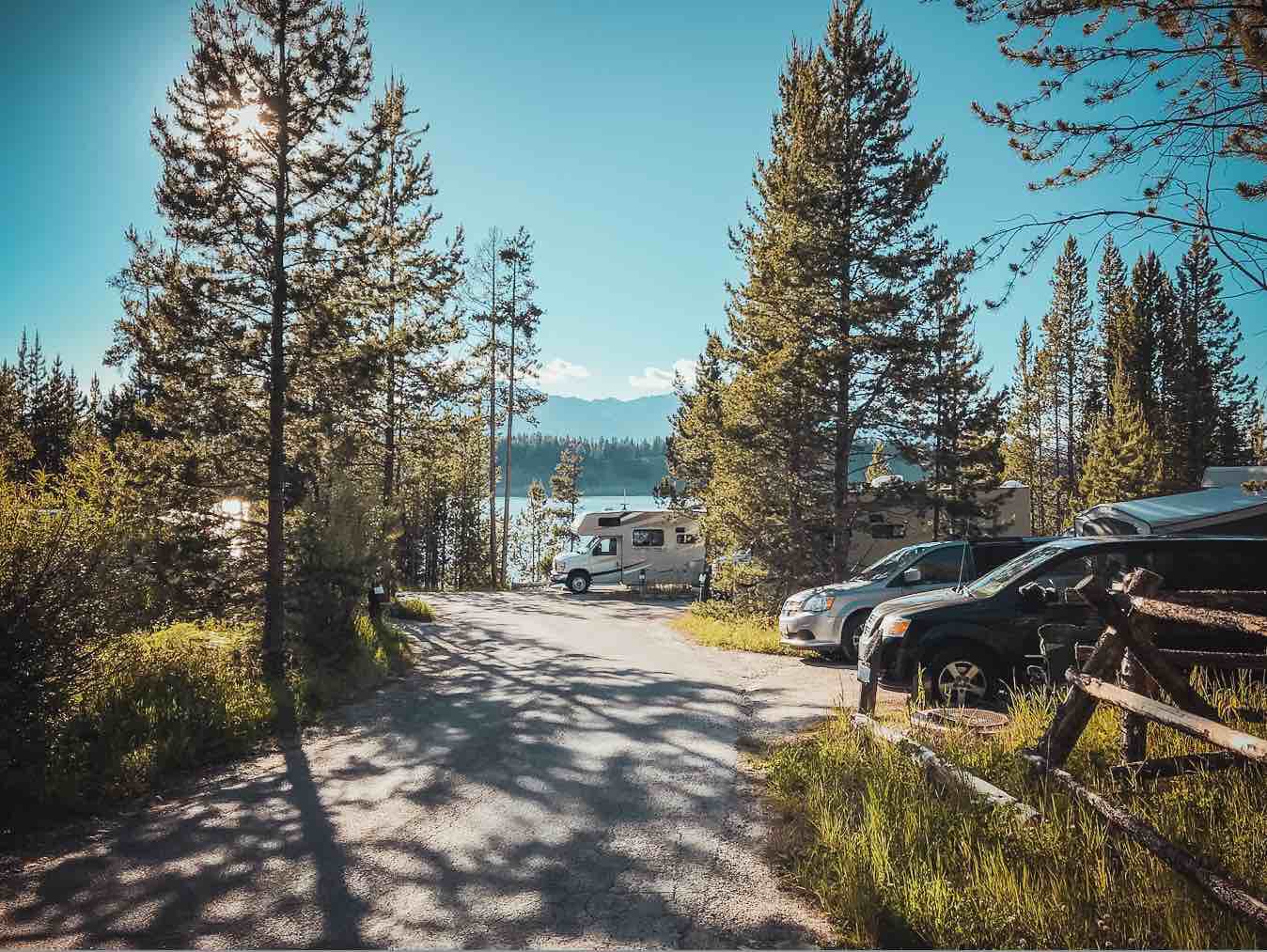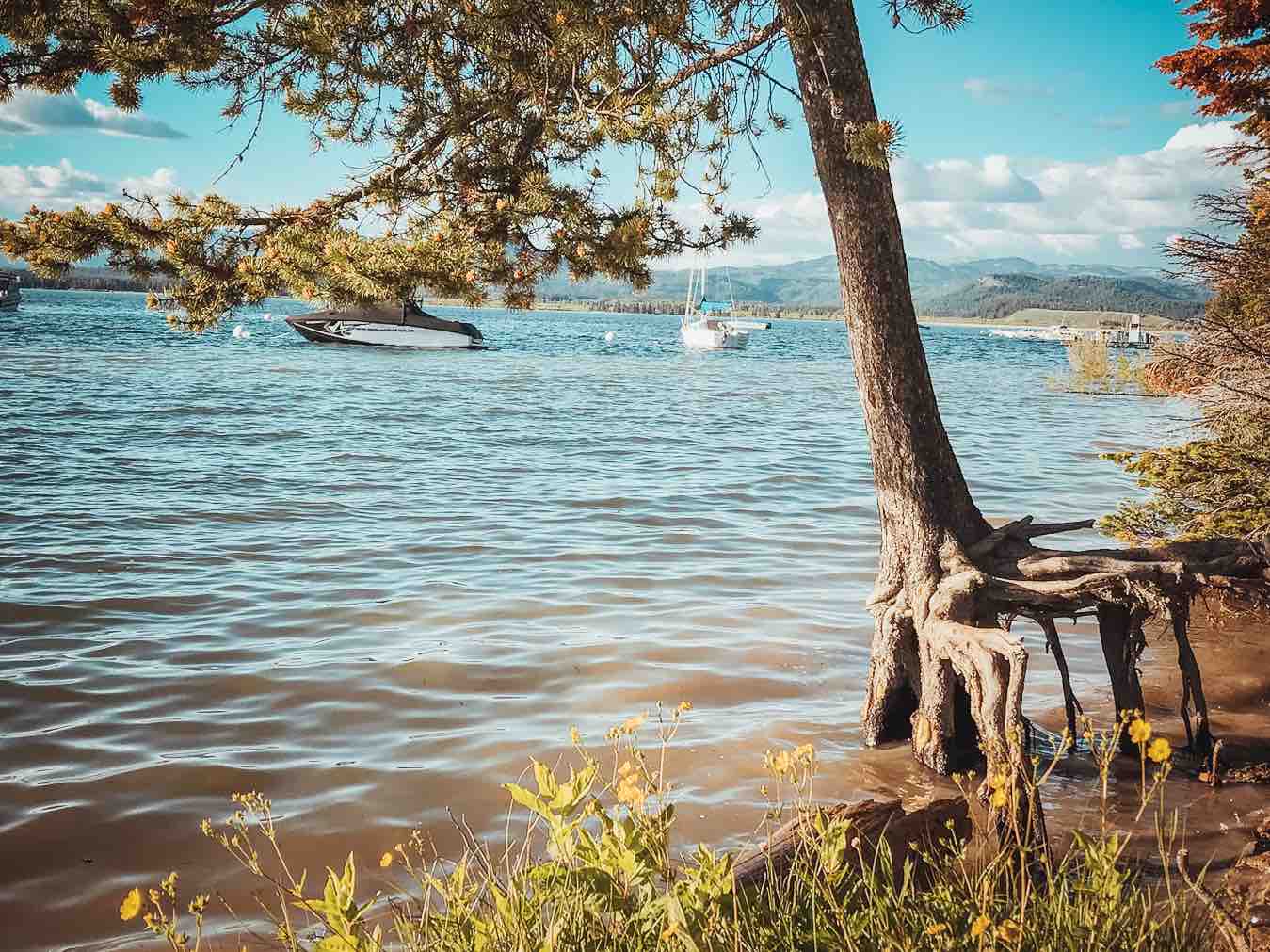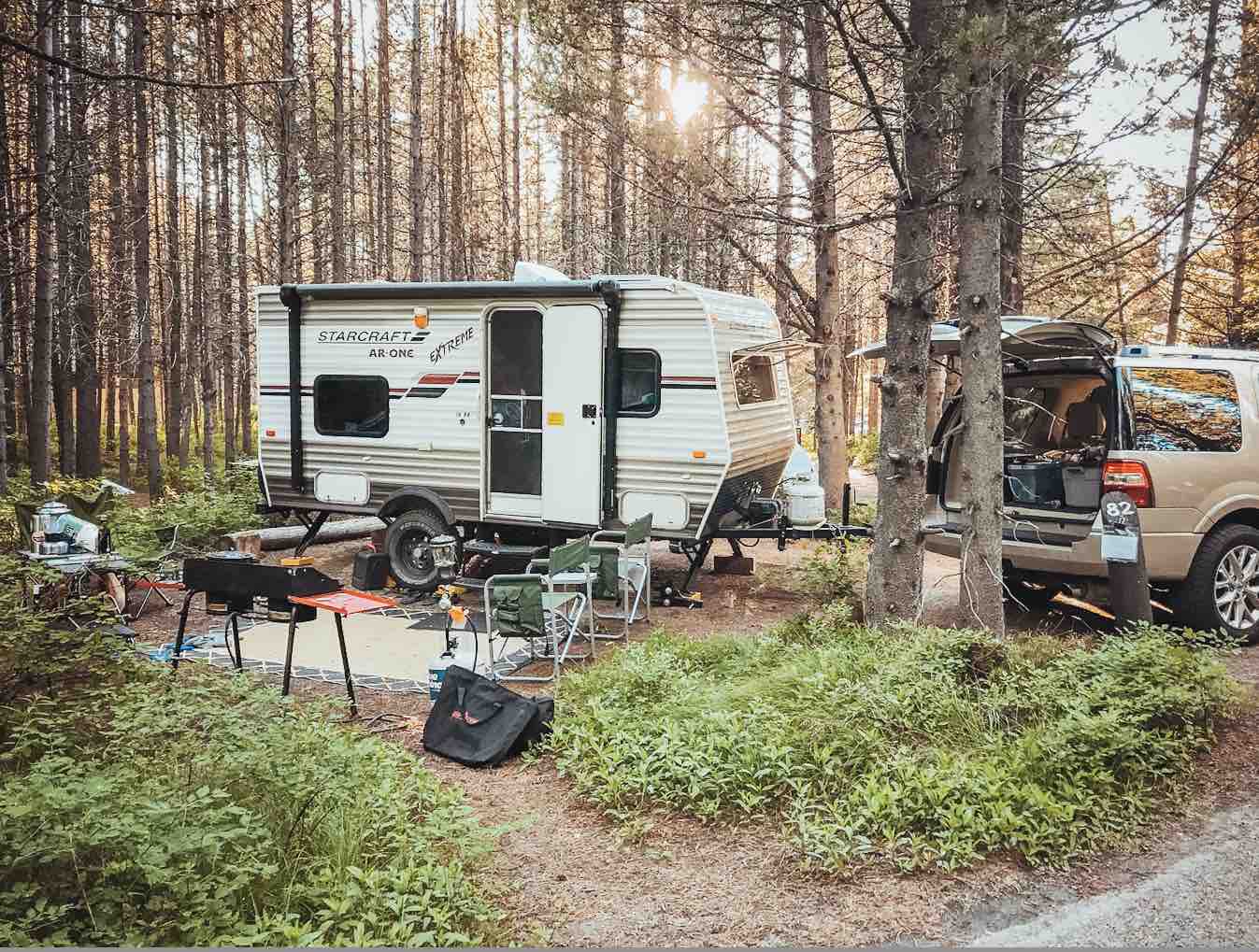 It looks like RV hookups can be around $50 per night or more depending on the location. They have tent camping sites too, showers and everything you would need.
III.  Signal Mountain Lodge Dining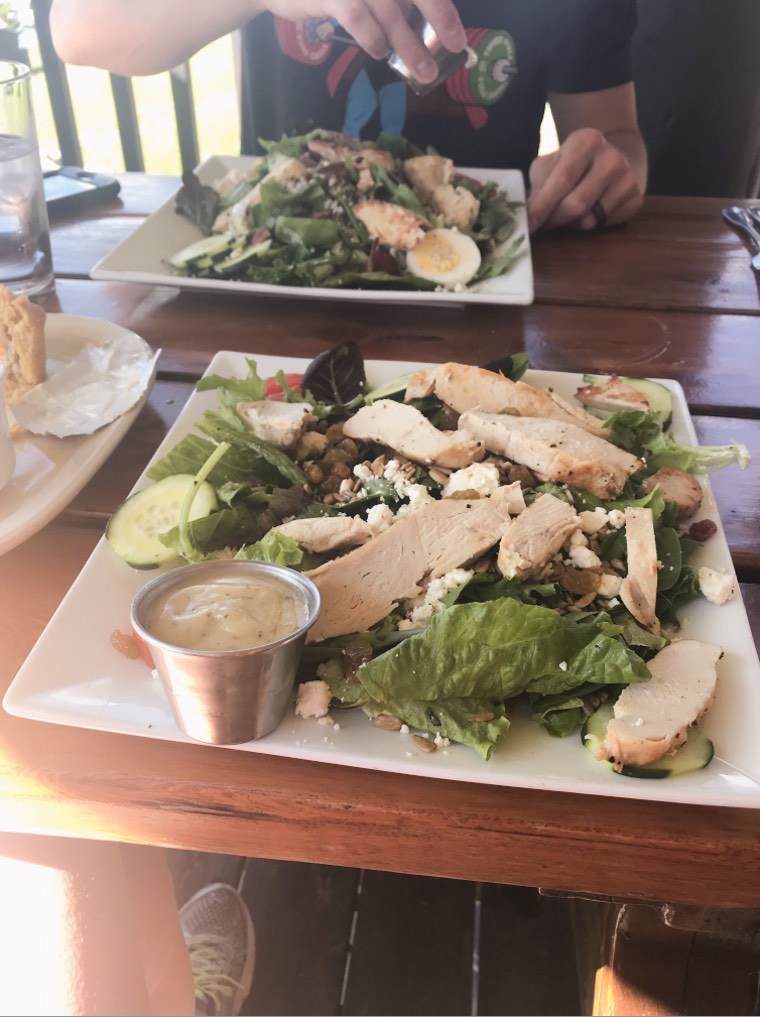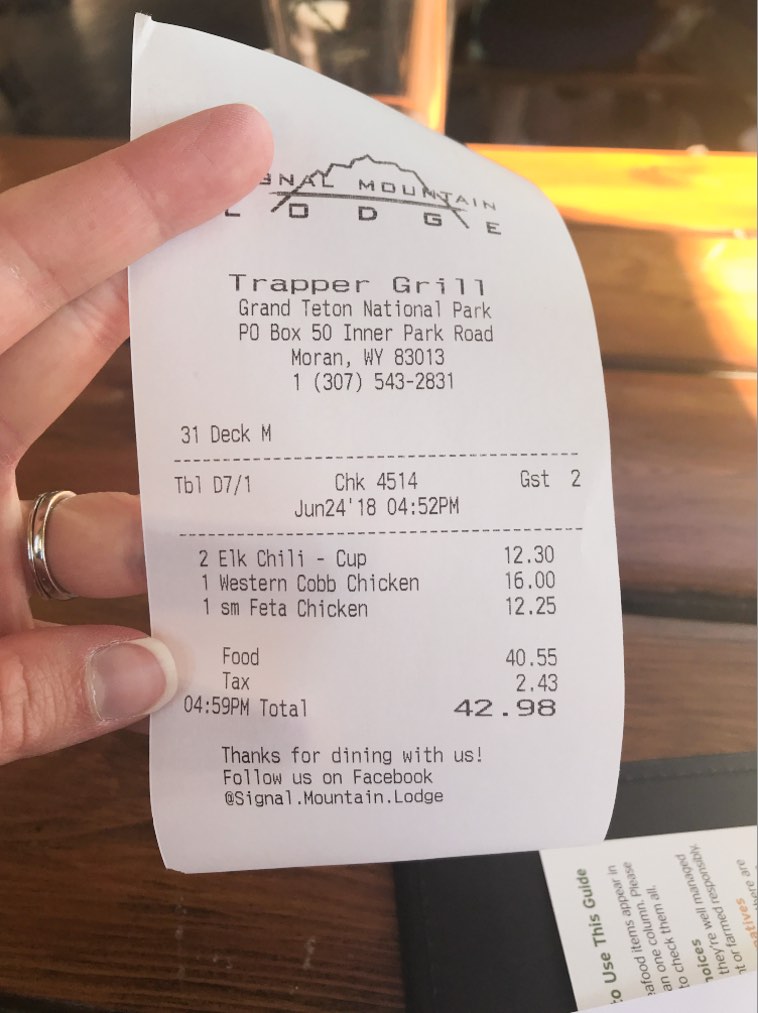 We had dinner at Trapper's Grill which is right on the lake.  You can sit right out on the porch with incredible views of the mountain ranges and the lake.
Dinner itself was affordable and delicious.  We got fancy salads since we had been eating burgers our entire road trip and needed something healthier.  They were great.
There is also a more formal restaurant inside called Peaks Restaurant and a bar that is open to midnight called Deadman's Bar.
IV.  Signal Mountain Lodge Activities
Signal Mountain advertises a 3-hour float trip on the Snake River and we were absolutely bummed that we didn't get our act together in time to catch the last float trip of the day at 6PM. They seem to offer two trips per day with the timing depending on the season.  In late June, they were offering a 7AM and 6PM trip.
There is also hiking right on the property with the South Landing trail.  This is supposed to be a short 1.5 mile out and back hike to a bay where you can swim.  We didn't get to the lodge early enough to take advantage of the trail and we really regret not doing so.  We'll have to come back!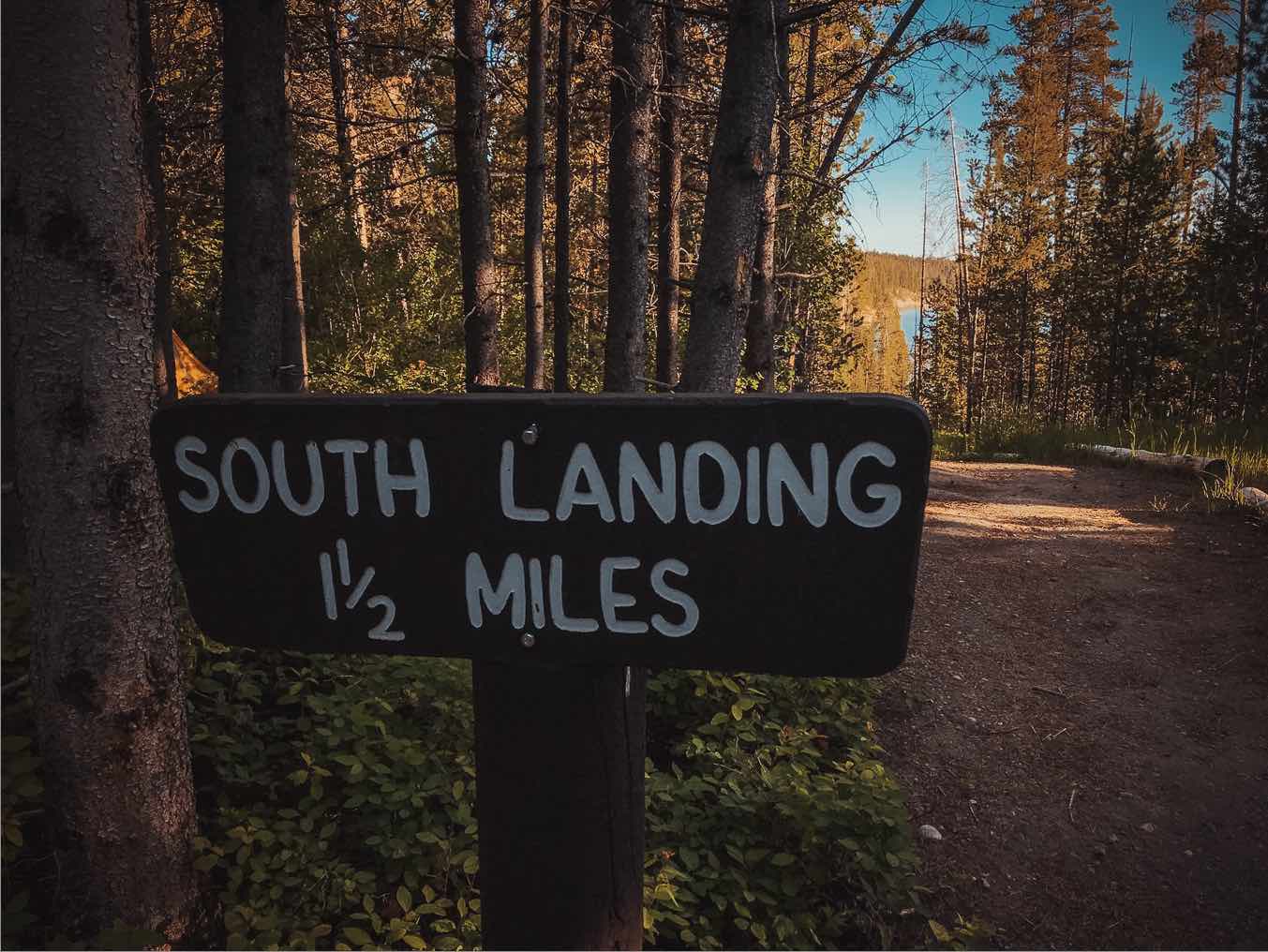 There is also the longer hike up to Signal Mountain which you can get to from the Lodge. I recommend checking out these hikes on All Trails to read reviews from other hikers and bringing bear spray.
You can also rent a boat for an hour at the Marina.  They have sailboats, pontoon boats, kayaks, canoes, fishing boats, you name it.  We had planned on renting a canoe for about $25 for the hour but decided to snooze a little in the morning instead.  The marina opens at 7AM and I believe closes at 7PM.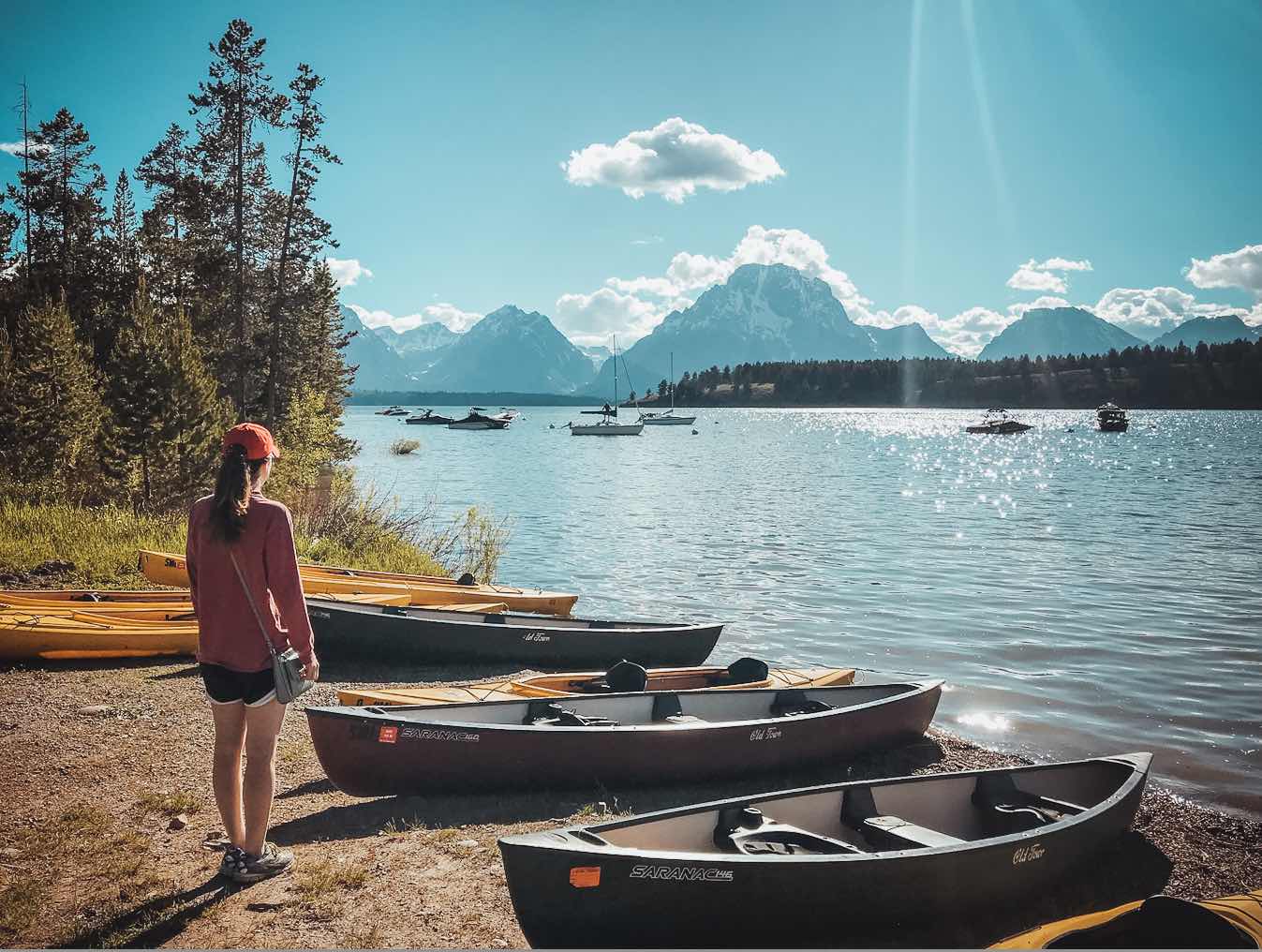 V.  Signal Mountain Lodge General Store, Wifi & Lobby
You can get bear spray in the general store which also has any food, coffee and alcohol you could possibly need.  Perfect for campers.  They didn't have wine to my dismay.
We stopped for gas on our way out.  I also noticed a young woman working on her laptop outside to the left of the coffee bar and saw plugs for electricity.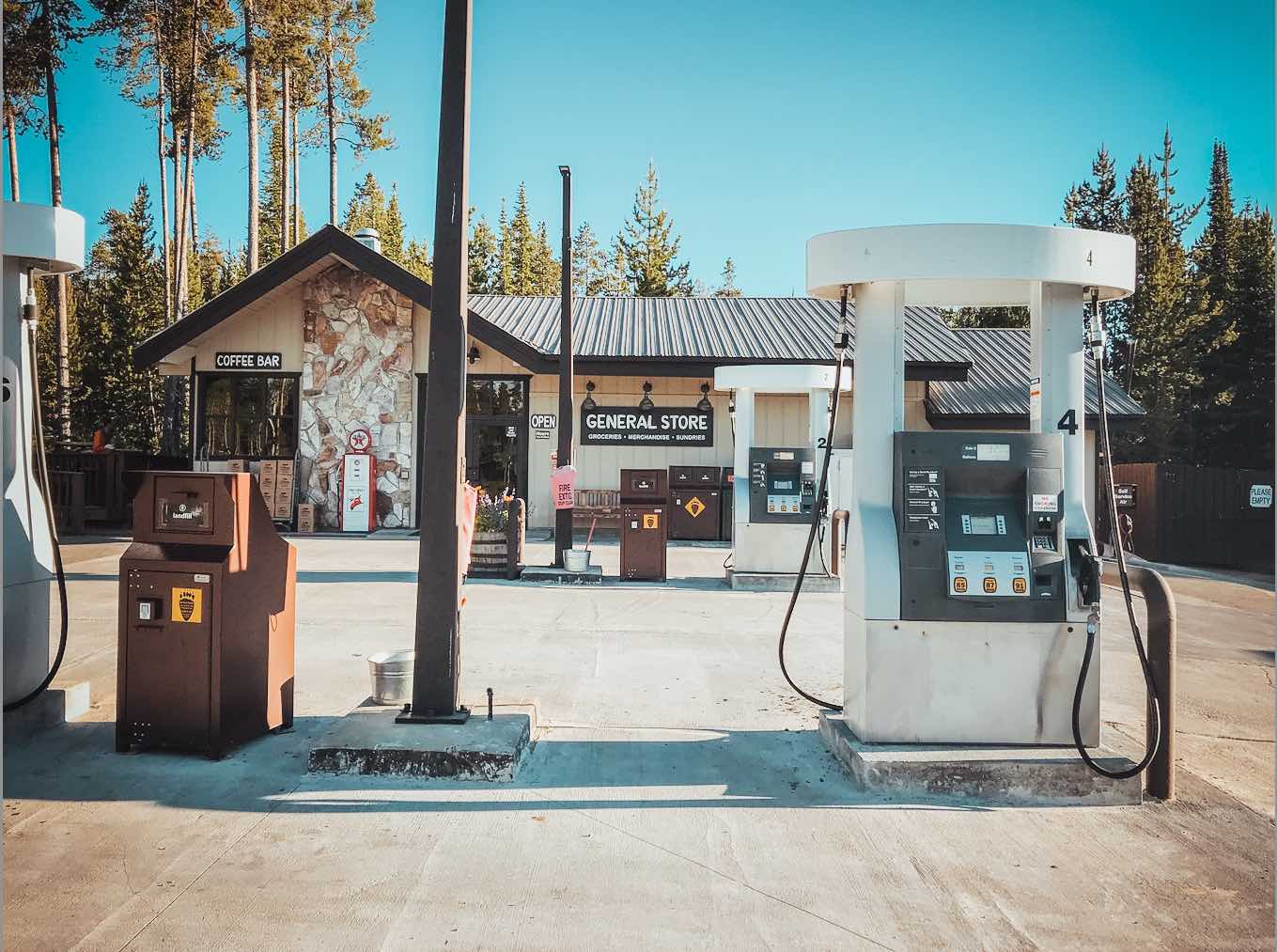 They definitely have WiFi in the lobby which is open 24/7.  We filled up our water bottles at the bottle station in there often and took advantage of the gorgeous views.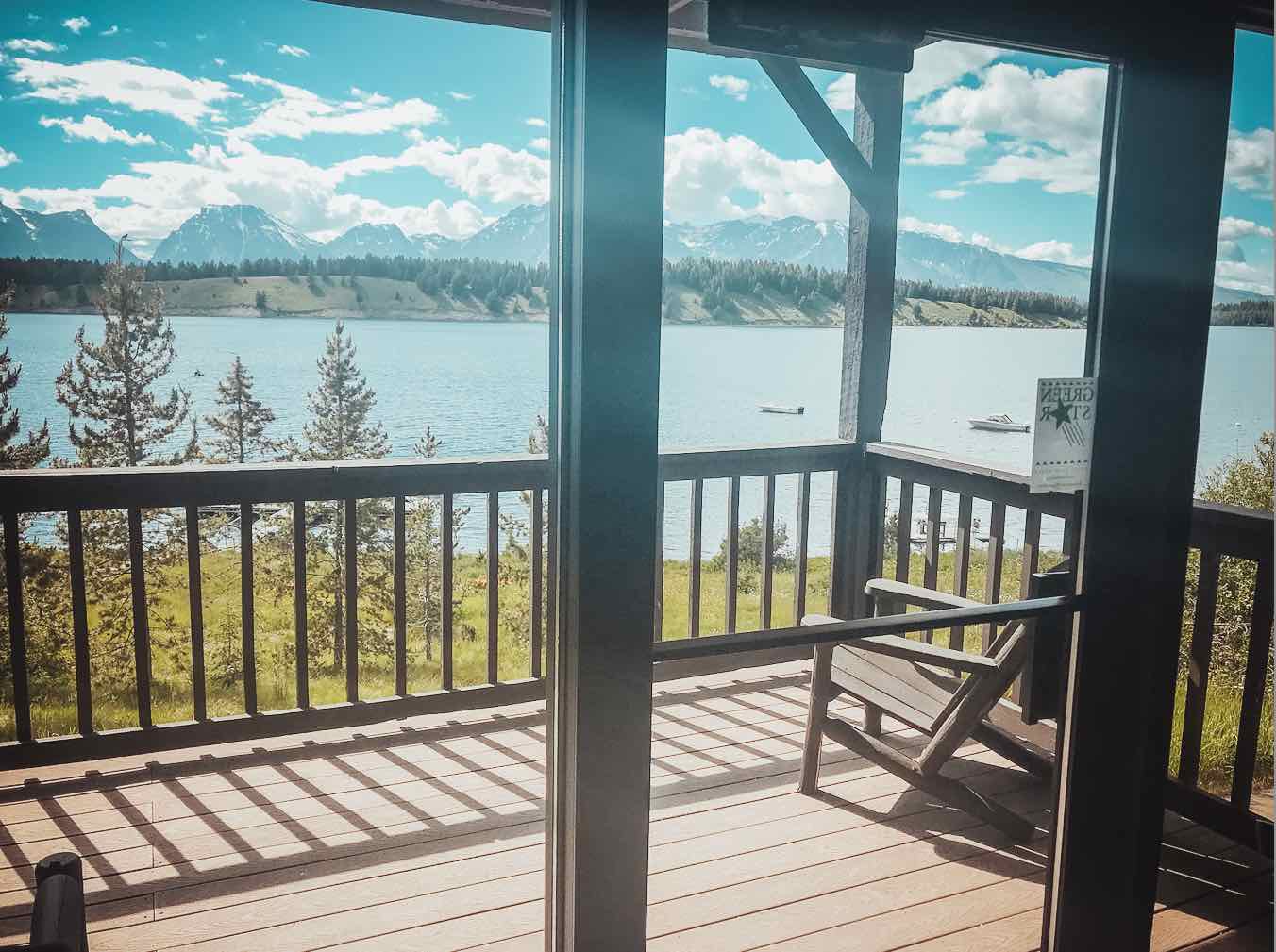 They have board games and TVs in the lobby too if you're looking to get out of the heat.  There were plenty of kids at the campground and I noticed that there were always a few quietly camped out in front of the TV.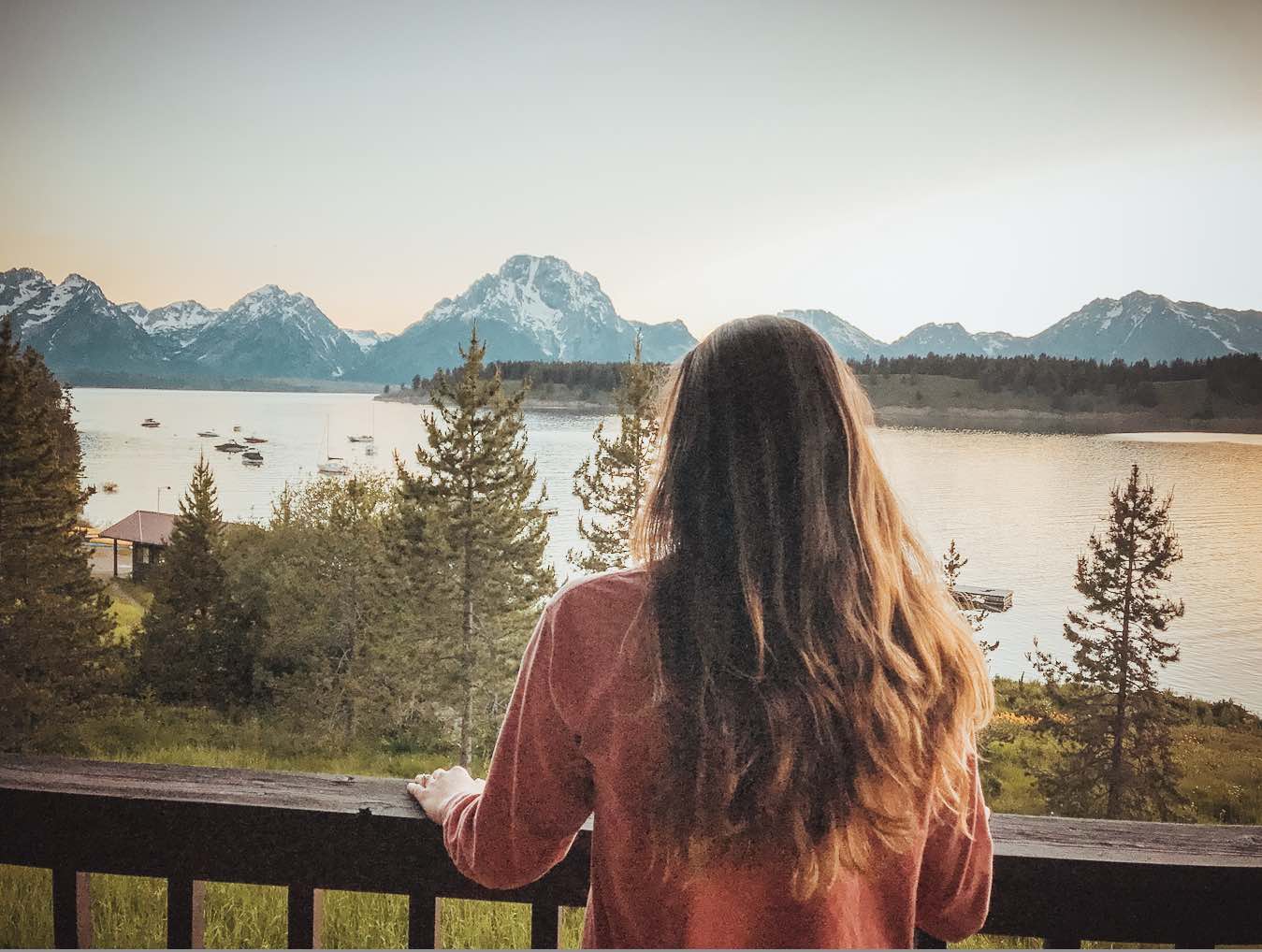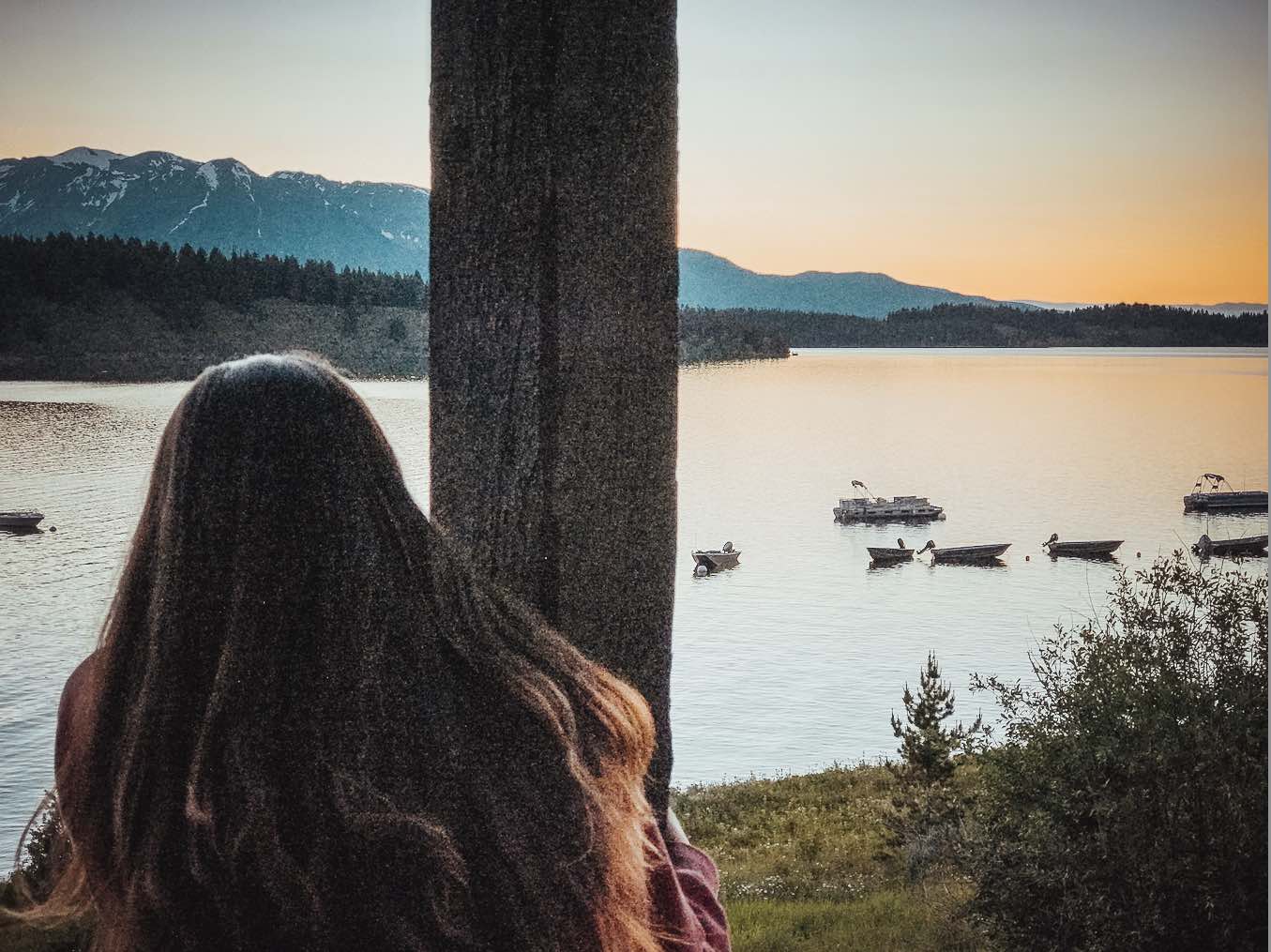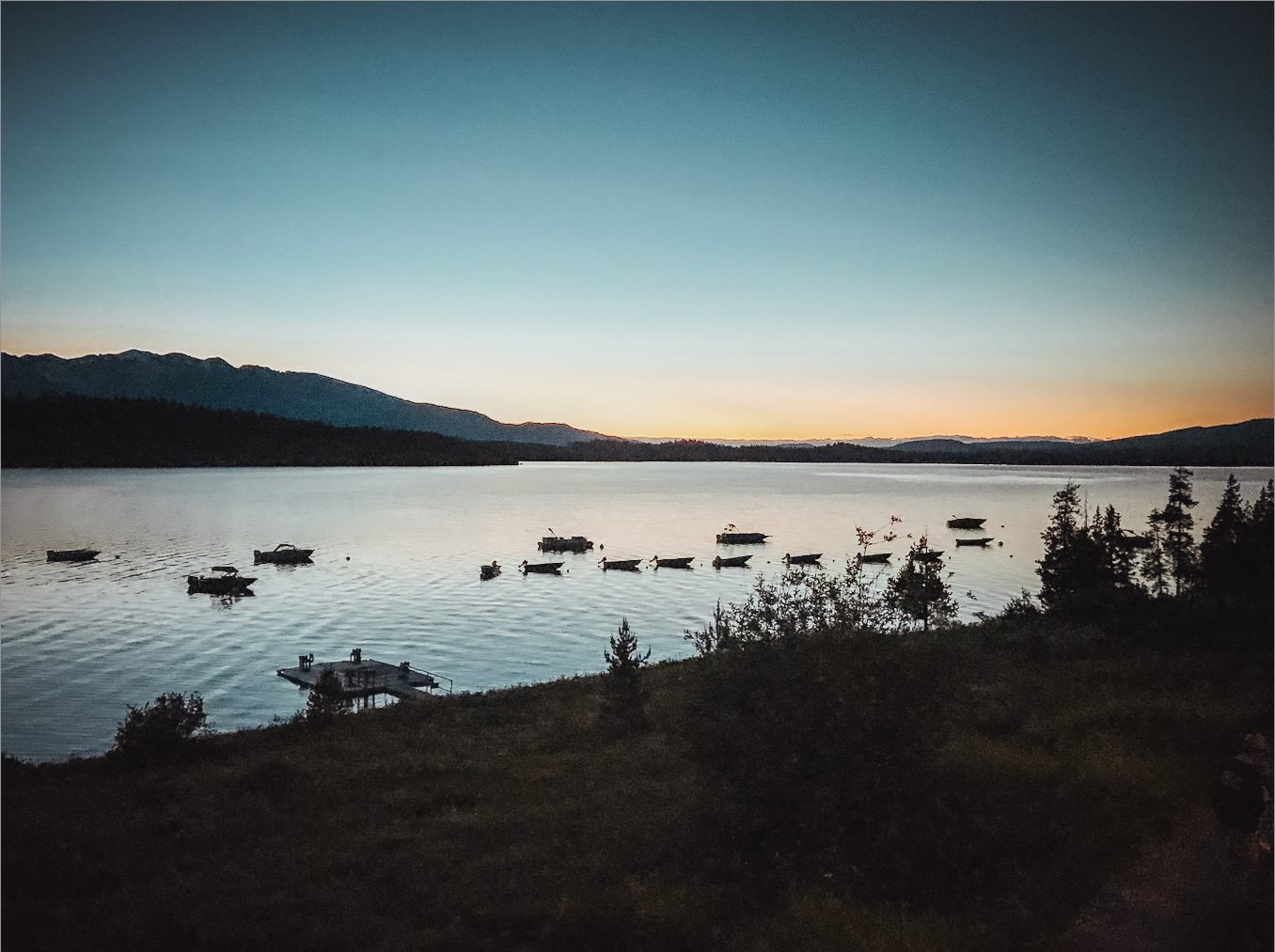 These pictures were taken from the balcony in the lobby.  Sunset over the lake was amazing.  TAKE ME BACK!
VI.  Signal Mountain Lodge Gift Shop
We also enjoyed browsing through the Signal Mountain gift shop.  My husband purchased a book on writing written by a local author.  I eyed these National Parks playing cards and journal but decided not to spring for them.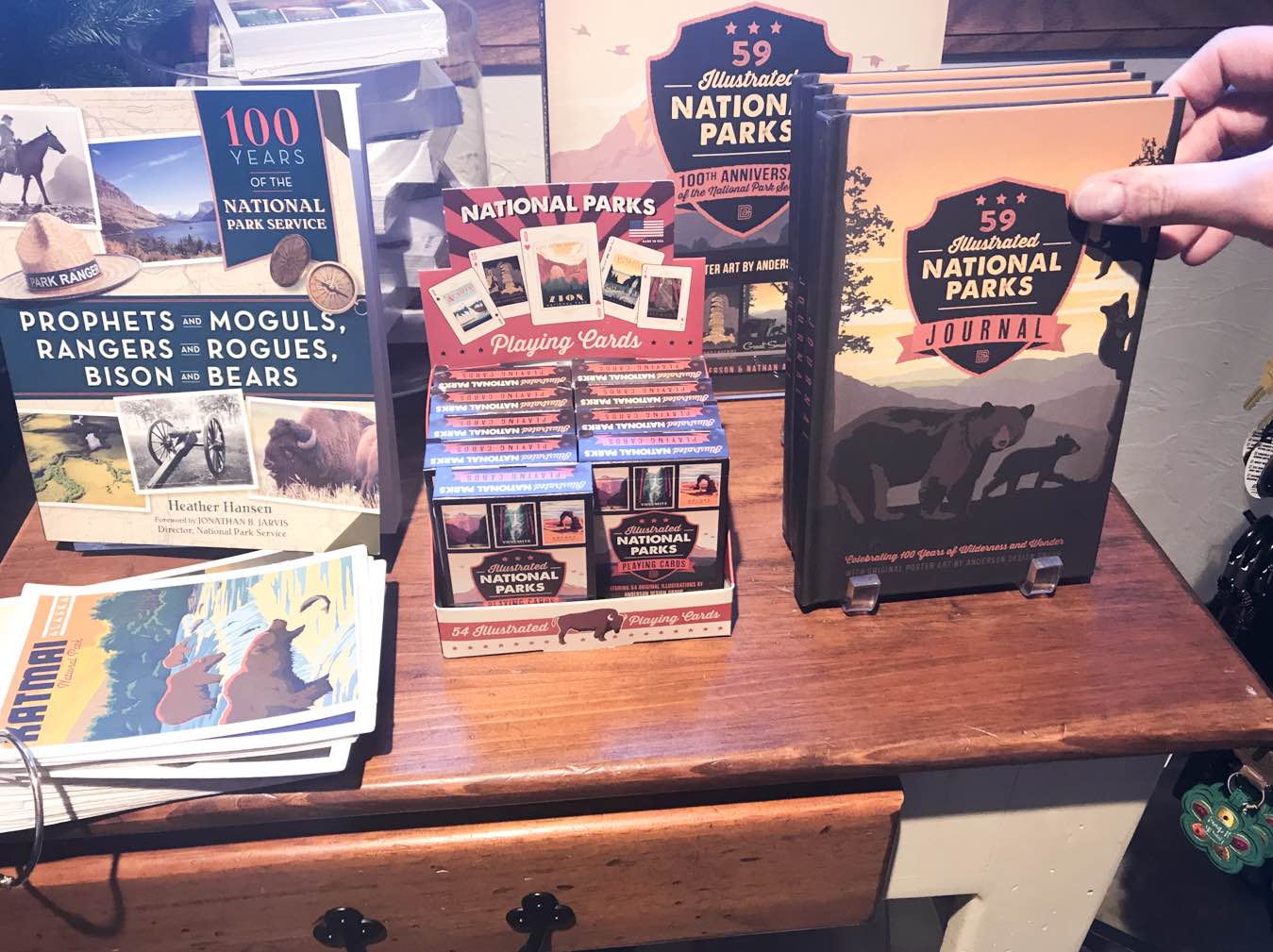 So what did we do in Grand Teton National Park?
Grand Teton is the perfect place to go hiking, fishing, camping and exploring.  We didn't do much of that honestly.
My husband and I are simple creatures and we just enjoyed being in one of the most beautiful places we've ever been.
Sometimes just staying put and enjoying a quiet night with a glass of wine and a view is enough.  We split a bottle and then played a little guitar in our cabin.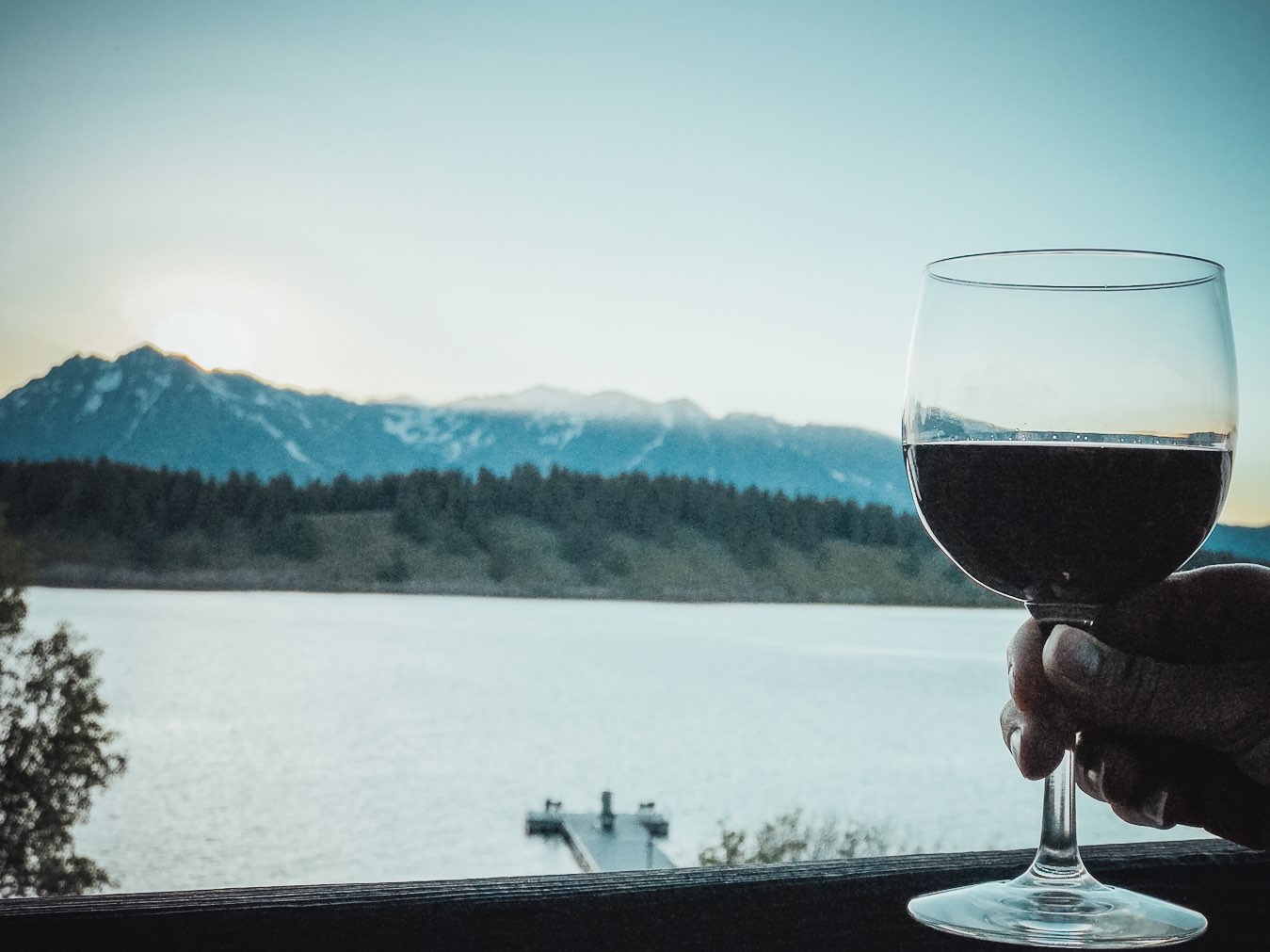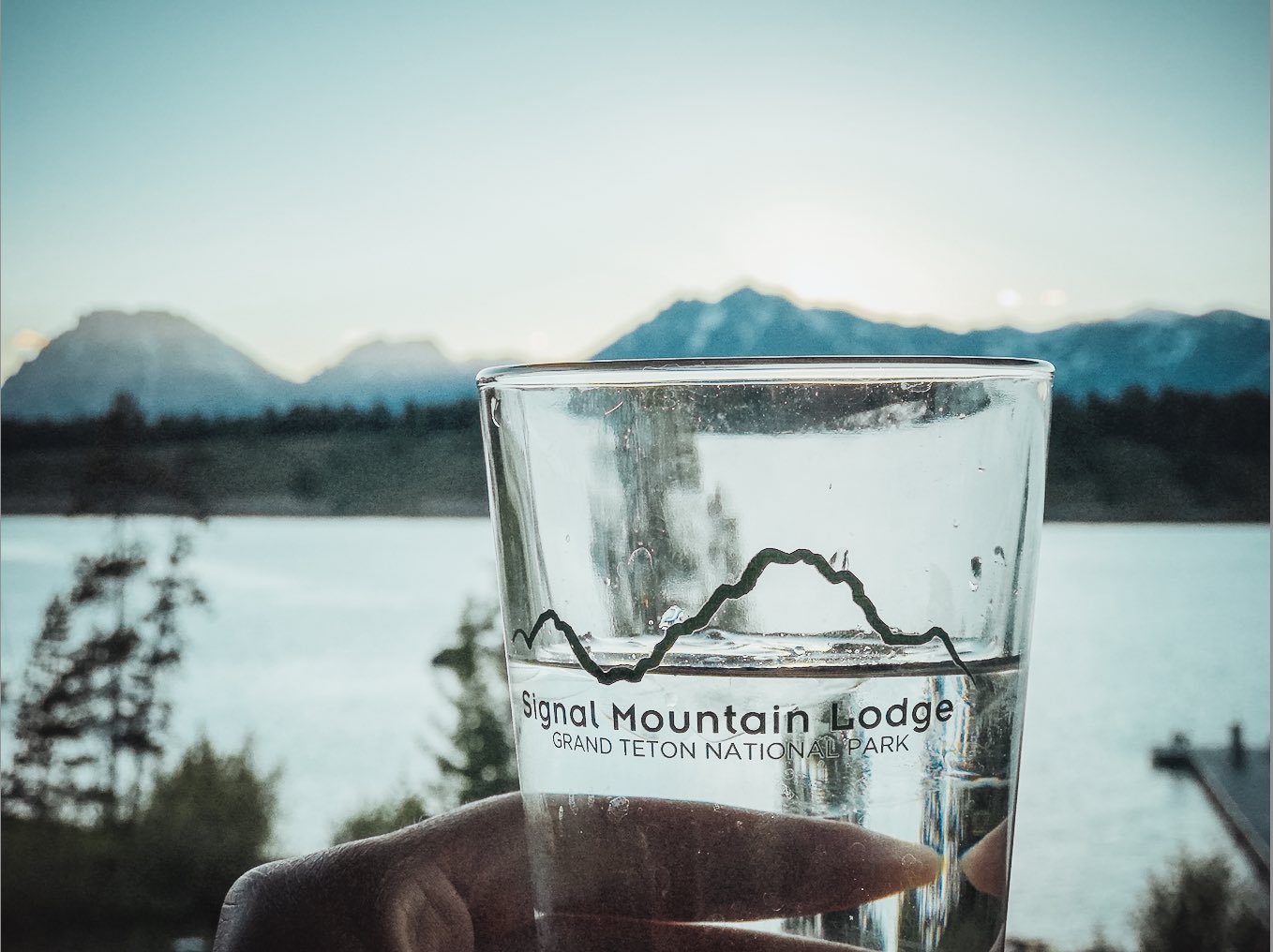 We also ate this incredible blackberry pie and huckleberry ice cream combination.  I can't leave this out of the trip report because it was soooo good.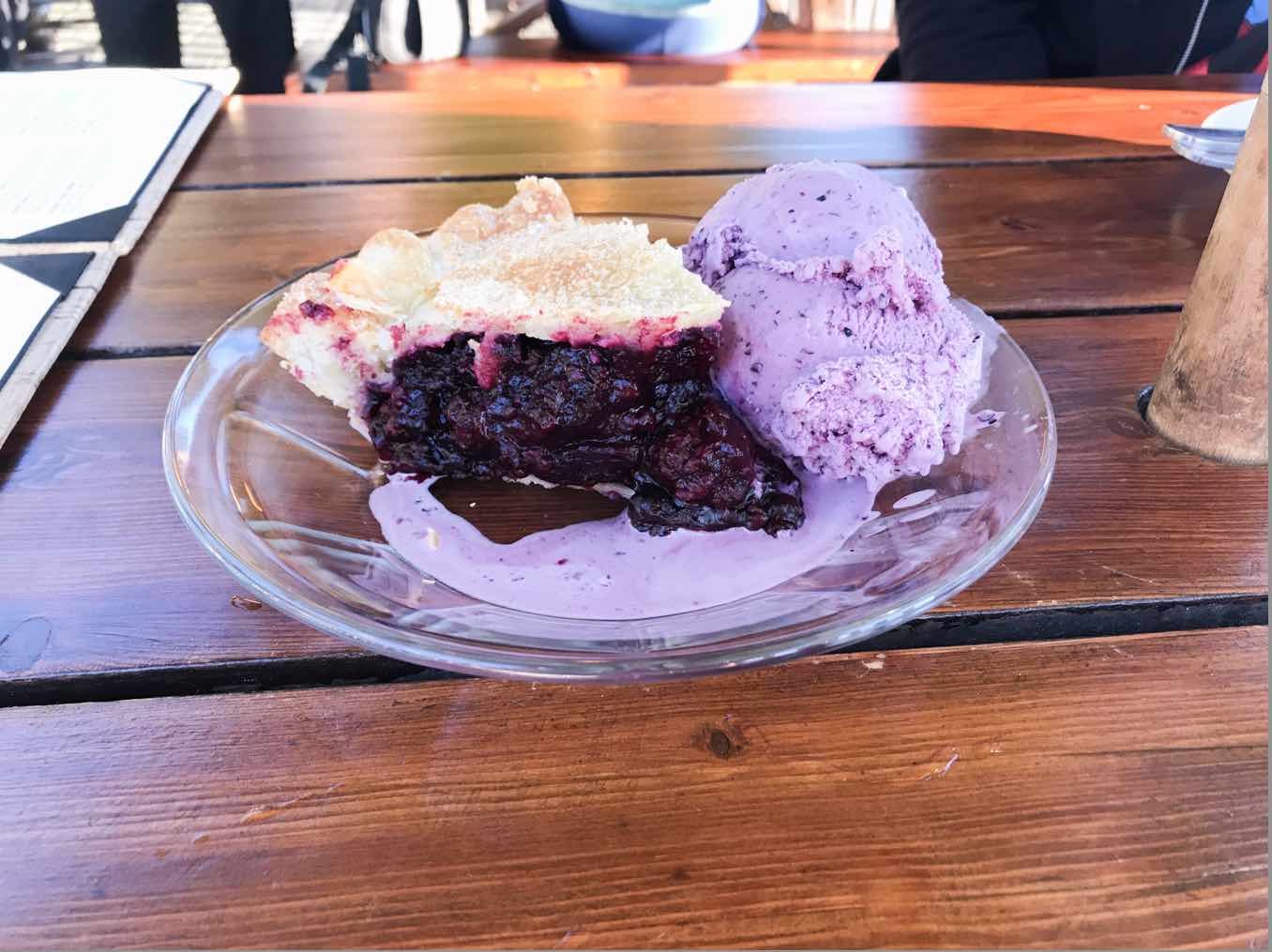 There is so much to do in Grand Teton National Park!
We only had 24 hours in the Park but it was absolutely worth it.  We'll definitely be back for longer.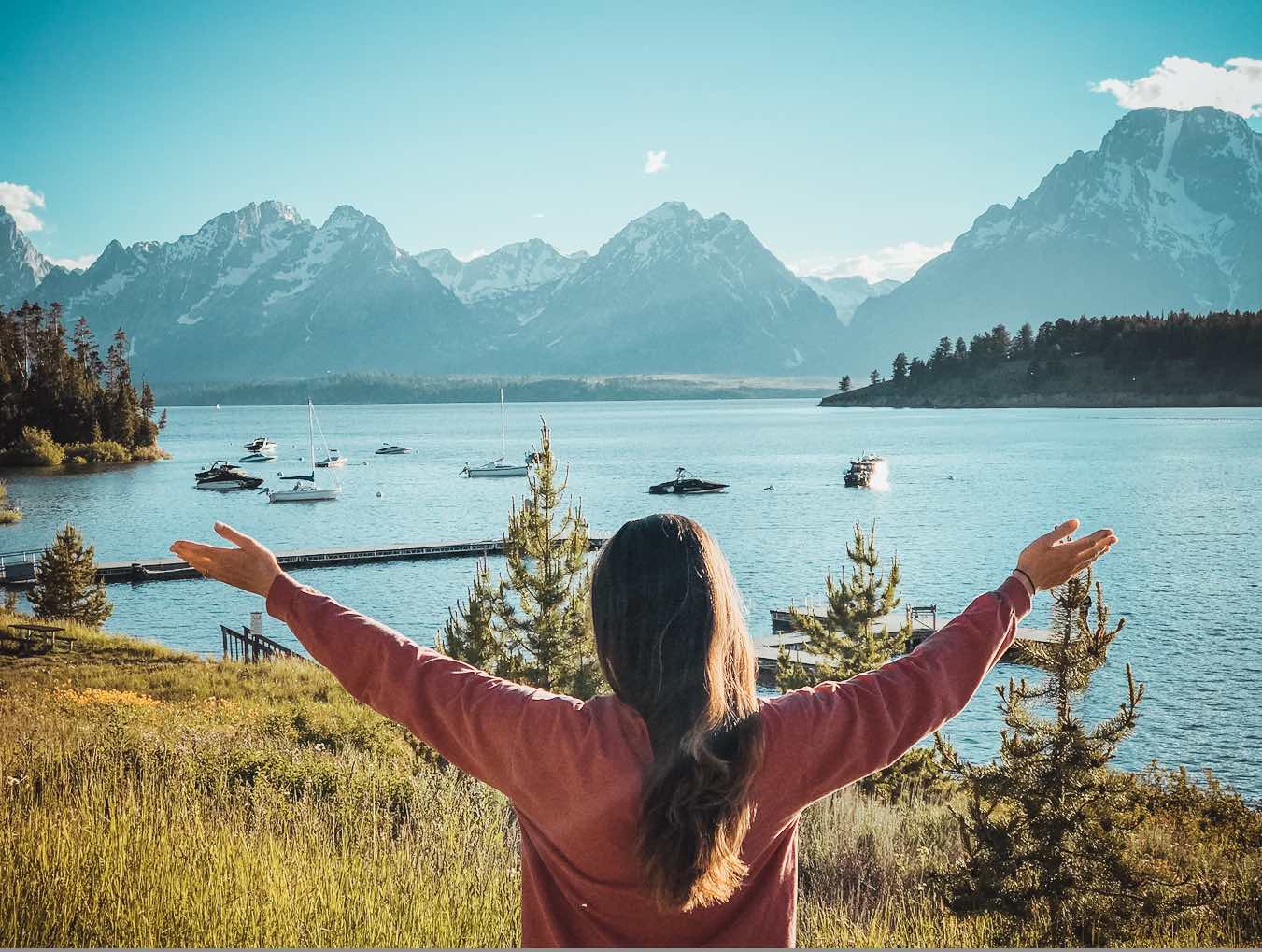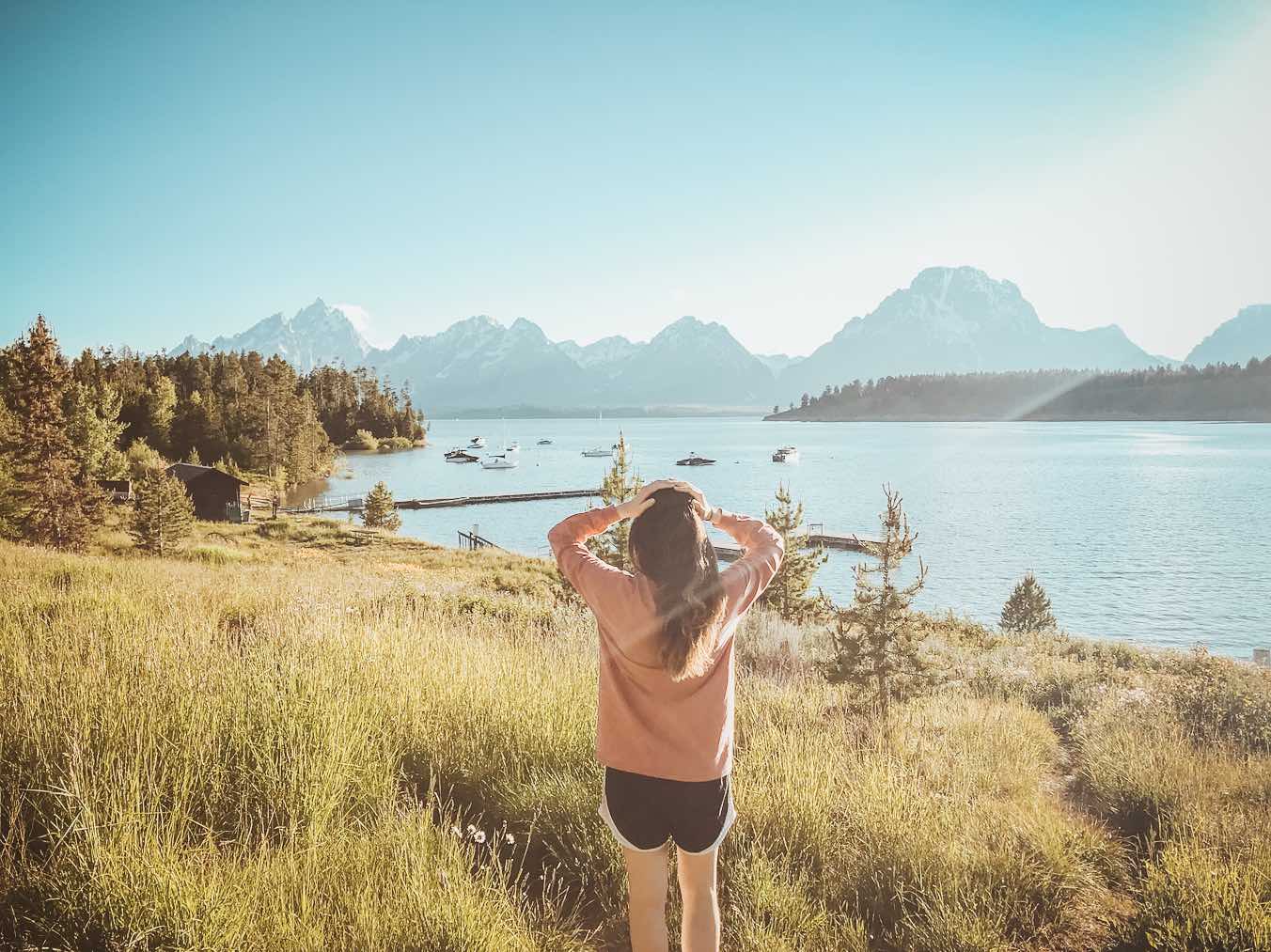 Follow me on Instagram @millennialboss for more pictures.
Have you visited Grand Teton National Park?  What are your favorite places?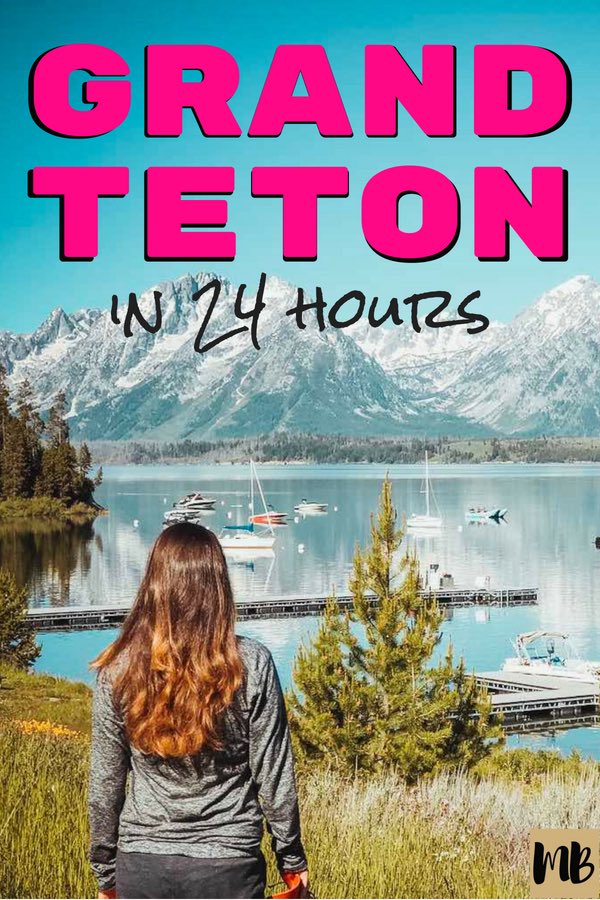 Looking for things to do in Grand Teton? Check out the Top 10 Things to do in the Summer from Jackson Hole Traveler.
Pin me to save this trip for later: pin here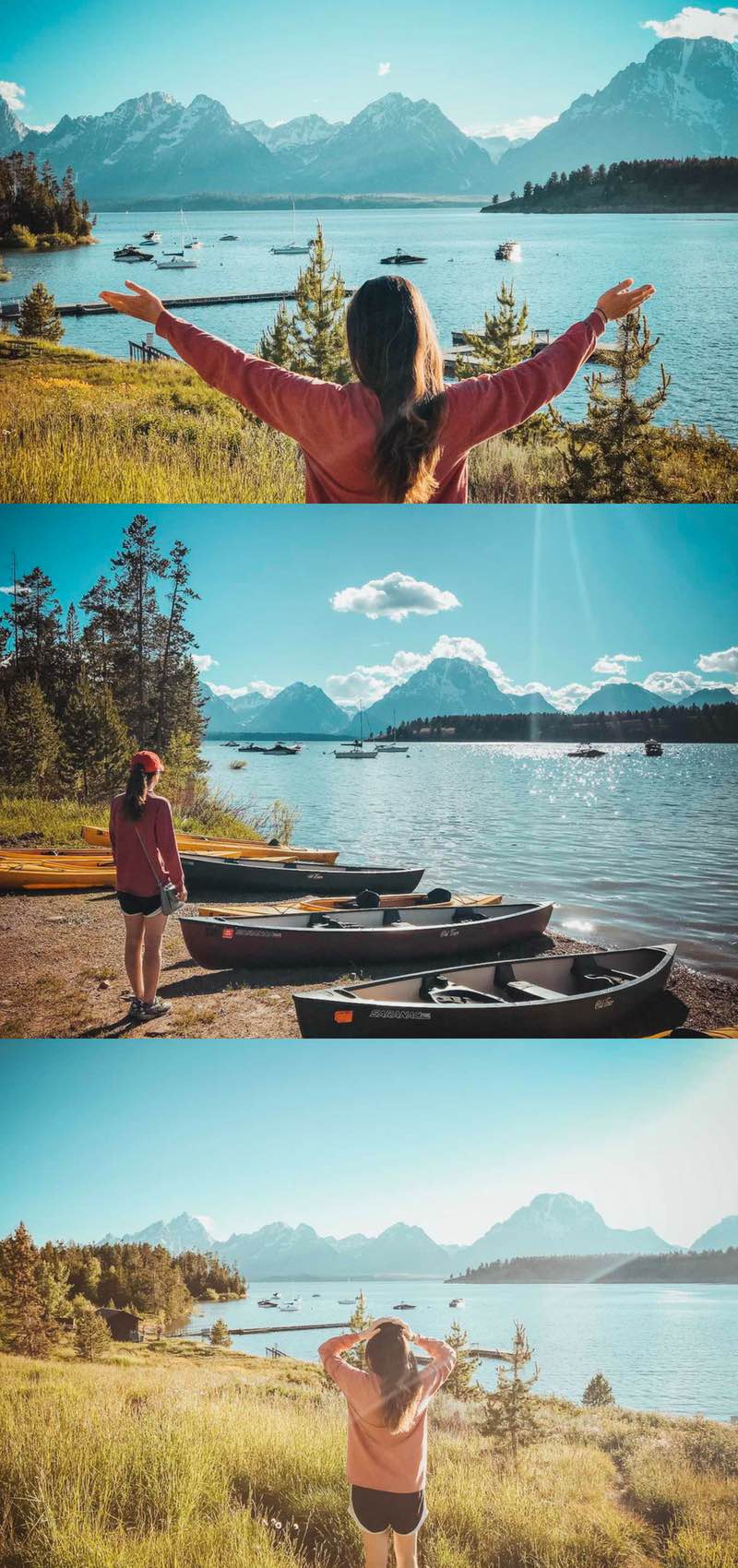 Latest posts by Millennial Boss
(see all)