Sometimes in the morning you just need that pick me up and with the holiday season approaching it's tough to resist that Pumpkin Spice Latte that Starbucks pulls out just as it starts to get colder.
But those $5 drinks can add up fast, so saving whenever and wherever you can is essential.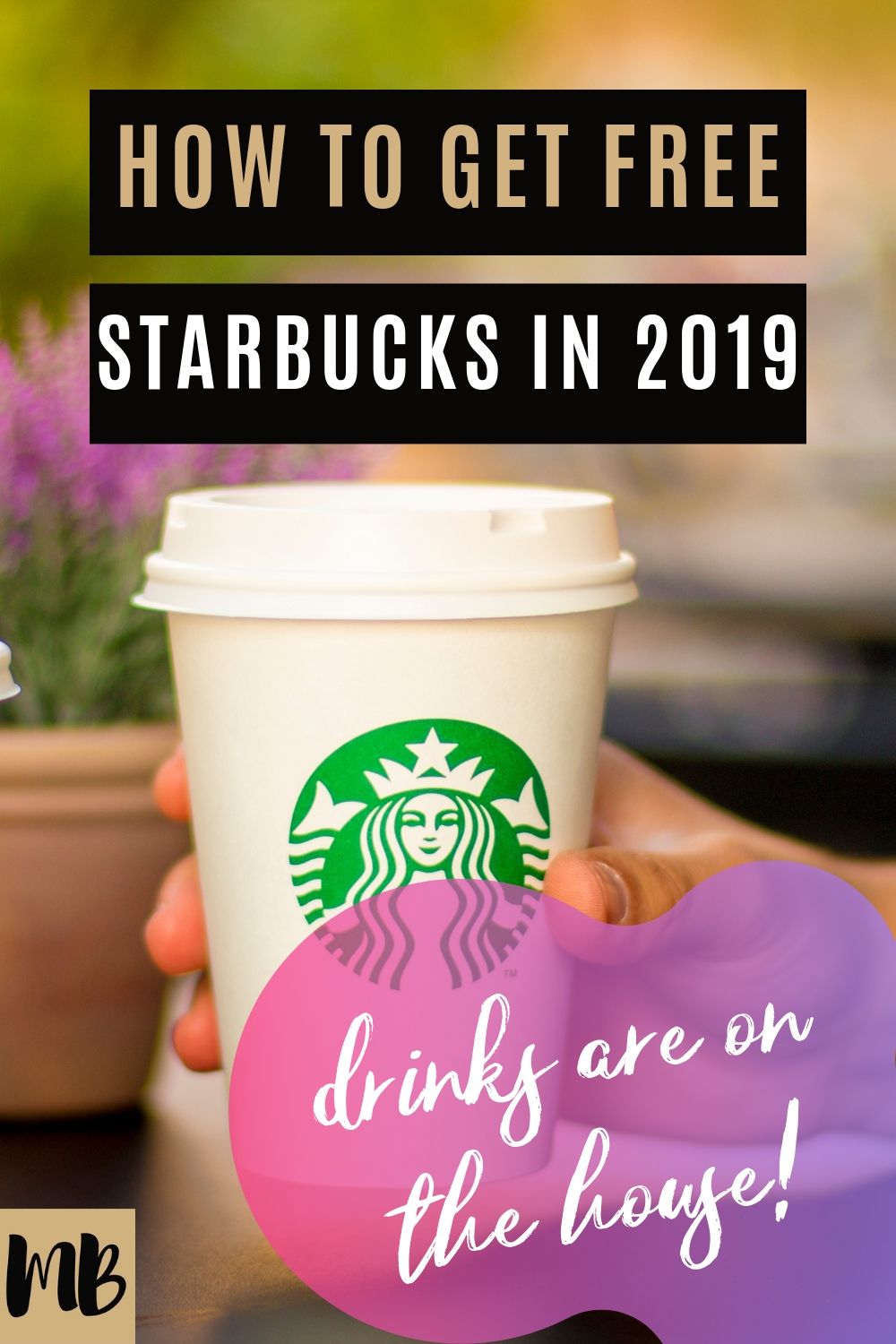 What is Starbucks Rewards and How Does Starbucks Rewards Work?
Let's get the most obvious way to save out of the way first. Starbucks wants you to come back and that's why the company created Starbucks Rewards.
Click here for details on how it works.
The system is simple. For every dollar you spend, you get two stars. Accumulate enough stars and you earn rewards.
25 stars earns you a free espresso shot;
50 stars can earn you a baked good on the house;
150 stars earns you a handcrafted drink.
In other words, it pays to be a member, especially if you go to Starbucks a lot.
How to Earn Starbucks Rewards Points Faster
While earning two stars with every dollar you spend is great, there are methods within the system that can help you earn points faster.
Bonus Stars
Starbucks Rewards members receive emails and app notifications all the time about the promotions Starbucks is running. At least once a month, it holds bonus stars days for customers. Customers receive extra stars for making specific purchases.
From time to time, Starbucks will also create challenges that allow users to earn bonus stars. In these instances, you have to complete a series of steps (purchases) in the allotted time to earn the stars.
In the instance of promotions, one of the first things you have to do is opt-in. Opting-in is the only way Starbucks is going to start tracking your progress in the bonus stars event. The app or email usually has an opt-in button. Once you've opted in, complete the tasks and earn yourself bonus stars!
Click here for complete details from Starbucks.
Double Star Days
Once a month, Starbucks offers Double Star days. You must activate the Double Star day through the app before you shop. On the Double Star day, you'll earn twice as many stars on all qualifying in-store purchases.
Click here for details on Starbucks Double Star days.
Starbucks Credit Cards
The Starbucks credit cards are another way to earn extra stars that can be redeemed for free drinks and food at Starbucks.
Starbucks has two types of credit cards, the Rewards Visa and the prepaid cash Rewards Visa. Before I get into the card details, I want you to know that I'm not advocating for either credit card just informing you what they can do.
With the Rewards Visa you earn 6,500 stars when you charge $500 on your card within the first three months of opening your account. The downside of the card is there's also a $49 annual fee.
With the Rewards Visa you will also earn stars when you make purchases with the card outside of Starbucks.
You'll also receive 8 barista picks throughout the year. Those are free drinks or food just for you because you have a Rewards Visa.
When it comes to the Prepaid Cash Rewards Visa, you receive 150 stars every time you reload the card with $10 or more. You receive stars when you make purchases at Starbucks and you might also qualify to earn stars on other purchases.
The Prepaid Cash Rewards Visa only has fees in three instances, if you use it in a country that uses currency other than yours, you have to replace the card or if Starbucks has to garnish any of the money.
If you close either of the cards, your stars will expire six months from when your account was closed.
Related Posts:
11 Starbucks Hacks for Saving Money You'll Want to Know
11 Legitimate Survey Companies That Pay Cash + Gift Cards
Starbucks Buy One, Get One Free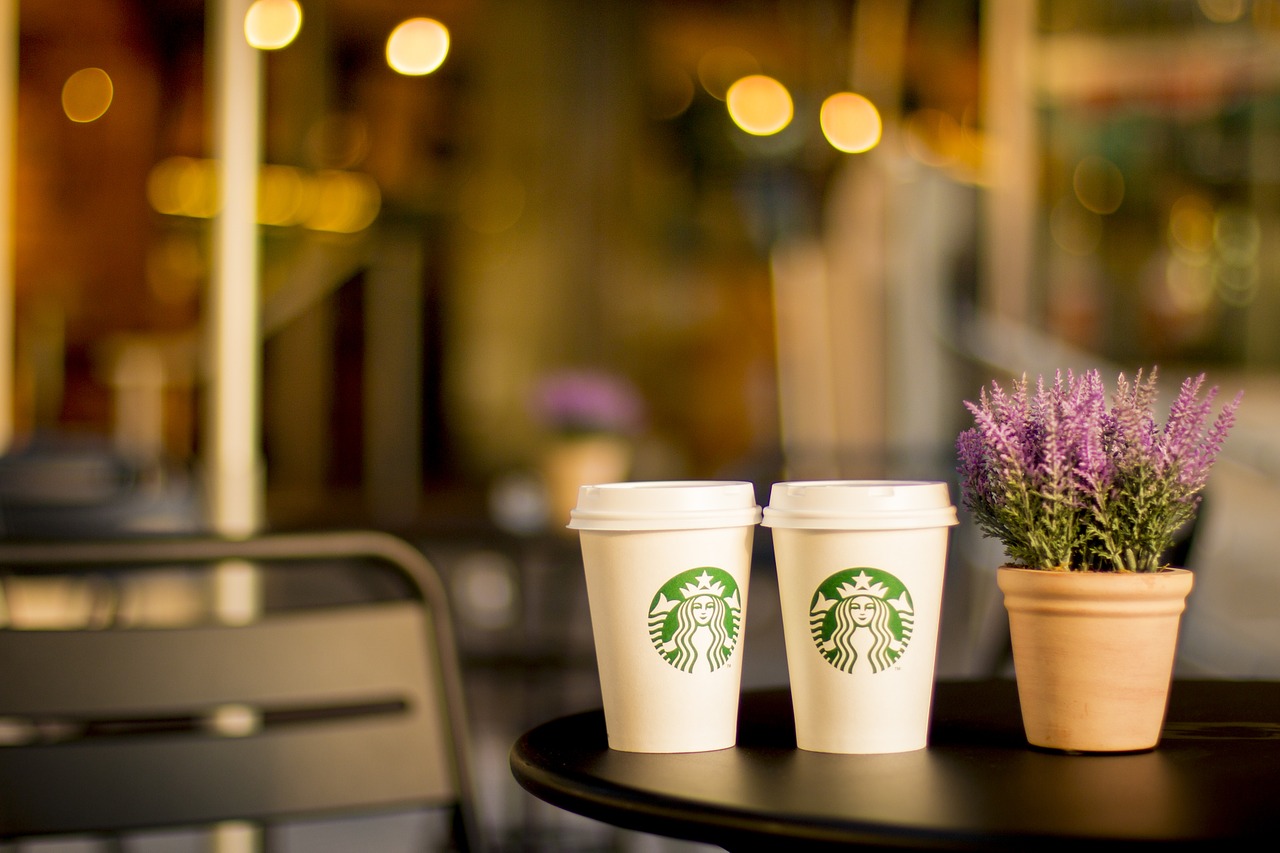 Happy Hour doesn't have to be at the bar, it can also happen at Starbucks.
Since 2010, Starbucks has held Happy Hour about once a month. It's only for Starbucks Rewards members and sometimes it's a buy one, get one free deal.
Starbucks Happy Hour usually happens from 3 p.m. to close. Starbucks will send an email or mobile notification to its Rewards members offering a deal on a specific day. In most cases, you have to buy a specific drink to get a drink of equal or lesser value. In May, the deal was buy a grande or larger Frappuccino and get one of equal or lesser value free.
Happy Hours also include other deals like 50% off when you purchase a specific drink.
Happy Hours are usually announced ahead of time so you can plan your trips to Starbucks accordingly.
Starbucks Free Coffee
If you're just looking for a regular cup of joe, then the Starbucks Rewards system is going to work even better for you.
When you buy a Starbucks coffee through the mobile app or with a registered Starbucks credit card, you can simply take the cup back to the counter and get a free coffee refill.
It's unlimited as long as you're in the store!
The deal works for "…brewed coffee (hot, Iced Coffee or Cold Brew), and tea (hot, or iced) during the same store visit regardless of the original beverage at participating Starbucks stores."
Once you leave the store, in other words walk out, the deal is done.
For the terms of the free coffee deal, click here.
Starbucks Free Drink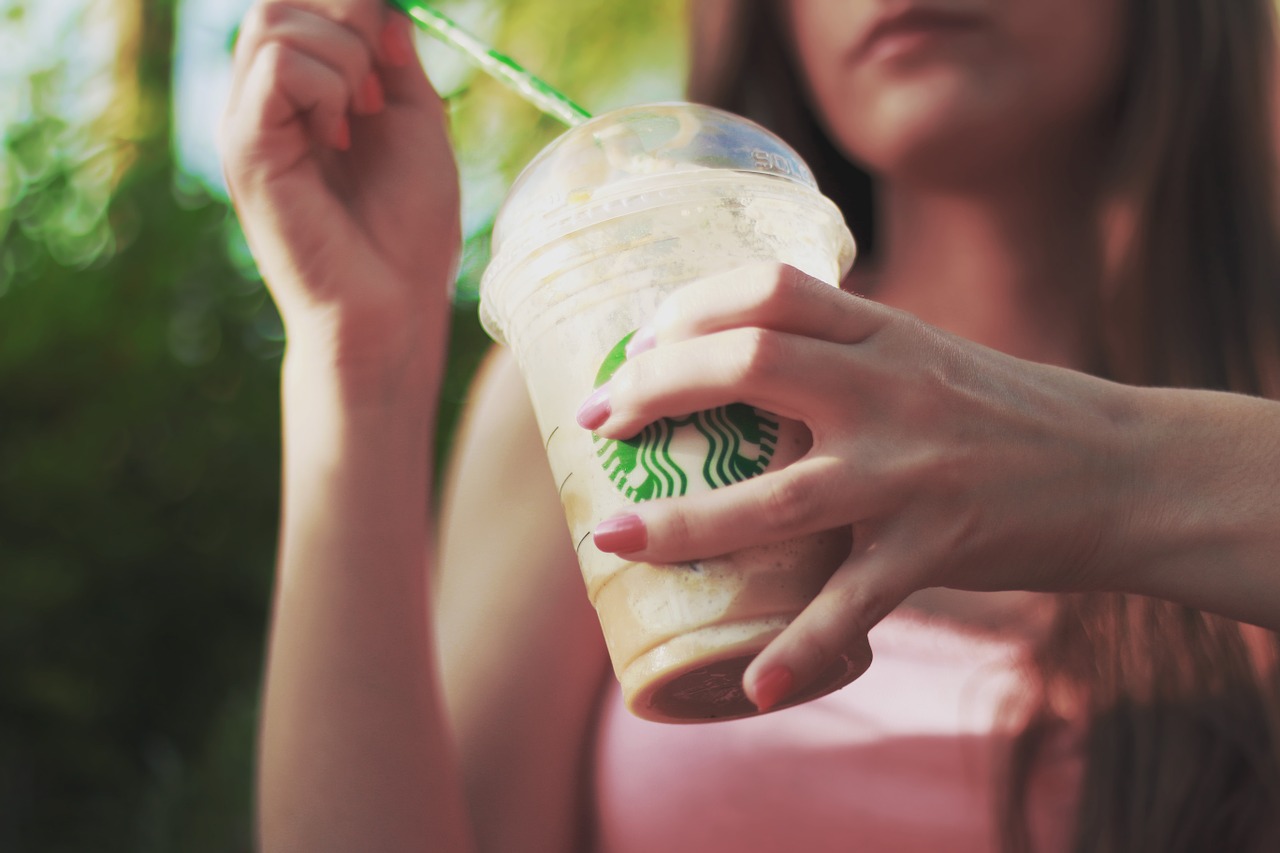 It used to be that you would get a free drink when you signed up for the Starbucks rewards card, but the program was reworked in April and I haven't found anything to confirm or deny that that's still the case.
If you're wondering why there were changes to the rewards program, Business Insider has a whole article here to explain.
As of now, the best way to get a free drink is through the Starbucks Rewards program.
Or…
Starbucks Free Birthday Drink
…on your birthday.
Two days before your birthday, Starbucks will send you an email reminding you to come in and get a free drink or food.
You have to redeem it on your birthday and you must be a Starbucks Rewards member to receive a free birthday drink.
To prove it's your birthday, pay with your registered Starbucks credit card or show the barista your mobile app. It can only be redeemed at participating Starbucks stores.
For details on the free birthday drink at Starbucks, click here.
Free Starbucks Gift Card
You can also get free Starbucks by earning free Starbucks gift cards. There are multiple sites that will allow you to do this.
Ibotta
For example, Ibotta is a favorite of Millennial Boss.
Ibotta earns you cash for purchases at major stores like Safeway, Macy's, Walmart and Target. You can earn points while shopping by linking your credit card or you can earn points after shopping by taking a picture of your receipt.
Once you have enough points, you can redeem them for Starbucks gift cards.
Honey
Much like Ibotta, Honey rewards you for shopping but online shopping.You can earn points by shopping at specific stores and buying specific products.
When you earn enough points, you can redeem them for a gift card. You can't get a Starbucks gift card but you can get a Groupon gift card, and use it for the below hack.
Groupon or Living Social
This one isn't free, but it's definitely discounted. Once or twice a year, usually after the holiday season, Starbucks will run a promotion with Groupon offering you a discounted Starbucks gift card. The last deal I saw was $5 for $10, but 50% off is better than nothing, so I jump at the chance.
You have to be on the Groupon mailing list to find out about the deal, but it's still a great offer if you're a frequent Starbucks guest.
Living Social offers a similar deal to its members.
In both cases, there's usually a limit of one deal per email address. You can get around that fairly easily by using multiple email addresses or using your significant others' email address. Each of those email addresses will need a separate account on the site.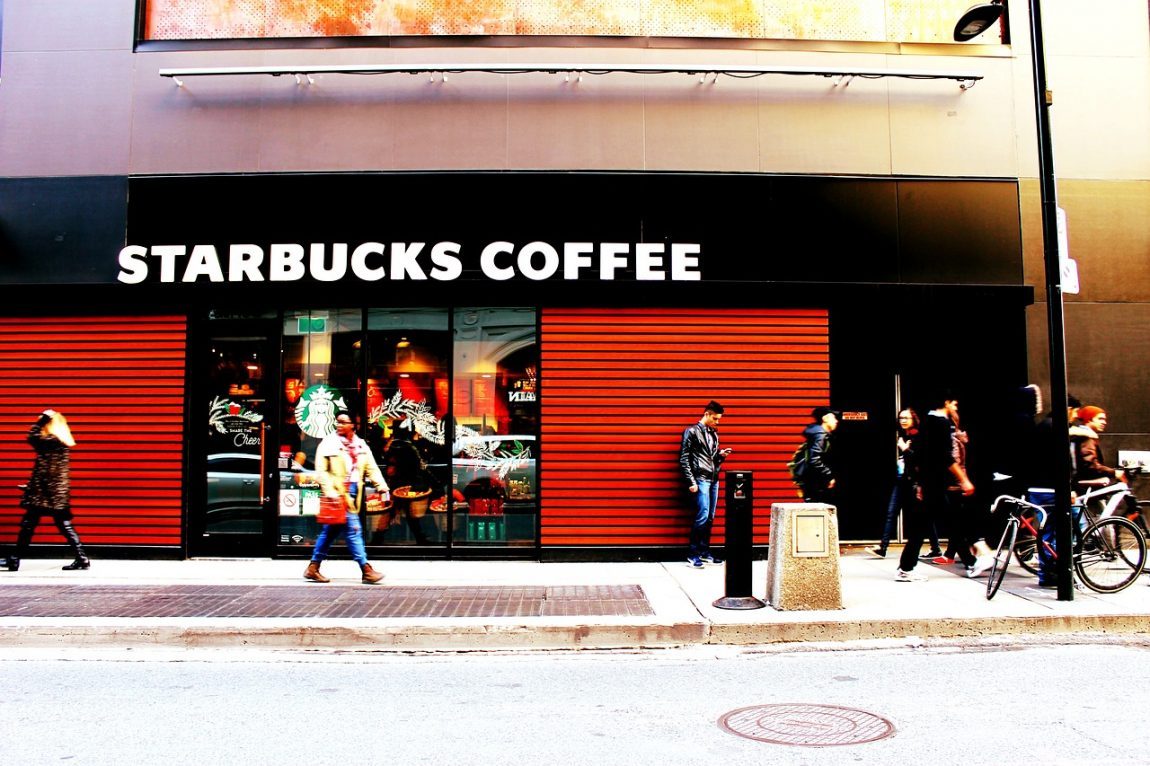 Survey Sites
There are plenty of survey sites out there that will also help you earn free Starbucks gift cards. A site like Swagbucks is very popular and you can earn actually Starbucks gift cards for using it.
How it works is that you earn points for taking surveys. When you earn enough points, you can redeem them for a Starbucks gift card.
Credit Card Points
Almost all credit cards offer points of some kind or another now and if you're not using one that does, you need to switch because you're leaving money on the table.
Most credit cards give you points for spending. When you earn enough points, you can redeem those points for free Starbucks gift cards.
Other Starbucks Hacks
There are other ways to get discounted Starbucks and save yourself money. I wrote an article last year about 11 Starbucks Hacks that you should check out if you're looking for more ways to save.
While most of the drinks aren't free, they are about getting more bang for your buck which can make just as much difference as getting a free drink.
Cheers!
Related Posts:
101+ Easy Ways to Make Money Working From Home
How to Make $1,000 Extra This Month


Latest posts by Erika Towne
(see all)