From day one, your mom has been the most important woman in your life! Make her feel special this Christmas with one of these unique and thoughtful Christmas gifts for Mom on Etsy.
1. Constellation Themed Print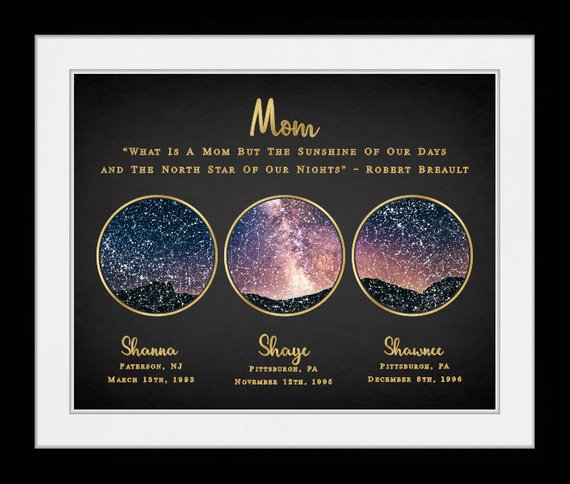 This beautiful framed artwork can be customized with illustrated star maps that match the appearance of the sky on the date and time you specify. Surprise mom with star maps commemorating the births of each one of her children. Buy this unique Mom Christmas gift on Etsy here.
2. Custom Christmas Spa Box
Pamper your mom with a spa box filled to the brim with everything she needs to relax. Make her Christmas extra special with the gift of aromatherapy.  Buy this mom Christmas gift on Etsy here.
3. I'll Love You Forever Ornament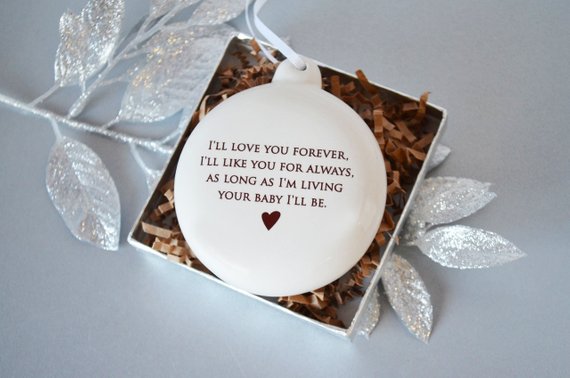 This ornament contains words from the classic children's book "Love You Forever." Bring a tear to your mom's eye with this beautiful holiday gift. Buy this Mom xmas gift on Etsy here.
4. Mom's Ice Cream Spoon
Need a unique stocking stuffer? This personalized stainless steel ice cream spoon will do the trick! Buy this gift for mom on Etsy here.
5. Personalized Cutting Board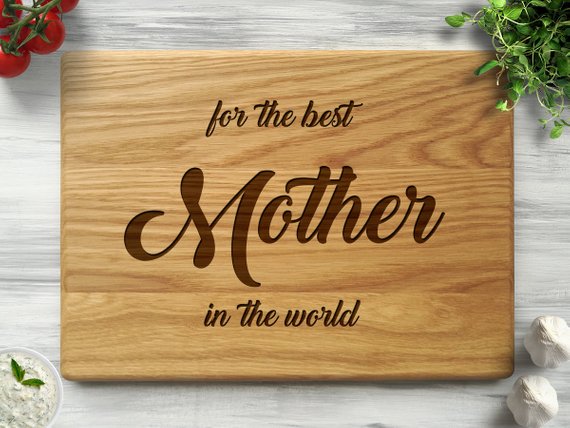 For the mom who loves to cook, this personalized cutting board is a great present. It's made from thick, natural wood that is suitable for use in food preparation. Buy this holiday gift for Mom on Etsy here.
6. Recipe for a Special Mom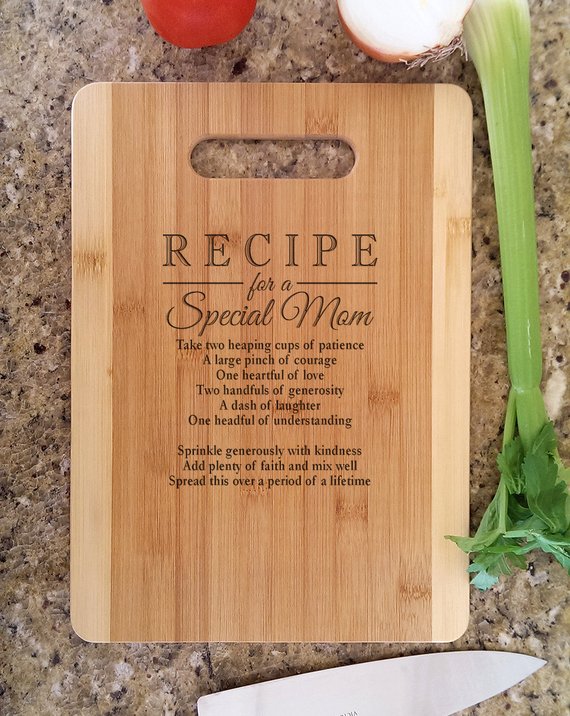 This bamboo cutting board is both practical and sentimental. It's engraved with a poem and your choice of personalized message. Your mom can use it to prepare her best dishes or as wall decor for her kitchen. Buy this Christmas gift for Mom on Etsy here.
Related Posts:
7. Love Between Mother & Daughter Print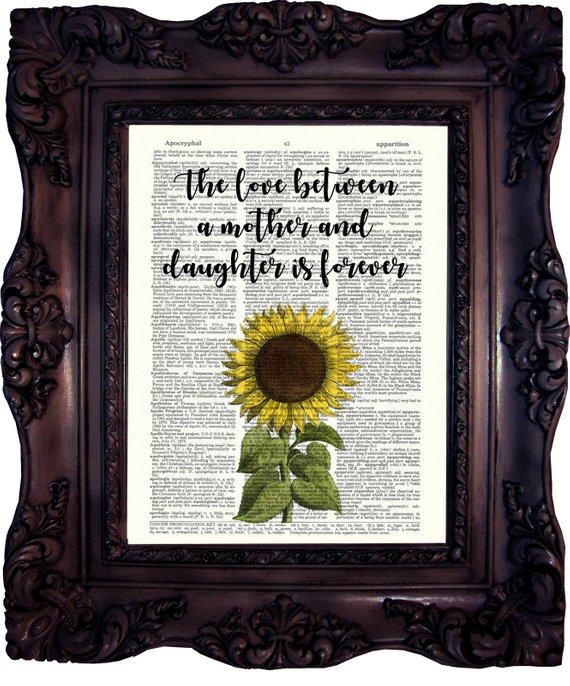 This unique print is a perfect gift for a daughter to give to her mother. Created using salvaged, vintage dictionary pages, each print is unique!  Buy this sentimental gift for Mom on Etsy here.
8. Personalized Poem for Mom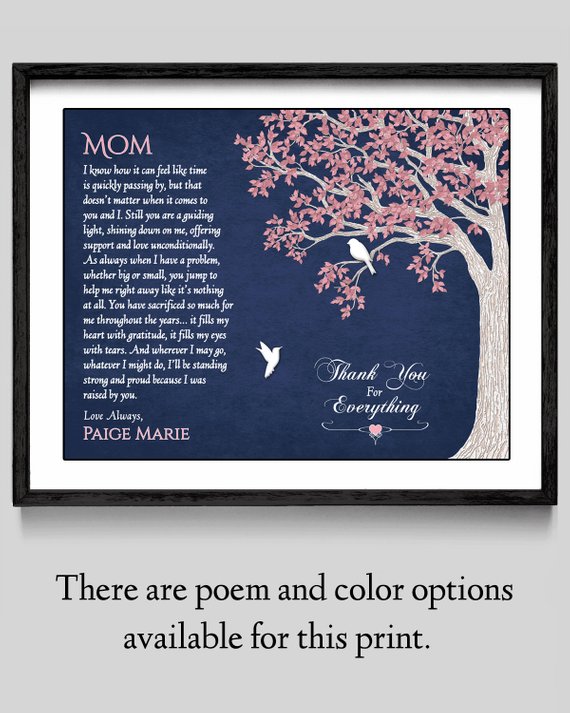 Touch your mom's heart with this beautiful print featuring a poem and space for the name of the gift giver. Personalize this gift by choosing the colors and which poem you'd like to give. Buy this Christmas gift for Mom on Etsy here.
9. Personalized Bangle Charm Bracelet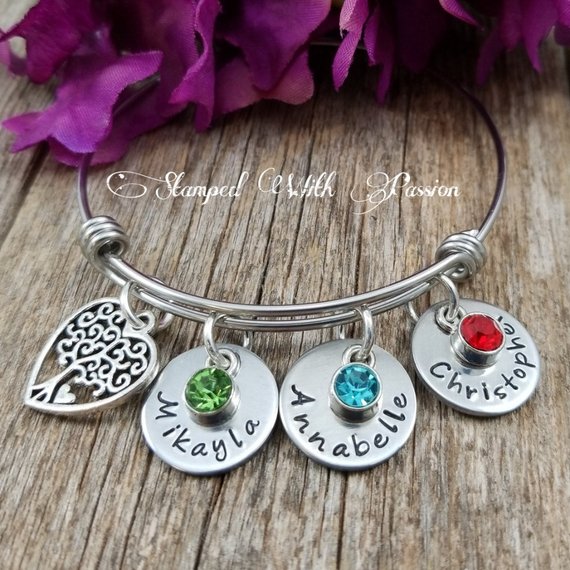 If your mom loves jewelry, this aluminum and stainless steel charm bracelet makes a nice gift. Personalize it with charms featuring the names and birthstones of her children or grandchildren. Buy this xmas gift for Mom on Etsy here.
10. Custom Printed Recipe Tea Towel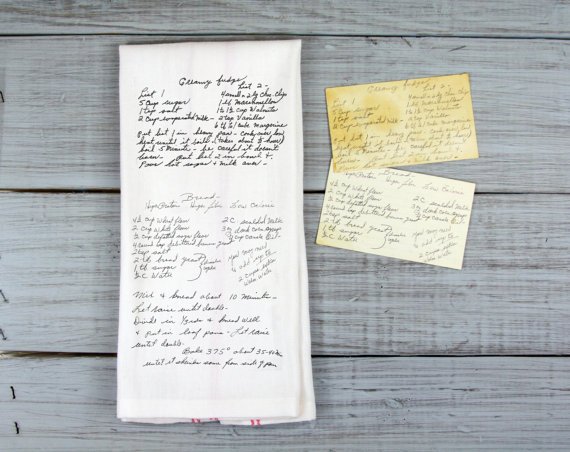 Print your mother's favorite family recipe on a tea towel! This is a great way to preserve some of your family's culinary history. Buy this cute Christmas gift for Mom on Etsy here.
Related posts:
11. Mom's Wine Tumbler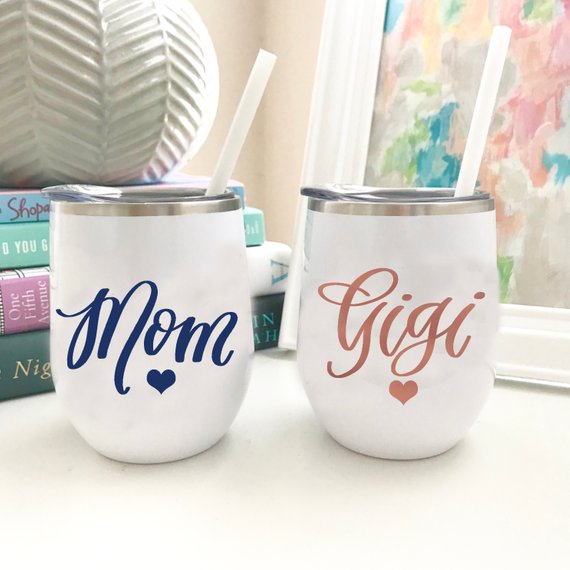 This stainless steel tumbler is great for keeping mom's glass of wine nice and cold! It comes with a lid to keep the contents from spilling out. Buy theses cute Mother Daughter tumblers on Etsy here.
Finding a unique gift for your mom is easy when you look on Etsy because there is such good selection. But if you're looking on Amazon, here is our top recommended Mom gifts.
The Instant Pot
I've actually gifted everyone I know an instant pot as their wedding gift  but it makes a fantastic Christmas gift too for Moms or truly anyone looking to make their week a little easier.  You can make dinner in 20 minutes with this amazing kitchen tool. No wonder it's a best seller. Buy it on Amazon here.
Wisdom Panel Dog DNA Test
This is a fun one!  Is your mom a dog lover? Buy her this Wisdom Dog DNA test and help them determine what breeds their dog has in them. Personally, I'm super to use this on my lovable rescue pup.  We have no idea what breeds he comes from!
Buy the Wisdom dog DNA test here.
Their favorite gift card
Everyone loves a good gift card. If you can't find anything else, you can't go wrong here.
What Christmas gifts have you bought in the past that went over really well with Mom?
Related Posts:

Latest posts by Tiffany Ingle
(see all)