Teachers work long hours educating and caring for children often for little pay. Show your appreciation for the teachers in your children's lives this holiday season with one of these great holiday gifts for teachers on Etsy!
1. It Takes a Big Heart Necklace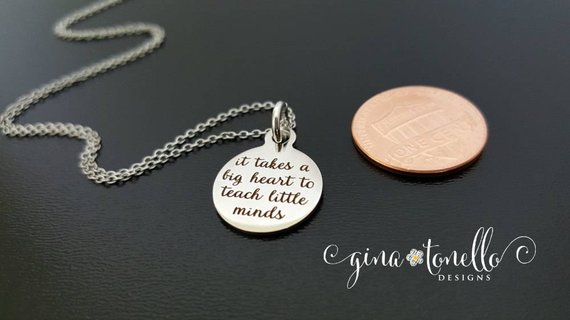 This beautiful engraved necklace is a sweet and delicate gift for a very special teacher. Both the necklace and the chain are made from stainless steel. Buy this on Etsy here.
2. Thumbprint Tree Print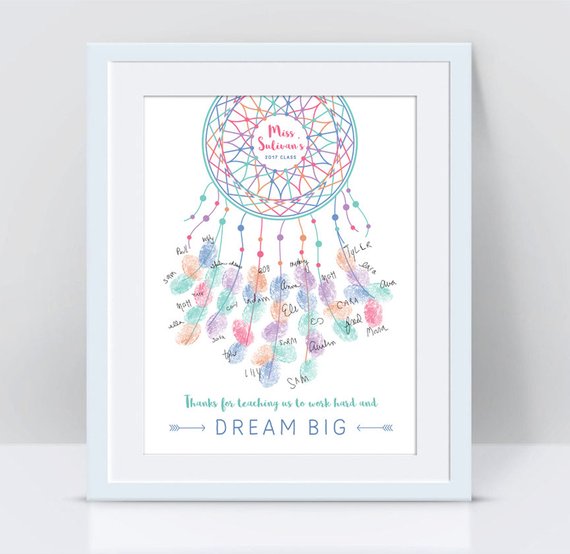 Give your favorite teacher a gift they'll always remember – a beautiful keepsake with each student's thumbprint! Personalize this gift with the name of the teacher and messages from the students in a designated space on the back of the print. Buy this on Etsy here.
3. Pot Holder Gift Set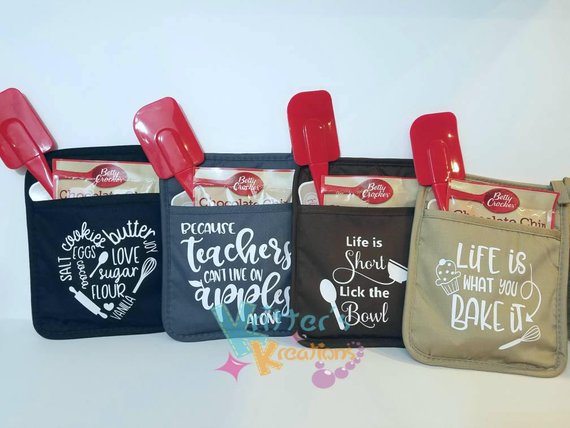 Who doesn't love warm, fresh from the oven cookies? This pot holder gift set just for teacher includes cookie mix, a spatula, and a gorgeous script print on the front of the pot holder.  Buy this on Etsy here.
4. I Teach Therefore I Drink Stemless Wine Glass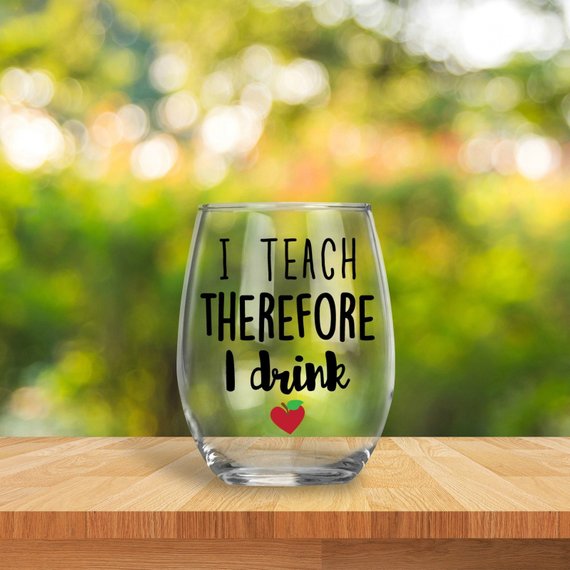 Help your favorite teacher relax after work with this adorable wine glass. Go the extra mile and throw in a complimentary bottle of your favorite wine! Buy this on Etsy here.
5. Pass Me My Book Socks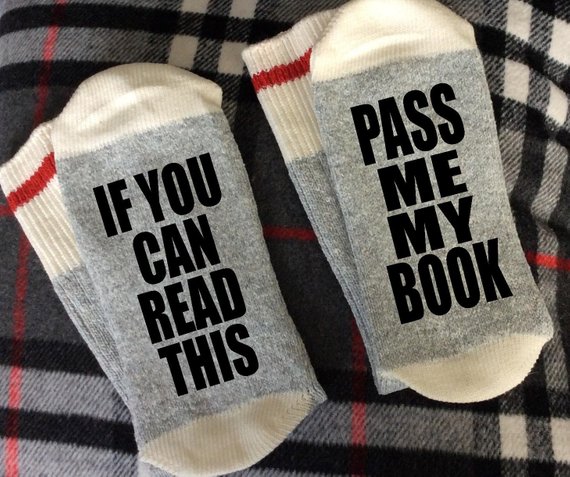 These cozy socks are perfect for book lovers. Surprise your child's classroom teacher or the school librarian this Christmas with a pair of these socks! Buy this on Etsy here.
6. Personalized Apple Ornament for Teacher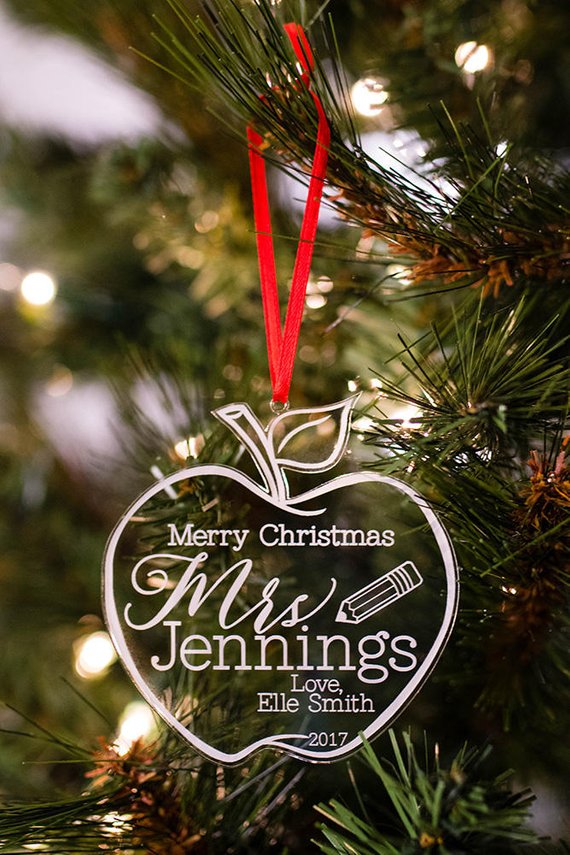 Your favorite teacher will love this pretty gold tone cut out style apple ornament. Personalize it with the names of the teacher and your child for a keepsake that will bring good memories for years to come! Buy this on Etsy here.
Related Post:  
26 Cheap Christmas Gift Ideas this Year
7. Coffee Teach Grade Sleep Coffee Cup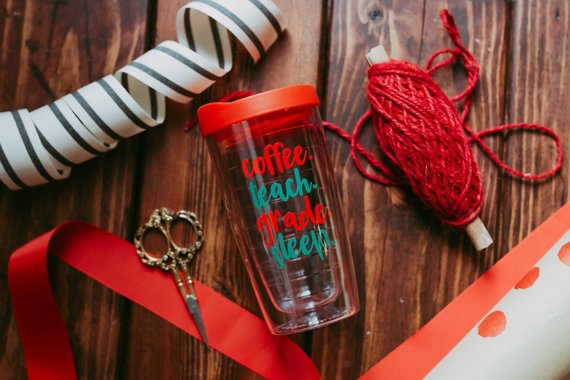 Coffee is the fuel that powers teachers everywhere! This festive holiday style Christmas cup makes a perfect gift for coffee lovers. Buy this on Etsy here.
8. Personalized Tumbler for Teacher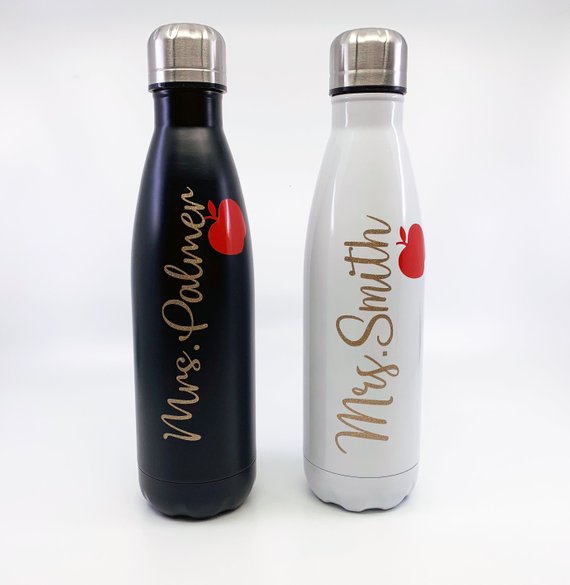 These high-quality tumblers will keep beverages nice and cool or piping hot for up to 24 hours! Customize with your favorite teacher's name and your choice of font. Buy this on Etsy here.
9. Coffee Teach Repeat Coffee Mug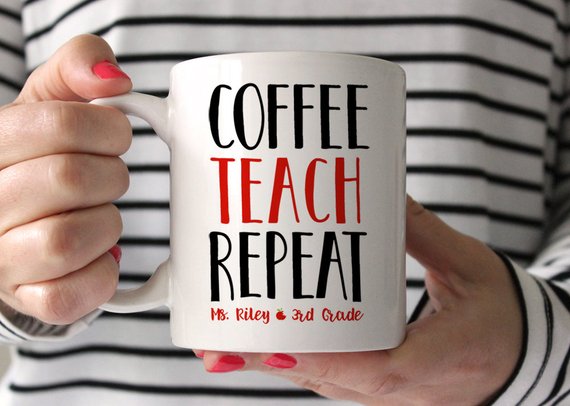 Present your child's teacher with this lovely, best-selling coffee mug. Personalize it with the teacher's name and your child's year in school. Buy this on Etsy here.
10. Christmas Candle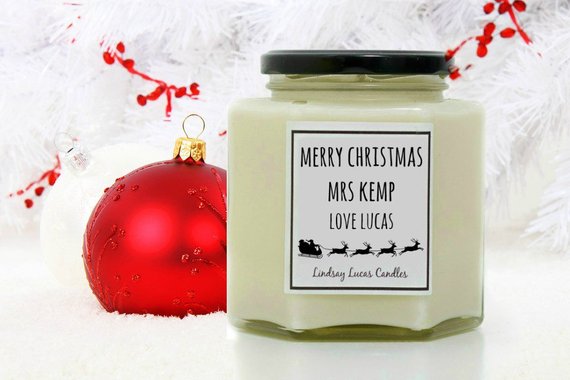 Light up your teacher's holiday season with this scented soy candle. Personalize the label with your teacher's name and choose from 50 scents to make this gift truly unique. Buy this on Etsy here.
11. Best Teacher Ever Wood Ornament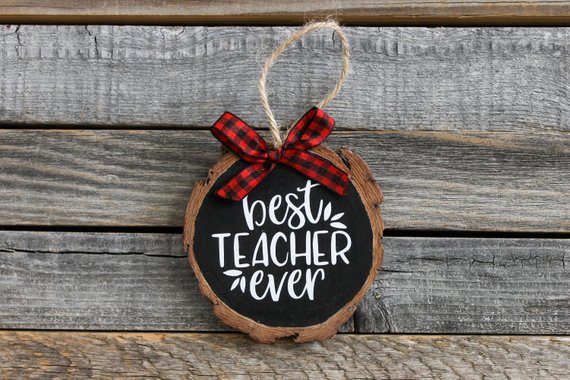 This rustic birch wood ornament adds a nice touch to a Christmas tree or to a classroom wall. It's a great present for the holidays and year round. Buy this on Etsy here.
These holiday gifts are a practical and heart-warming way to say thank you to the teachers who have impacted the lives of your children.
Which ones will you add to your Christmas shopping list this year?
Related posts:

Latest posts by Tiffany Ingle
(see all)