In this world of never-ending immersion into information overload, we're still always looking for more.
One of my favorite sources of information is through listening to podcasts and, let me tell you, there is no lack of choices in this department.
We all have our favorites and there are many more that we don't know about until one of our friends tells us, or we just happen to stumble upon them.
Well, friends, I'm here to give you some of my favorites. But first, if you don't currently listen to podcasts, here's why you should start.
Why You Should Listen to Podcasts
This could be its own post, so I'll just keep it short here.
Many people have parts of each day when they're just hanging out, walking somewhere, or, worse, stuck in traffic. These are great opportunities to pop out those headphones and plug into some great content.
They truly have podcasts for anything and everything imaginable, which plays great to what kind of mood you're in at that moment in time.
Maybe one day you're feeling like you want to learn something new and the next day you just want to listen to a story; there's podcasts for both and so much more!
Reflection of Personality
Also, one thing I've noticed that's pretty cool is how much the choice of podcasts we listen to truly reflect our personality and interests.
For me, you'll see below that I'm really interested in working out, entrepreneurship, random learning, and "new ideas" or different ways of looking at subjects.
Learning Even More
It's crazy that even when you're listening to one podcast, you may find out, within that one episode, so much more about another business, app, website, etc.
This just shows how interconnected out world really is and how much there is out there to learn.
Anytime we want, we can plug in and learn something brand new ABOUT ANYTHING! I know we all know this, but sometimes (most times) I think we take it for granted.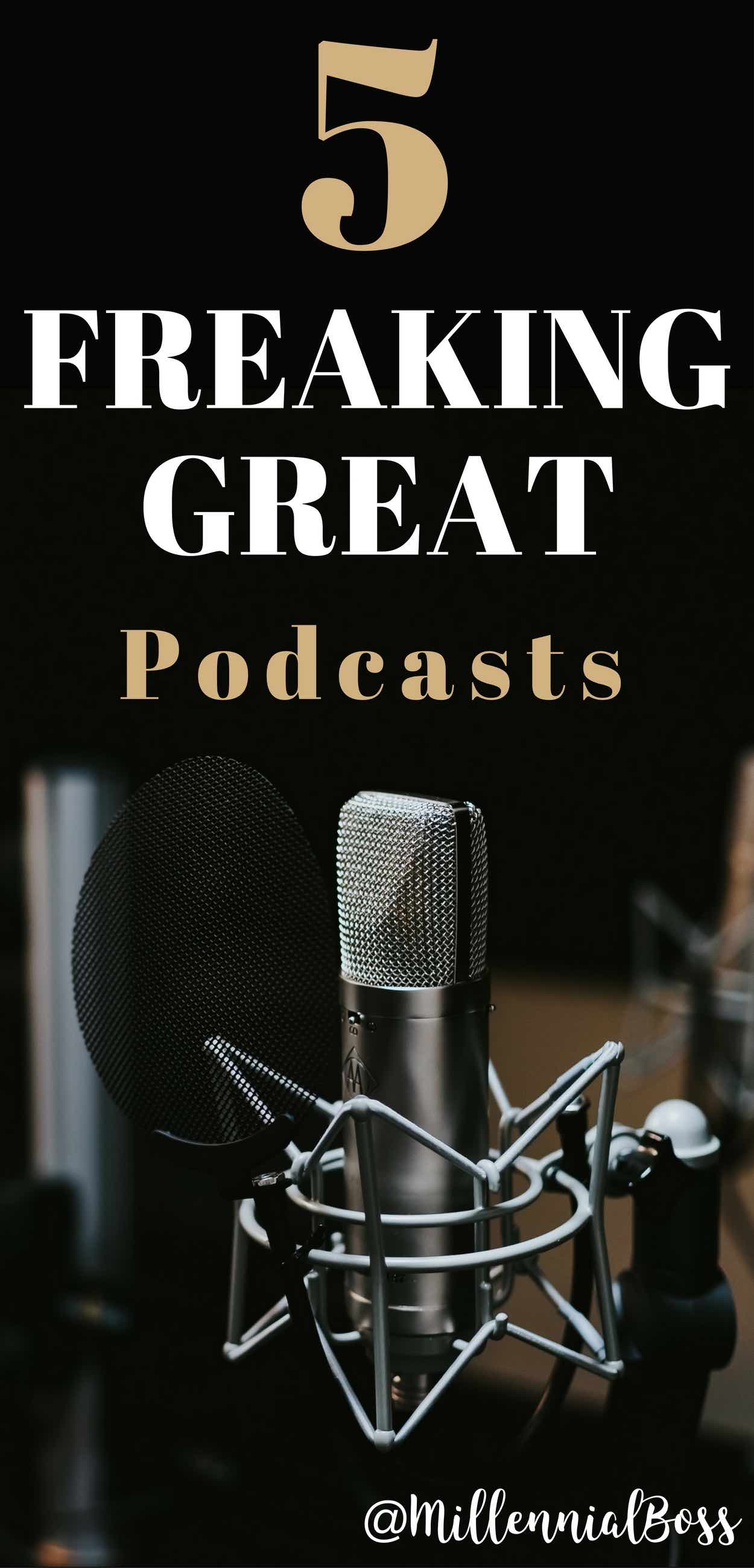 My Favorite Freaking Podcasts
What's that? Oh, you've heard of this one? Ok, moving on…but, I will have you know that I told the Millennial Boss herself about this one before she knew about it! So, I win 🙂
Really quick, for those small number of people who don't know about SPI, you probably haven't heard of Pat Flynn's book, Will it Fly?
This book is absolutely phenomenal for anyone who is looking to start a business. He takes you through all the steps required to decide if your business idea is worth pursuing, or if it will fall flat.
Imagine thinking you have a great idea for a business, spending tons of money to start a website, market it, and then come to realize that it's not making any money and, in fact, has cost thousands of dollars, possibly putting you into debt.
Wouldn't it be awesome to know ahead of time that your idea is actually going to work? With Will it Fly? this is totally possible! We actually bought multiple copies and shared with close friends because it's such a great book.
I highly recommend checking it out.
This is one of my absolute favorites!
Not only do they have great segments, based off of TED talks given around the world by top-notch speakers, but Guy Raz, the host, has the perfect voice for podcast/radio that soothes you, while keeping you intrigued in the topic.
What's more is that they cover every topic you could imagine and integrate research findings and relevant information in a way that makes you want more.
You know that feeling of your eyes glazing over when numbers and research come into the picture? Yeah, not the case with TED Radio Hour.
This show was created and is hosted by Dave Asprey. If you've heard of Bulletproof Coffee, you've probably heard of this show.
Dave is extremely well-read in all areas of human development and has some of the top experts on each episode to share their knowledge in upgrading health and performance.
The show centers around the idea that you can "bulletproof" yourself by using everything from spices to grass-fed and organic foods to new technologies that you've never heard of before listening to the show.
Again, some very intriguing information given in every episode to make you rethink some of your daily habits.
Lastly, there have been some game-changers in the cookbook world thanks to Dave and his Bulletproof theme. We've bought a couple of his cookbooks and the recipes are fantastic!
Even better is that he discusses the why behind a lot of the foods and ingredients (even spices) that are in his recipes and how they are helping your body to be "bulletproof."
If you like eating healthy meals that taste good, while learning in the process, definitely check out his books.

Hosted by best-selling author, lifestyle entrepreneur, and former pro athlete, Lewis Howes, this show is very similar to the premise of Bulletproof Radio.
The biggest difference is that School of Greatness focuses more on the self-development of entrepreneurship instead of actual physical development. Though, he does have some guests on from time to time that go into detail about this topic, as well.
My favorite part is at the end of each episode when Lewis asks each guest what they think it means to be truly great. Very cool to hear each person's perspective.
What's a great edition to your library, you ask? Ok, maybe you didn't ask, but I'm telling you – Lewis Howes' book, The School of Greatness.  
This book is essentially all of his podcasts distilled down into actionable ways to make yourself great. All of this information comes from extremely successful people from all walks of life, in all areas of profession.
Just people doing great things. You can be one of them; check out The School of Greatness.
If you're looking for a good workout and nutrition podcast, look no further.
This is one of the better ones out there on this topic and the host, Kevin Larrabee, is top-notch and has some of the best people in the fitness and strength and conditioning profession contributing their thoughts and experience to the show.
Why is this important? Because most shows are enthusiasts sharing what they do. On the FitCast Podcast you'll learn from experts that truly know what they're talking about.
Learn more about everything from workout programs to nutrition information to self-improvement tips.
Yep, you guessed it, this show revolves around how to be successful.
Much like several others on this list, Addicted 2 Success has big-name people on the show to speak on their thoughts, struggles, accomplishments, and what they feel helps lead to being successful.
There are often examples given that can be turned into actionable results on the part of the listener, which is always great to have.
After all, if you can't turn something into action, what good is it for you to spend your time on it? How is it helping you toward your goals?
Related: 
Why Six Figures Means Nothing Anymore
5 Harsh Reasons But True Reasons You're Not Making Money on Your Blog
Update:  I've launched a podcast! FIRE DRILL
I now have a podcast, FIRE DRILL about Financial independence and early retirement.
We bring on people with six figure side hustles and incredible savings stories.  Learn more about the podcast here.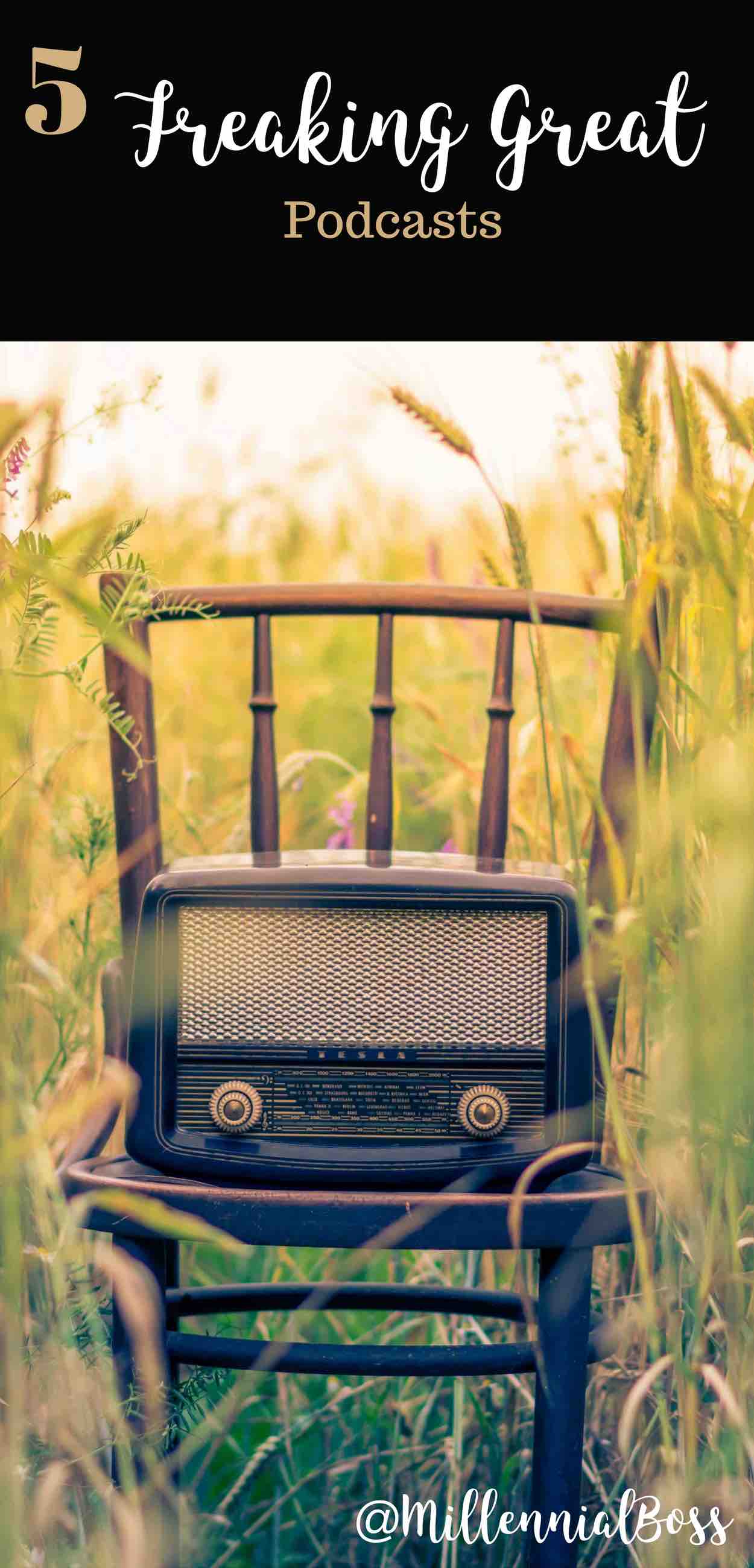 So, let's turn this into an actionable post; check out AT LEAST one of these podcasts if you haven't heard of them before now!