Do you have a passion for seeing the world? Well, using a travel piggy bank strategy could help you fund your next adventure, according to this article in USA Today.
The perks of using a travel savings jar include:
You get to visually see the progress you're making towards your savings goal.
Seeing your progress will make you want to make even more progress.
This creates a beautiful flywheel effect where you can save more and more money at a faster rate for your next adventure.
If you're looking for some inspiration for how to design your travel savings jar, here are 9 gorgeous travel savings jars we recommend checking out.
Travel Savings Jars on Etsy
1. Custom Hinged Lid Savings Jar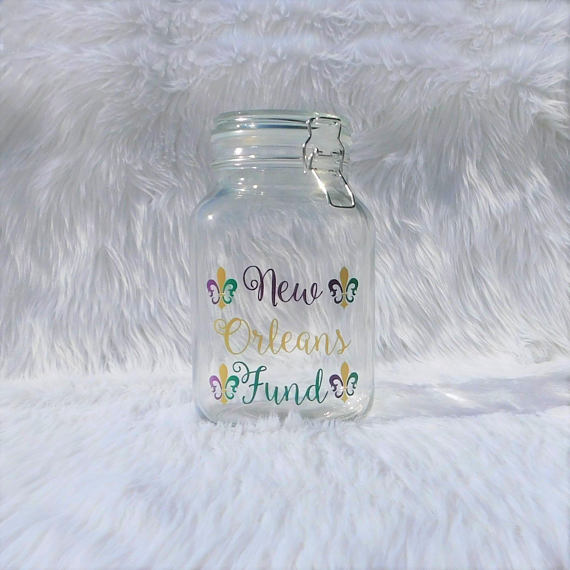 This hinged lid savings jar is perfect for saving your dollars. Customize the label with the name of your destination and use it after the trip to store souvenirs. The simplicity and elegance of this jar are particularly appealing. Buy this on Etsy here.
2. Rose Gold Travel Fund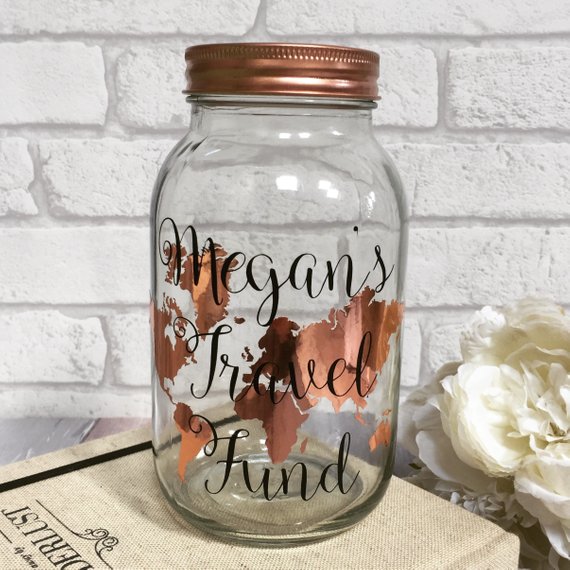 This beautiful jar has a rose gold world map and customizable black script. It doubles as a stunning piece of decor for your home since it can be placed pretty much anywhere and fit in nicely. Buy this on Etsy here.
Travel Piggy Bank Ideas
3. Adventure Travel Fund Blue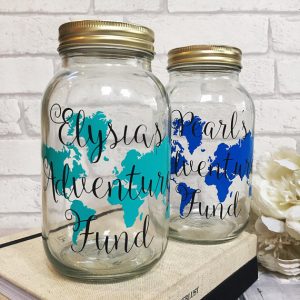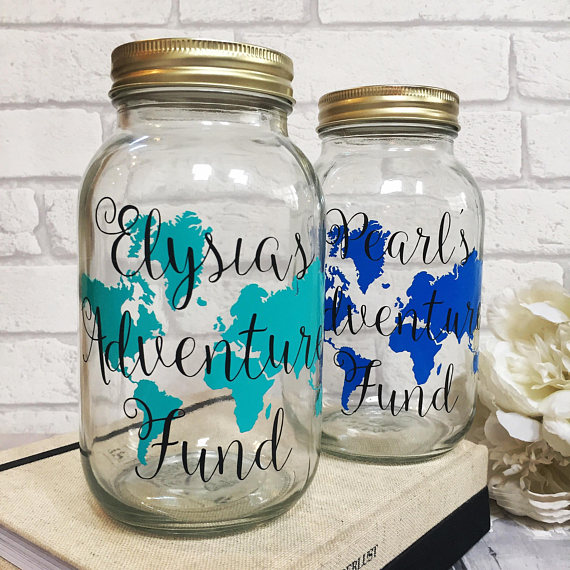 These beautiful jars feature your choice of a turquoise or deep blue world map and black script font. Great gift idea for beach lovers! Buy this on Etsy here.
4. Vacation Fund Decal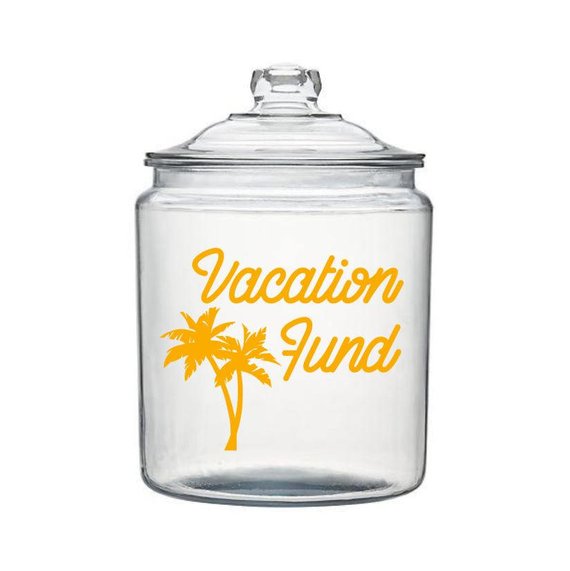 If you already have the perfect travel fund jar, but you need to spruce it up, this vinyl decal is for you! Customize the font, color, and message to make it unique! Choose a color that you like along with a simple font and you'll have yourself a simple travel savings jar that you can use to fund your next vacation!
The nice part about this jar is that the more you fill it up, the closer you get to a vacation that you can look forward to for several months in advance. Buy this on Etsy here.
5. Personalized Family Travel Fund Mason Jar Bank
This cute mason jar bank has a coin slot lid and a customizable decal. Available in three sizes. Place it in the family room so everyone can watch the fund grow!
The nice part about this jar is that it makes it about the whole family, so you can all bond over the fact that you get to watch the jar get filled to the top. Buy this on Etsy here.
6. Not All Who Wander Are Lost Mason Jar Bank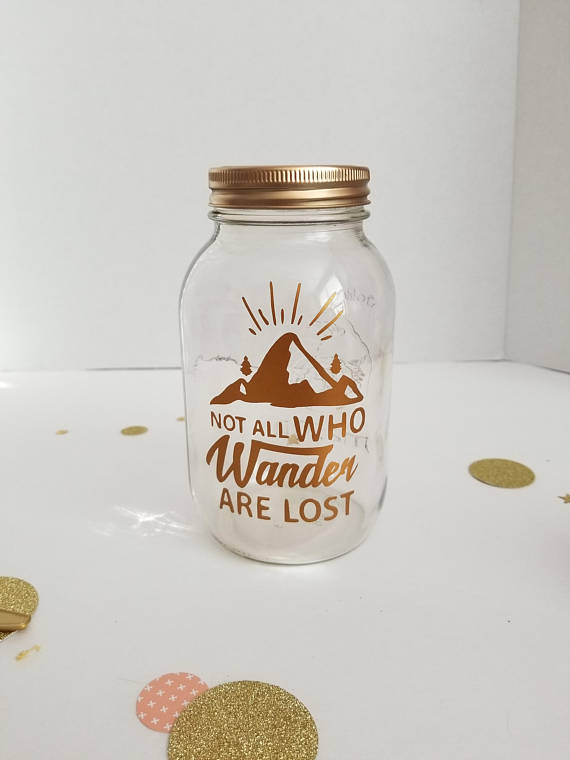 This quart size mason jar bank is large enough to store a nice-sized travel fund. Customize the lid and label with your choice of 4 colors. Buy this on Etsy here.
Travel Piggy Bank Mason Jar
7. Glitter Adventure Fund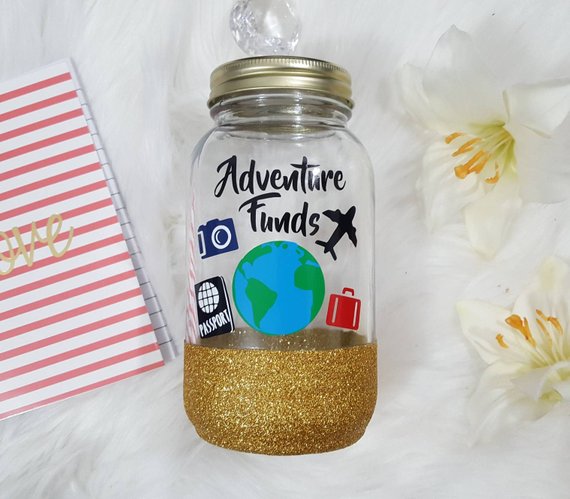 This large mason jar bank comes with your choice of glitter on the base. You can customize the color of the plane, suitcase, camera, and lid color for a truly personalized bank! Buy this on Etsy here.
Related Posts:
8. Painted Mason Jar Bank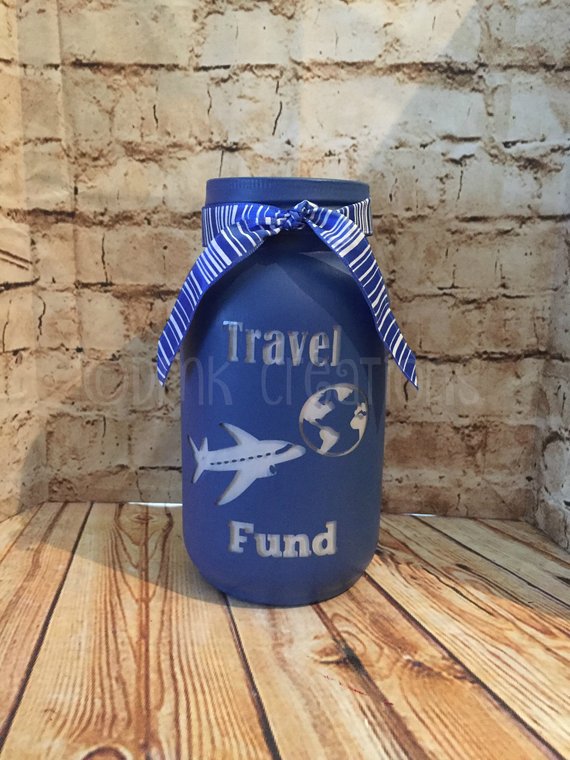 A painted mason jar makes a wonderful travel fund for those who'd rather not display the money inside. Available in your choice of color!
This is great for those who don't want to know exactly how much money is in the jar. Plus, you can pick up the jar and feel how full it is so you can get an idea of how close you're getting to hitting your goal! Buy this on Etsy here.
More Travel Savings Ideas
9. Explore The World Ceramic Money Box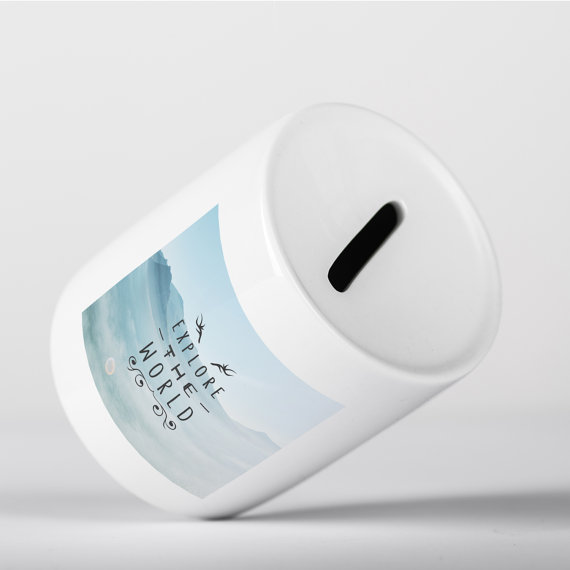 This stylish ceramic bank has a slot at the top for your money and a rubber plug at the base to easily retrieve funds when it's time to go on your trip! Makes a thoughtful gift for holidays, birthdays, and more. Buy this on Etsy here.
DIY Travel Savings Jar Tutorial
If you're interested in making your own travel savings jar from scratch and you're a visual learner, check out the video below that walks you through the necessary steps to make one:
Saving for Travel Ideas
Here is how to cut back to save for travel.
Cut back on eating out and buying discretionary purchases
Pay yourself a tip for good habits such as making coffee at home
Try to use online promo codes for cash back. I wrote about my favorite one here.
In addition to cutting back, you might also try picking up a side hustle or two so that you can increase your income and inch towards your travel goals even faster!
What do you like to use to store your travel fund? Share it with us in the comments below!
Where are you going on your next adventure?

Latest posts by Tiffany Ingle
(see all)