Wondering what to get your significant other this Valentine's Day?
The answer is that you don't have to get them anything.  A nice card and their favorite food will do just fine.
If you do want to get him a little something though, here are 25 of the hottest gifts for him this year.
Top Valentine's Day Gifts for Him this year
Moviepass – see unlimited movies in theaters
Moviepass is a monthly subscription that will let him see unlimited movies in theaters for just $9.95 per month.
This is a great gift because it's a gift for you too (more date nights? yes please).
Moviepass already has 1 million subscribers and works with 92% of theaters.
Learn more about Moviepass and how it works here.
A weekend getaway in a cool property on Airbnb
If he's a little more adventurous, he might like a weekend away in a unique property on Airbnb.
Perhaps you can rent a houseboat in San Diego, a tiny home in Portland, a hobbit house in Washington, or a treehouse in Hawaii?
There are so many cool and unique properties on Airbnb and you'll have a blast making memories together.
My favorite trip with my husband was renting a cottage on a vineyard in Southern California. It was such a cool experience and it was beautiful waking up to the sunrise over the vineyard every day.
Use this link to get a $40 credit towards your first trip.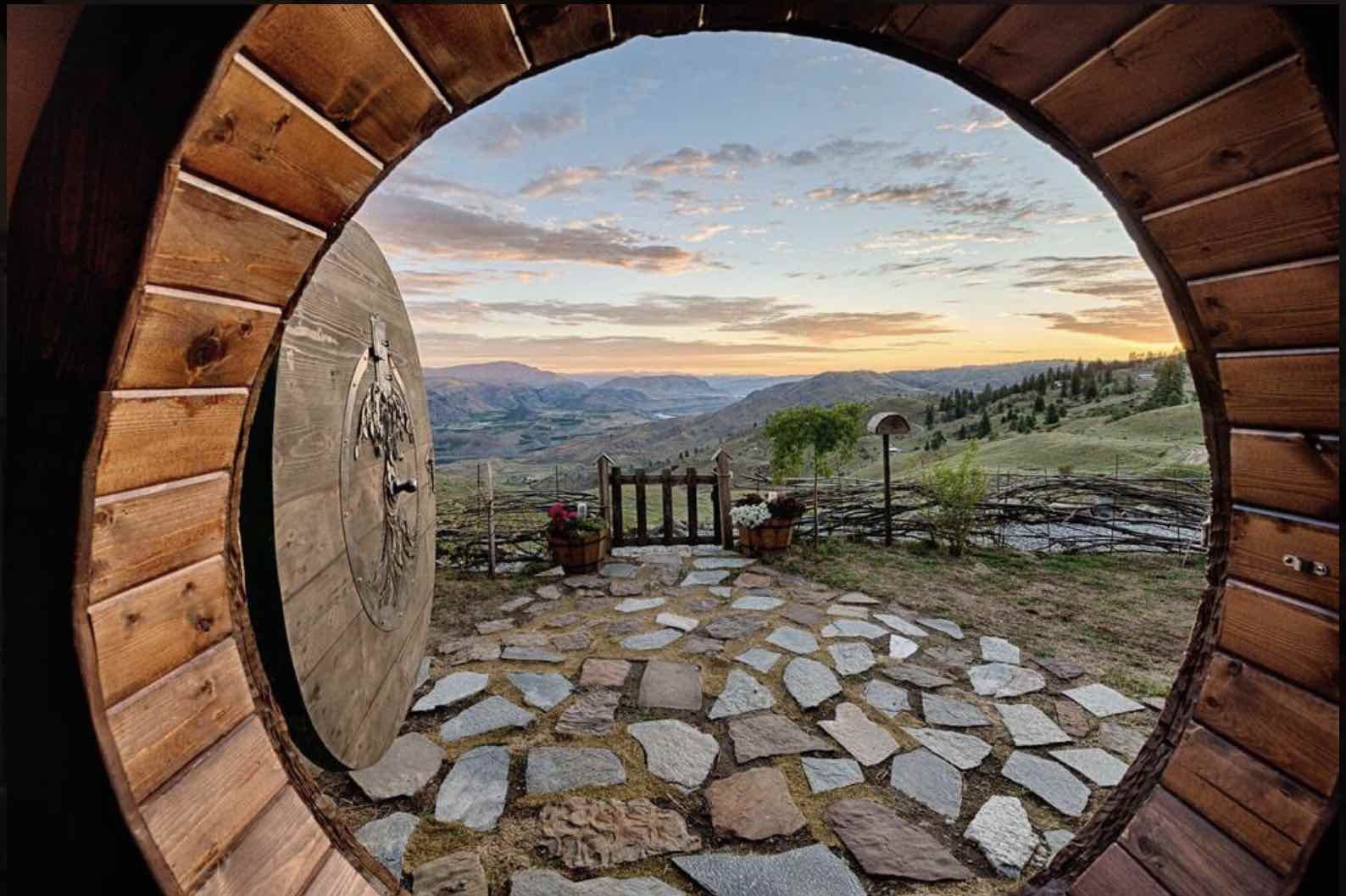 America the Beautiful Land & Recreation Pass
Does your significant other like to get outside a lot?
He might like a National Parks Pass from the National Park Service.
The America the Beautiful Land & Recreation Pass gives you access to 2,000 federal recreation sites.
(This includes ALL popular national parks such as Zion National Park or Yosemite).
The pass is $80 for one year. Learn more here.
Nike Tech Fleece Jogger Pants
Gone are the days when it was OK for men to wear ratty gray sweatpants (thank goodness).
These Nike Tech Fleece jogger pants look really stylish and can be worn at the gym or just as normal pants.
I like the 'black' color but the gray also looks nice too.
Check them out here.
I should also mention that there are Under Armour versions of these exact track pants.
They have less 5 star reviews than the Nike ones (Nike ones are all 5 stars) but they are a bit cheaper.
Check out the Under Armour version of the men's joggers here.
Patagonia Sweater Quarter Zip Pullover
This is one of those really practical gifts that he'll love.
Patagonia stuff is awesome quality and this quarter zip sweater looks great dressed up or down.
My husband wears his over button down shirts when the weather is cold.
My favorite color for this sweater is gray but it comes in all different colors.
Check out the Patagonia quarter zip pullover here.
Hershel Card Case
Have you ever noticed that your guy's wallet is huge and it makes it hard to sit down?
I noticed that about my husband's wallet last year and decided to get him a card case.
He can use the card case when he goes to the gym and just needs his ID and a credit card or two.
Herschel is the brand that I bought him.
Check out the Herschel card case here.
Vans Slip On Sneakers
Vans slip on shoes look good with everything and they're comfortable.
I think they make men look more stylish when they're wearing more casual attire.
You can dress them up too.
Check out these Vans (which are on sale) here.
Dollar Shave Club
This is how Dollar Shave Club works – you buy a membership and they ship a box of new razors every month.
You can choose to pick out products such as the after-shave gel called "Shave butter" if you want to.
I accidentally bought my husband this membership twice (yes, we have two boxes delivered to the house per month).
I don't mind though since I keep the second box for myself – these razors are goood.
Plans start at $1 per month plus shipping costs.
Check out Dollar Shave Club here.
Pop in a Box Subscription Program
Does your guy like Marvel, DC, and all superhero stuff?
My husband LOVES this stuff and really wants this Pop in a Box subscription program.
Basically you can choose the category such as "heroes" or "Marvel" and they will ship you a box of Pop characters each month. Categories include:
Marvel Universe
James Bond
Disney
Chewbacca
You name it
Learn more about Pop subscriptions here.
Foam Roller for Deep Tissue Massage
If your guy likes to work out and doesn't have a foam roller yet, get him one!
These things DO WONDERS.
After a hard workout, you roll out your hamstrings, quads, and other tense muscles for deep massage and relief.
They help you recover faster and all the serious gym-heads have these.
Check out this foam roller on Amazon here.
D'Addario Two-Way Humidification System for Guitars
This inexpensive humidifier is a fan-favorite for guitar-lovers.
It keeps the wood in your guitar properly hydrated by maintaining the proper humidity levels in the guitar case.
This is a must from preventing the wood from cracking.
The humidifier is tiny and your guitar lover will know exactly how to use it (and be pumped you knew to buy him it!)
Check out this D'Addario humidifier on Amazon here.
The Subtle Art of Not Giving a F
I think the title of this book says it all.
The Subtle Art of Not Giving a F is for any guy who is always looking for a little self-improvement and personal development.
This book was a New York Times Best Seller and has sold over a million copies.
Check it out on Amazon here.
Top Valentine's Day Gifts this year for husbands, boyfriends, and friends
23 and Me at Home DNA Test
Is your guy interested in knowing more about his ancestry and his DNA?
This 23 and Me DNA kit offers a detailed breakdown of your ancestry from 31 populations worldwide.
The kit shown here is just the DNA kit but you can upgrade to the expensive health kit and get all of the health data available for your genetic profile as well.
I personally just have the regular kit.
Check out the 23 and Me DNA Test on Amazon here.
Wisdom Panel 3.0 Breed Identification DNA Test
Does your significant other have a pup?
Check out the Wisdom Panel kit which does breed identification for your dog.
There are more than 250 breeds covered and this is the largest database of its kind in the world.
It's time to figure out what breeds made up your lovable furry friend.
Check it out the doggy DNA kit on Amazon here.
An Amazon Subscription
If you haven't discovered the joys of Amazon prime yet,  try the Amazon Prime 30-Day Free Trial.
With Prime you get:
Free 2-day shipping
Unlimited Music in the Prime library
Prime TV and movie streaming
Have you considered gifting an Amazon subscription to your significant other?
One good idea might be gifting Audible, which let's you listen to books during commutes, gym trips, etc.
Cards Against Humanity Extension Packs
Everyone loves this game for good reason. It's hilarious! You can get him an extension pack to keep the laughs coming. Buy Cards Against Humanity extension packs here.
VR Headset Glasses for iPhone, Samsung, Android
VR is THE THING right now in case you haven't heard. You put your smartphone in the front of this headset and can play tons of VR games and apps. The best thing about this model (beyond the price) is that it comes with the bluetooth remote which allows the user to play more games. Buy the headset here.
What to Buy Him for Valentine's Day this year
The All-new Echo by Amazon – Heather Gray Fabric
Buy the Echo HERE on Amazon
This first one is an absolute no-brainer.
With the Echo, they can play their favorite songs by just requesting them with their voice.
The Heather Gray fabric edition (new this year) is very stylish too.
I personally have the echo and I LOVE IT.
Buy it on Amazon: 
All-new Echo (2nd Generation) with improved sound and a new design – Heather Gray Fabric
Buy the Cambridge SoundWords speaker here on Amazon.
From tailgates to parties, days at the beach or by the pool, BBQs – I can think of so many uses for this portable speaker set. It's one of the top rated and top reviewed devices on Amazon.
I bought one for myself last year and LOVE IT.
This is my most gifted item to friends and family.
This makes for an awesome time and great gift. Buy the Cambridge SoundWords speaker here.
the Ultimate Charging Station for phones, iPads, laptops
Buy the charging station HERE on Amazon
Let's face it. Chargers get lost so easily.
Help your favorite person find their charger and get out the door faster with the ultimate charging station.
Buy it on Amazon:
USB Charging Station – 60W 12A 5-Port Quick Charge – Ideal Dorm & Home Charging Dock Desktop Device Organizer
Top Vday gifts for him college
This "Saturdays are for the Boys" flag and dorm decoration
Buy this flag HERE on Amazon
Some guys LOVE stuff like this.
No wonder this "Saturdays are for the Boys" flag is almost sold out.
This flag is perfect to capture the Saturday debauchery and fun that goes on with their friends.
Plus, it's a huge nod to college football fans.
If your significant other is in to this sort of thing, consider this flag.
Buy it on Amazon:
Saturdays Are For The Boys Flag 3″x5″ Flag For Home or College
Top FREE gifts for Valentine's Day this Year
You do not need to spend money on Valentine's Day to let your significant other know how you feel.
Take advice from this 1,001 Ways to be Romantic book and just focus on him.
What are his favorite foods?
Perhaps you could whip up his favorite meal and plan a nice dinner for the two of you?
Maybe you know his all-time favorite movie.
Agree to watch it for the hundredth time together?
Is there something he's been putting off doing for awhile? Maybe some household chore or task that's annoying.
Has he been toying around with a business idea?
Valentine's Day shouldn't be about exchanging items but more about moving forward in your relationship.
Enjoy!
Related Articles:
Julie paid off nearly $100k of debt and is on her way to financial independence. She hosts a
Podcast
and is obsessed with tracking her money saved via the free app
Personal Capital
(although she won't tell you what it is). She loves her dog and drinks iced coffee year round. She also is the creator of
The Side Hustle Course
where she teaches people how to sell printables on Etsy and blog.
Latest posts by Millennial Boss