This silly drawing prompts for kids printable is the perfect way to start the day. With school going online, kids will need a way each day to get their minds on task. 
At school there is a bell to let students know to get in their seats to get ready to learn. When at home, why not give them a silly drawing prompt to start the day off right.
Drawing is also a very relaxing and engaging activity for anyone. Kids will love doing this activity at the beginning and end of each day as well. Include these silly drawing prompts into your daily plans.
My eldest child has painting class two days a week. She has drawn a fox, a pineapple, a unicorn, and an underwater scene. 
After class she will usually make her paintings silly by adding a burger joint to her underwater scene (she loves SpongeBob SquarePants), or she will give her unicorn sunglasses. 
Kids love to be silly, and these silly drawing prompts will be something that your kids look forward to every day!
Silly Drawing Prompts for Kids Printable
There are 40 silly drawing prompts available to you for download on two printables. Do a drawing a day to start each day, or do them as often as you'd like.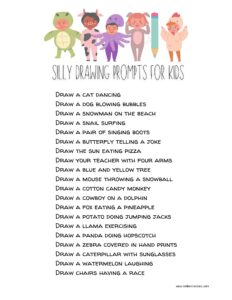 Download the silly drawing prompts for kids printable and print on 8.5" x 11" paper. Print on normal copy paper.
The drawing prompts are a variety of silly ideas that will excite your kids. Draw with them to make this a fun family activity.
The silly drawing prompts are:
Draw a cat dancing
Draw a dog blowing bubbles
Draw a snowman on the beach
Draw a snail surfing
Draw a pair of singing boots
Draw a butterfly telling a joke
Draw the sun eating pizza
Draw your teacher with four arms
Draw a blue and yellow tree
Draw a mouse throwing a snowball
Draw a cotton candy monkey
Draw a cowboy on a dolphin
Draw a fox eating a pineapple
Draw a potato doing jumping jacks
Draw a llama exercising
Draw a panda doing hopscotch
Draw a zebra covered in hand prints
Draw a caterpillar with sunglasses
Draw a watermelon laughing
Draw chairs having a race
Draw one food eating another food
Draw a weightlifting taco
Draw a banana with a jump rope
Draw a hot dog hula hooping
Draw an ice cream cone eating ice cream
Draw a person with candy hair
Draw your mom as a fairy
Draw a crayon skateboarding
Draw a dog eating cereal
Draw a bouquet of shoes
Draw a car driving a car
Draw yourself on the $100 bill
Draw the moon with a face
Draw two cacti hugging
Draw a dinosaur sailing
Draw a flamingo dancing
Draw a lobster fishing
Draw two animals to create a new one
Draw a lizard getting a haircut
Draw your dad as a king
Other Ways to use Your Silly Drawing Prompts for Kids
There are many ways to use your silly drawing prompts other than just as a drawing prompt.
Use these ideas to keep your children's' creative juices flowing!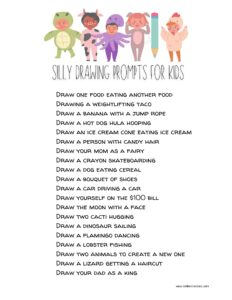 Fun projects to do with your silly drawing prompts for kids printable are:
Silly Drawing Prompts for Kids Homemade Book
Silly Drawing Prompts for Kids Art Journal
Silly Drawing Prompts for Kids Homemade Book
A simple and easy project with your drawing prompts is to use each prompt to make a homemade book.
To do this project you will need your silly drawing prompts for kids printable, some colored construction paper or heavy weight white paper, crayons, colored pencils, or markers, a hole punch, and some yarn or string.
Print out your silly drawing prompts for kids on 8.5" x 11" paper. Next, pick a prompt to use as the theme of your book.
Make a simple 5 to 10 page book of illustrations, or illustrations with words, around the chosen theme.
When you are done with your book, compile all of your pages in the correct sequence, punch three holes down the left side of your book, and tie together with three pieces of yarn or string. 
Decorate your book to make it even more silly!
Now you have a homemade silly book to share with family and friends.
This is an activity you can do yearly. Save your homemade books each year so that you can enjoy them over time. You can also give your book to someone you love.
Silly Drawing Prompts for Kids Art Journal
Have you heard that journaling has come back? Journals are a favorite pastime for many people. You can use them to draw art, journal your thoughts, plan your day, or track habits and other information.
Start a new art journal habit for your kids. Even if your child isn't old enough to read, you can get them a blank journal to add their own drawings to.
Print out the silly drawing prompts for kids printable. Next, use a prompt a day to give to your child so that they can create their own piece of art in their new journal.
Kids will love having their own journal to use for drawing silly pieces of art. 
My eldest child has a princess themed art journal that she uses during quiet time. She loves sharing the art she creates with me. I love that she enjoys art and has a journal of her own that she can share with others.
Help your child make their own art journal, or pick one up for them. You can find tons of low cost choices at any art store. Clearance sections are a great place to hunt for a frugal journal for the child in your life.
How will you use your silly drawing prompts for kids printable?
These drawing prompts for kids will encourage your children to think more creatively when drawing. Start a new daily drawing habit with the drawing prompt printables.
Begin a new art journal hobby, or even create a homemade book. Your family can use these silly drawing prompts in so many fun and creative ways!
Start a new hobby with your children using these silly drawing prompts for kids.
Related posts:

Latest posts by Sasha Hutchison
(see all)