Mid thirty-something?  Here are 7 easy ways to improve your finances in 5 minutes or less.
1.  Cut cable and use streaming or TV antennas instead
Have you heard that a $30 antenna can give you access to 50+ channels for free?
This is the TV antenna I have and you literally just stick it on the wall and I get over 50 channels:
I use that along with my Amazon Fire TV stick and I'm super happy with the setup.
Also, the streaming company Hulu just announced a Live TV option for $39.99 and it includes the sports channels!
Check out Hulu Live TV here.
2.  Know your credit score
Your credit score is SO important, yet so few people know how to check it (for free).
It's especially important to keep tabs on your credit score after the Equifax hack.
I personally use Credit Sesame, which is a free app that monitors my credit and notifies me if any suspicious activity happens in my name.
It also gives me suggestions to improve my credit score.
Sign up here for Credit Sesame (it's free)
3.  Save money every time you buy online with cash back
I use Ebates, which is a website that gives you cash back on stuff you buy online.
Ebates also automatically scans for online coupons when you checkout so you can save more money.
Here is an example of what the Ebates browser tool looks like in action (ps – it only took me minutes to set up and I've saved hundreds ? so far this year).


Download Ebates here (it's free)  and get a $10 bonus
4.  Stop living 1 to 2 paychecks in the future
This is easier said than done but many of us are living 1-2 paychecks in the future.
Meaning we spend so much on our credit cards that we have to wait until the next paycheck hits to pay it off.
Stop discretionary spending for just 2-4 weeks until you catch up to your paycheck.

5.  Pay less on your student loans by getting a better interest rate
Still have student loans?
I should have refinanced my student loans down to a lower interest rate, but I didn't know I could do this.
Refinancing means another company "buys your debt" from your lender and you pay the new company instead at a lower interest rate.
This could lower your monthly payment for your loans and save you thousands of dollars in the long run.
We've already helped hundreds of readers refinance their student loans.
Take the survey here and see if you can refinance with the reputable company Sofi.

6.  Know your net worth
OK so this one might be the MOST important and yet it's the most terrifying for some people.
Do you know your net worth? Like, if you added up all of your banking accounts, savings, investments, home value, etc., do you know what that number adds up to?
I use Personal Capital (free mobile app) to keep track of my net worth and it makes this pretty chart: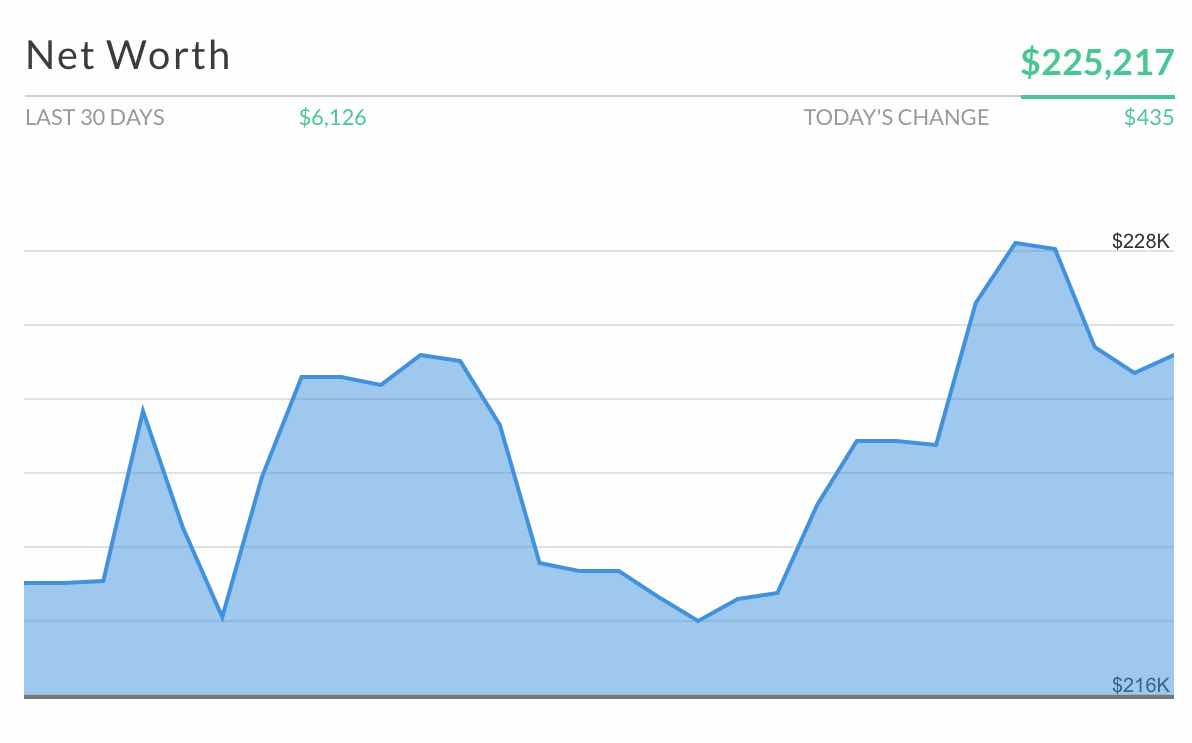 Sign up for Personal capital using this link. (It's 100% free).
Personal Capital also does expense tracking too so you can see where your money is going.
Unfortunately I know I'm spending way too much on food.
7.  Use all of the features of Amazon Prime
Many people have Amazon Prime today because the free 2-day shipping is killer for the holidays (LOVE IT).
Few take advantage of ALL of the benefits of Amazon Prime though.
Did you know that Amazon Prime comes with a free music streaming service, a free movie/tv streaming service (like Netflix) and many other money-saving features?
So that's it. 5 minutes from now, you should have a better financial future.
What are your favorite money saving tips?
Related Posts:

PS – Subscribe to our email newsletter below for more money tips and best practices.

Latest posts by Millennial Boss
(see all)