$52k paid off in just under 4 years! Here we find out how a financial advisor got out of debt in a record time of less than 4 years, thanks to Dave Ramsey's Financial Peace University.
Do you have an epic side hustle or debt payoff story to share with us? We'd Love to Interview You for Millennial Boss.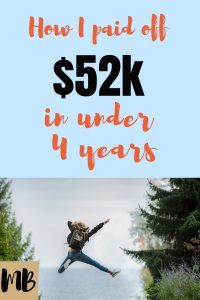 1. Please tell us a little about yourself in a few sentences.
I'm a financial advisor by trade that blogs anonymously about finance.
2. What was the total amount of debt, type of debt, and how fast did you pay it off?
Student Debt 29k
Car Loan 23K
Paid them all off in 3months shy of 4 years
3. How did you acquire the debt in the first place? Do you regret doing so?
Student–Getting my bachelors.
Car–Buying my first car when I graduated and moved out on my own to a new city for work. I regret it soooooo much. Although I don't think the debt could have been completely avoided, I definitely could have done a lot more to minimize how much was taken out had I been more aware of the consequences of my actions at the time.
Related posts:
4. Describe the moment you decided that enough was enough, you needed to pay off your debt.
I was making minimum payments because my initial job out college was in customer service and I wasn't making that much but I would always try to put the majority of my bonus to paying it off because I didn't like the weight on my shoulders. I made the final push to pay it all off 6 years early after I finished the Dave Ramsay Financial Peace University class and when I decided I was going to quit my day job in 6 months
5. How did you end up paying off the debt? Please be as specific as possible. Describe the choices you had to make during this time. Did you have a good quality of life?
I maintained a good quality of life. I just made sure that the majority and eventually all my bonus money when to paying off debt.
6. Describe the moment that you made your last payment on your debt. When was it? What did it feel like?
Super anti-climatic. The balance went to zero and the student loan system shot confetti over the screen. But it felt good to finally have that behind me and to have a positive net worth
Related Posts:
7. What resources (books, blogs, videos, podcasts) inspired you as you were paying off your debt?
8. What's next for you now that you are debt free?
Last my next job. If today's call went well I might be moving to San Fran! Fingers crossed!
Are you currently in debt? Here are three things you can do.
Get an idea of how much you owe, to which company, & the interest rate.
Start tracking your expenses (we use the free app Personal Capital).
See if you can get a lower interest rate by refinancing your loans (take the Sofi survey here).
We're looking to feature entrepreneurs or those who have paid off student loan debt. Sign up here to Get Featured on Millennial Boss Feature Friday.
Have you paid off debt? Share it with us below.
Got Money Goals?

Join 2,500 subscribers who receive weekly financial inspiration from Millennial Boss.