Friendsgiving is a great time to get together with close friends and enjoy each other's company. But a fun time does not mean you have to spend hundreds of dollars. Here are some easy, DIY projects and ideas that can add to a fun Friendsgiving.
1. Make Your Own Fall Wreath
Create your own centerpiece or welcome wreath, thanks to this tutorial by Artsy Chicks Rule. Nancy tells you what you need and exactly how she created this easy to make the wreath.
The best part about this idea is that, if done correctly, the wreath looks just like one that you can buy at the store. Also, you can share with your friends that you actually created it yourself!
Related post:  11 Cute Fall Wreaths for Your Front Door
2. Easter Eggs Turned Acorns
Take some leftover Easter eggs and turn them into awesome treats for your Friendsgiving guests. All you need is a hot glue gun, some twine, and a little patience. Annisa at A Pretty Happy Home shows you just how to make these fall favors.
The best part about these is that they're easy to make, but they look great. It can even be fun to make these with a group of friends in preparation for your Thanksgiving.
3. Drink If…Friendsgiving Game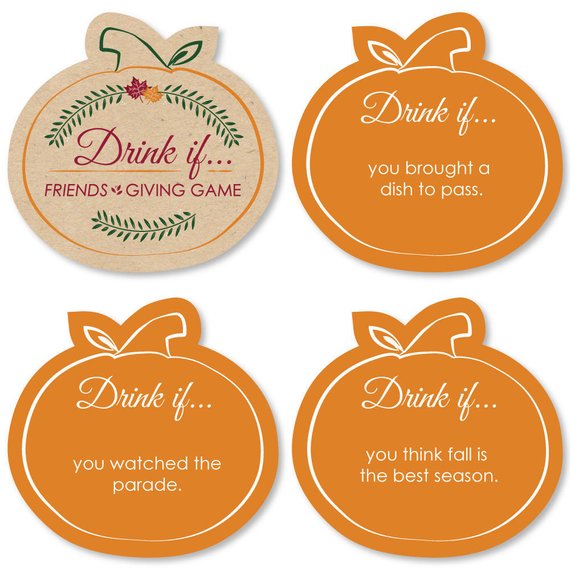 Liven things up with a drinking game. You can find this Friendsgiving themed "Drink If…" game here on Etsy.
This is sure to be a hilarious game that you and your friends can all play, and it's sure to be something that you all talk about for many Friendsgivings to come.
4. Flower Crown Station
If drinking games aren't your thing, or you're having a party with kids, consider a family friendly activity like a flower crown station. A Beautiful Mess shows you how.
The nice thing about flower crowns is that they're something your guests can take home with them. Little kids will also likely love this idea since they're easy to make and the crowns are something that they can wear for weeks to come.
5. Everybody Gets a Wishbone
A great turkey tradition is the wishbone, but with so many friends it's hard to choose who gets the honor. That's why Oh Happy Day shows you how to make sure everybody at the party gets the chance to share in the wishbone fun.
Related Post:  13 Awesome Friendsgiving Ideas for This Season
6. Have a Pie-Off
To make sure there's enough pie to go around, have a pie-off. Punch Bowl suggests challenging your friends to a pie baking contest.
The obvious benefit of this is that you'll have more pies to enjoy for the Friendsgiving and it's also fun to have a small competition among your friends to see who's the best at making these tasty deserts.
7. Take Home Pie Boxes
While taste testing is fun, there's no reason to be stuck with all that pie. The House That Lars Built shows you how to make pie slice to go boxes. That way everyone can take a slice or two home.
Even if you don't have pie, you could use a similar container to give to guests so that they can take other baked goods home. This is sure to be a nice surprise for your guests.
8. Signature Cocktails
Drinks are a big part of Friendsgiving. Come up with some signature cocktails or take a few tips from Mom Trends.
These cocktails don't have to be too difficult to make either. To make it even more fun, try to make them with your friends so that it becomes a social activity!
9. Thankful For Tablecloth
You don't have to spend a lot on a tablecloth to make the Friendsgiving meal festive. Love Paper Paint suggests you drop down some brown paper and draw your own decorations. You can even create a spot where everyone can write about what they're thankful for.
This is an idea that will work at any Friendsgiving – whether little kids are there or if it's just adults. This is a fun activity and it helps everyone practice a little gratitude around the holiday season.
10. Make it a Potluck
Just because you're hosting, doesn't mean you have to do all the cooking. CB2 suggests using a spreadsheet to divvy up the menu, making sure you create spots for appetizers, sides, and desserts.
This lightens the burden on how much food you have to make and it creates for a wide variety of dishes to be present at the Friendsgiving table.
11. Create Your Own Drink Charms
Make sure your guests know which drink is theirs with glass charms. Inspired by Charm shows you how to make some simple drink charms that are cute and easy to make.
12. Challenges for Your Friends
Her Campus suggests you take the phones out of the equation. Consider making the first person who picks up his/her phone take an ugly selfie and post it on Instagram. Make small challenges throughout the day to keep things fun.
13. Coloring Pages for Everyone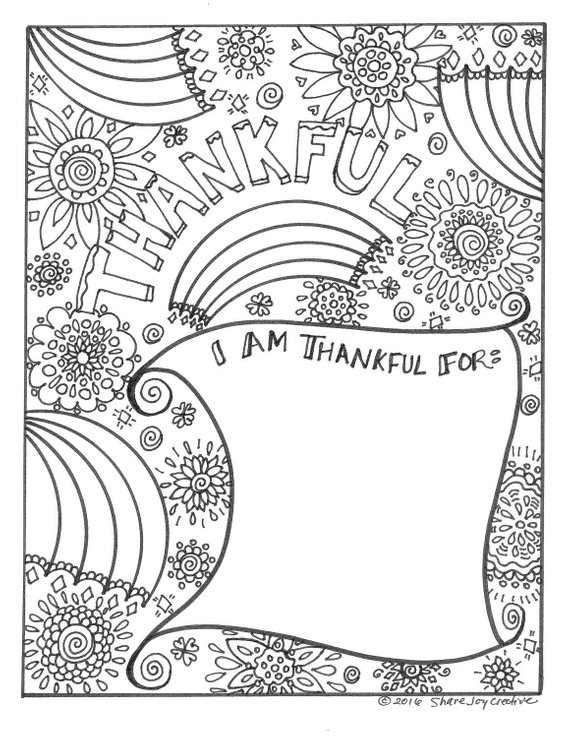 Whether for adults or kids, coloring pages can keep your guests busy while they're waiting for the main course, or simply just for fun. You can find them here on Etsy.
If little kids will be at the party, this is sure to be a huge hit.
Related Posts:
13 Cheap but Cute Thanksgiving Decorations
8 Fall Kitchen Decor Items We Love this Season
What are your Thanksgiving plans?


Latest posts by Erika Towne
(see all)