When it comes to industries that have emerged from Seattle, coffee companies are obviously a big part of that list. Institutions like Tully's, Seattle's Best, and Starbucks are all proof that the Emerald City is the epicenter of some great brews and those greats are just the tip of the iceberg. It's hard to say which are the best coffee shops in Seattle.
Seattle residents consume more coffee than any other American city. In fact, one study found that there are 35 coffee shops per 100,000 residents in Seattle and that locals spend an average of $36 per month on coffee alone. 
It is also basically impossible to walk past a single block in downtown Seattle without seeing at least one coffee shop. Coffee is available everywhere – from local sidewalk stands to parking lots to tiny coffee houses, drive-throughs, and even delivery services.
Seattle is a Coffee Capital
A combination of many different factors came together to make Seattle a coffee capital. First, its environment. Seattle's stereotypical overcast skies and brisk winters are built to make you crave a warm beverage and that fact combined with Seattle's unique atmosphere led to the rise of coffeehouses across the city.
The 1960s and 1970s were times that were obsessed with counterculture. Bohemians looked for spots where they could gather and discuss changing the world. This demand led to an increase in coffeehouses around Seattle, notably The Last Exit in 1967 in the University District. Not long after, a future Starbucks executive opened the still prominent Café Allegro in 1975.
It all Started with Peet's Coffee in Seattle
As bohemian thoughts of individuality and authenticity moved throughout the region and the nation, Peet's Coffee & Tea became one of the first coffee companies to explore deviating from the norm and experimenting with different coffee beans from around the world after being founded in California in 1966.
After that, a coffee shop in Seattle began purchasing whole beans from around the world in bulk from Peet's to sell in their store. This store was opened in 1971 and was named after the first mate in the novel Moby Dick: Starbucks. Eventually Starbucks chose to sell coffee beverages in addition to whole beans and in 1976 Starbucks moved to what is known as its original location in Pike Place Market.
Then Starbucks Changed the Game
Starbucks changed the game and began to take over the world. However, while that was happening, Seattle held true to its counter cultural values that were first associated with hippies and then attached itself to the grunge culture as the city moved into the 1990s. These values caused Seattleites to flock to independent coffee shops and roasters while rejecting the increasingly commercial Starbucks.
Related Post: How to Get Free Starbucks in 2019
Today, nothing much has changed. Seattleites still flock to ethically sourced, Fair Trade coffee shops that practice ecological responsibility. The smaller and more local the better. Given that rich history I'm here to tell you the best coffee shops in Seattle ranked 1 to 10:
Caffe Vita
El Diablo
Café Allegro
Espresso Vivace
Caffe Ladro
Starbucks Reserve Roastery and Tasting Room
Bauhaus Strong Coffee
Monorail Espresso
Uptown Espresso
La Marzocco
The 10 Best Coffee Shops in Seattle
1. Caffe Vita in Capitol Hill
Caffé Vita Coffee Roasting Company was founded in 1995 with the aim of producing excellent artisan coffee and implementing an ethical model of coffee production, which bypassed the fair trade business model and was able to source coffee beans directly from the farmers that produce it.
Caffe Vita has a large presence in Seattle with six different locations including Capitol Hill, Fremont, Pioneer Square, and Queen Anne. They also offer a public coffee brewing school every month for free and host a gathering that is meant to be a marketplace of ideas where people can discuss the many methods of brewing coffee. This is a great way to learn about coffee and a fun opportunity to curl up with a cup of joy and meet fellow java aficionados.
On top of adding to the coffee education scene, Caffe Vita is a great place to have a delicious cup of coffee and enjoy the original Seattle coffee house vibe. No matter the time if you drop by Caffe Vita you'll be sure to see locals enjoying their brews while cranking out the latest novel or indie script.
2. El Diablo in Queen Anne
El Diablo is a Cuban inspired cafe with a delicious global selection along with mind blowing cafe con leches and breakfast sandwiches. They recently moved down the street from their original location to an old Victorian house that lends a completely unique atmosphere to this space. Instead of feeling like you are in a shop you're instead relaxing in a friend's home. They also have multiple work areas to suit your needs as well as a quiet patio section. If you're looking for somewhere delicious and a little different, El Diablo is for you.
3. Café Allegro in the University District
Café Allegro has been serving espresso in the University District since 1975. The founder of Café Allegro helped to develop the original Starbucks espresso roast, which is darker than most other roasts but still lighter than the darkest roast that they offer. That espresso roast remains the standard Starbucks espresso offering despite the fact that it was developed for Café Allegro.
This is the last of the famous coffee houses that pioneered coffee in Seattle and happens to hold the title of the city's oldest coffee shop and was also coined "the original espresso bar". Their espresso is quite good, but the atmosphere is what sets it apart and feels both iconic and historic.
4. Espresso Vivace in Capitol Hill
Espresso Vivace was founded in 1988 by a Boeing engineer and their coffee is produced to very specific specifications to match the owner's taste and also the taste of patrons who prefer their unique blend.
Originally David Schomer opened an espresso cart on Broadway in 1988 when he was just getting started in the espresso industry. Today, he is revered as one of its most highly respected experts and the man who made latte art a trend.
He also runs coffee shops that are in charge of some of the city's most perfect shots. His sidewalk bar retains its old school feel, but the larger store up the street also has a mural of the company's history that wraps around the counter. Feel free to order anything with an espresso shot to get a feel for Schomer's precision to the craft.
Focusing on the northern Italian style, Vivace has been praised with accolades from publications, celebrity chefs and coffee enthusiasts around the world. At the three locations (two on Capitol Hill, one in South Lake Union), there's not a cup of drip on the menu (though customers can order an Americano) – there are only serious contender for the greatest cappuccino of all time.
5. Caffe Ladro in Queen Anne
Caffe Ladro started with a small coffee shop in Upper Queen Anne. Today, 25 years later, this mini-chain that recently opened its sixteenth location in Ravenna, is a well-loved staple of the Seattle coffee scene. Adding to its prowess in the industry, five years ago, Ladro launched a roasting program.
6. Starbucks Reserve Roastery and Tasting Room in Capitol Hill
Instead of bowing to the 'man' or waiting in line at the not actually original Starbucks in Pike Place Market, the chain's many fans should trek to Starbucks' large, upscale, copper-plated Capitol Hill shrine to coffee, where specialty beans are roasted on-site and a lot of the company's coffee experiments are tested.
Step in and have a personal coffee sommeiller roast beans on an open fire in front of you. Despite this company's corporate culture, this is a once in a lifetime experience. The space is even home to a full bar and a high-end Italian bakery called Princi, which plies customers with flaky pastries as well as other breads that are baked fresh all day, every day.
7. Bauhaus Strong Coffee in Capitol Hill
Bauhaus' current location is only a shadow of its former glory as the hotbed of Capitol Hill's coffee culture as well as a place where people used to spend entire days passing time over cups of coffee under the watchful eyes of the book-lined walls where soon-to-be-famous bands would meet. The more polished current version of the coffee shop does its best to evoke the library-esque original location, but in a more polished, modern way.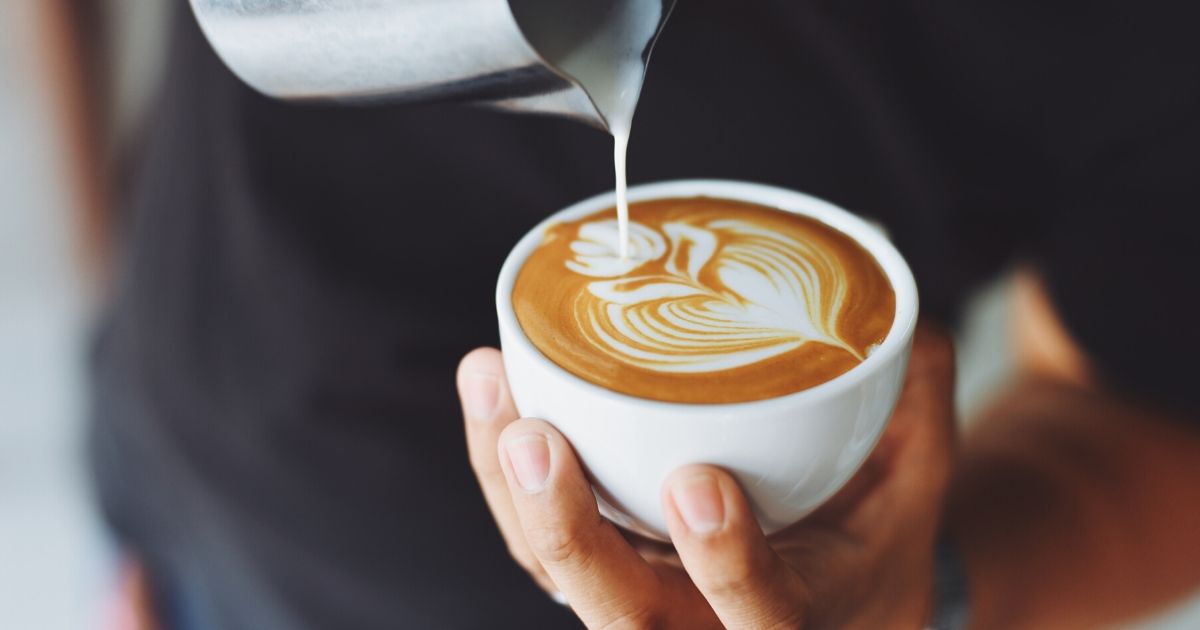 8. Monorail Espresso in Downtown Seattle
Chuck Beek opened Monorail Espresso's original cart in December of 1980. It was the first espresso cart in the entire city and it opened the floodgates on the trend. Later, it changed into more of a sidewalk window and since Beek has sold it to a former barista and the business continues on. So grab your drink and sit at a table in the front of the store to watch the world go by.
9. Uptown Espresso in Belltown
This spot, labeled the "Home of the Velvet Foam," was one of the first local coffee shops to stake their reputation on producing the best quality espresso drinks. The original location, which was consistent to the name in Uptown, opened in 1984 and the mini chain now has seven stores and has created many future coffee shop owners. The coffee shop itself was owned by the great-grandson of Oscar Delaloye, who was Seattle's first coffee roaster that unfortunately died in late 2018. 
10. La Marzocco in Queen Anne
La Marzocco is truly a one of a kind experience in the city of Seattle. La Marzocco is a high end Italian espresso machine company with machines that are often seen in high quality coffee shops. Their home espresso machines retail around $5,000 and we hear are worth every penny to beloved caffeine aficionados. 
There are a couple of reasons why this cafe is considered very unique. First, it's in the same building as the KEXP radio station and allows people to see and hear the radio station live from the cafe. Second, this coffee shop has a program called Roasters in Residence where coffee roasters apply to be featured as the roaster for a month at the cafe so the store constantly has a wide range of different roasts and approaches that give the space a constant feeling of change and experimentation. 
That means that every month you get a completely different experience and menu at La Marzocco. The food menu changes monthly because of the various roasters that rotate throughout. It's extremely exciting to try different roasters and new coffee concoctions constantly. There is also always lots of space to get work done, meet with friends, or just hang out.
The large, modern open space houses amazing tunes thanks to the radio station that is housed there. It is one of the most lovely places in town to sit and experience for hours. The KEXP Gathering Space and the La Marzocco café opened in 2016, but the role of La Marzocco, the Italian espresso machine manufacturer, in Seattle's is embedded in the culture. Kent Bakke, a local Seattleite, started importing La Marzocco machines in the late 1970s and eventually bought the company and supplied their machines to Starbucks and basically everyone else in town. 
Conclusion – Seattle Knows Its Coffee!
Coffee in Seattle is an integral part of its culture. Instead of grabbing a pick me up, coffee in this city is a part of its history, culture and identity. If you're looking for a fantastic cup or place to park and absorb the essence of Seattle, these are the spots to visit.