Whether you're working with a large space or a small space, there are plenty of ways to make your backyard look good. Most of the backyard patio makeover ideas in this post are do it yourself (DIY) and many of them are affordable as well.
Here are our favorite DIY patio makeover ideas starting with a few recently completed for the Millennial Boss blog.
Patio Tiles

Consider covering a boring, concrete patio with these fun patio tiles from IKEA. 
They snap together making install really easily and cost a fraction of the price of decking.
You can even use these patio tiles to cover an apartment patio.
The one downside to these patio squares is that you may have to stain them after a few years if you live in a place where it rains a lot such as Washington.
We tried these at the Millennial Boss blog and love them! Much cheaper than building out a full deck and they are a huge improvement from the gray patio.
Pergola with lights
If you're going to decorate your patio with lights, why not elevate the experience by adding a pergola?
Here at Millennial Boss we assembled this outdoor pergola using a DIY build kit from Backyard Discovery.
We learned about Backyard Discovery when purchasing this pergola and were thrilled to arrange this backyard makeover post with them soon after. They have so many fun DIY build kits that can really make your backyard look special.

Pergolas are great because they provide extra shade from the sun but don't totally block out light. You can even cover your pergola with clear roofing which will keep out the rain so you can use your pergola year round.
The Backyard Discovery pergola kits are awesome because they include everything you need to assemble the pergola and every item is numbered which makes it easy to put together. We put together this pergola from Backyard Discovery in one weekend.
If you have some gardening skills, think of how amazing a pergola would look covered in beautiful plants and vines.
You could even hang planters if you like.
Cabana pergola

If a cabana is more your thing, check out this amazing new cabana pergola also from Backyard Discovery.
This is the perfect sized pergola for when you just want a little bit of shade but still want a beautiful aesthetic.
When Backyard Discovery reached out to us about this new product, we let them know we had already bought the 12 x 10 cedar pergola and would miss out!  They provided us this coupon code to share with our readers though who are interested in this cabana style.
Backyard Discovery offered Millennial Boss readers an exclusive discount of $600 using code MB600!
We love this cabana pergola because it's also do-it-yourself like the 12×10 pergola kit. This is an easy project that you can do in one weekend.
Yes, it looks super luxurious to build a cabana next to a pool but a cabana pergola can also be really great for small spaces where a full pergola just won't fit.
This model even comes with the furniture you see pictured so you don't have to worry about finding something that fits. You can pick either blue or gray cushions and change up the panels in the background.

If we hadn't just purchased the other kit, we'd be interested in buying this one and pairing it with a fire pit. The pergola would provide a cozy nook where we can picture ourselves toasting marshmallows by the fire and relaxing with friends.
Don't forget to put in the MB600 code when purchasing your cabana pergola to grab that discount.
Movie Theater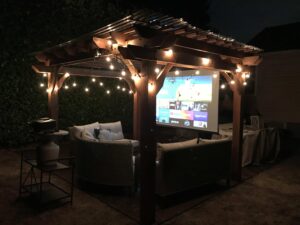 Okay, want to take that pergola to the next level?
That's what we did here at Millennial Boss by building a movie theater into our backyard pergola.
We added an inexpensive projector screen and a projector and now have the full outdoor movie theater experience.
Check out that outdoor movie theater project here.
This is by far the best home project we've done all year.
Luxurious Patio furniture
One way to upgrade your patio is to purchase new patio furniture.
We invested in some pieces from Joss & Main that we absolutely love. Unfortunately, they are no longer available on the website!
We chose all-white cushions which is a bit dangerous but we purchased furniture covers to keep them fresh.
We've all sat on patio chairs that are just plain uncomfortable.
You'll spend more time outside if you are comfortable. It's worth the splurge for nicer furniture!
DIY Potting Station
If you love to garden, then a DIY potting station is the perfect addition to your patio. Blogger Ana White has the details on how to make a simple 2-foot by 4-foot potting station here. She also has a video to show you exactly how to do it.
Once you've completed the potting station, consider decorating it with signs like "The deck is my happy place" here on Etsy or "To plant a garden is to believe in tomorrow" here on Etsy.
Storage Bench
When you're dealing with limited space in your backyard, a do it yourself storage bench may be just what you need directly on the patio. Not only does it offer you a place to store your stuff, but it's a great place to sit. Our Handcrafted Life has a complete tutorial here.
And if you're going a little fancier, check out what Reynolds-Sebastiani Design Services did in this modern minimalist use of space that includes a bench that doubles as storage.
You can find more images here.
Hanging Herb Garden
If your backyard patio doesn't have a lot of space, then go vertical. A hanging garden may be just what you need to make use of the space you have. Inspired by Charm has a great tutorial on how to make a vertical herb garden. You can find it here.
If a garden on a wall isn't your style, then consider a fence. Thrift Diving has a tutorial on how to create a hanging garden that goes right on your fence. You can find it here.

If you need some planter boxes to make this garden on a fence a reality, you can find some here on Etsy.
Inverted Tomato Plants
In a backyard patio, it's tempting to only use the ground space and forget about the vertical space. Don't! It's valuable space as well.
Blogger Sayward at Bonzai Aphrodite shows you how to make inverted tomato plants out of old water jugs.
While the blog doesn't talk about it, plants like strawberries, small peppers, and several herbs can also grow upside down.
Fire Pit
Remember that fire pit we mentioned?  We think it's perfect for a backyard patio.
If you have space, adding a fire pit away from the house is a wonderful addition to a backyard patio. Not only can you roast marshmallows for s'mores, but it's also a great place for people to gather and just talk.

If you need some marshmallow roasting sticks, you can find great ones here on Etsy.
She Shed
Another nice sanctuary if you have space on your patio, is a she shed. A she shed can be for whatever you want. It can be a crafting corner or a reading nook. It can be a place to sit and meditate or a place for you to go and work quietly.
For great she shed inspirations, check out this post for she shed ideas.
We picture the she shed adjacent to the patio so you can just open the doors to your she shed and step out on to the patio.
Playhouse

If you have kids you can add a playhouse directly on top of your patio like we have here at Millennial Boss. This makes playing a bit less muddy.
Backyard Discovery provided us here at Millennial Boss with this Aspen playhouse complimentary and we can't wait to write about our playhouse makeover project soon!
Backyard Discovery has lots of playsets to choose from but we picked the Aspen playhouse because we love the look! We also love that you can customize it if you want.
We plan to paint the playhouse white with a blue roof just for fun. We're also going to add a cute sign and flowers to the front!
The back of the playhouse has a cute little kitchen and even comes with accessories so kids can really immerse themselves in play.
This playhouse was super easy for us to put together and was done in a weekend.
Fairy Garden
Something more mythical that might be fun for kids too is a fairy garden.  It's fun and whimsical and it gives the kids a chance to express themselves. Family Handyman has some great fairy garden ideas here.
You can build the fairy garden in a planter on your patio versus directly in the landscaping.

If you need some items to add to your fairy garden, try these fairy garden lanterns here on Etsy.
Want more home DIY ideas? Try these posts.
13 Creative Backyard DIY Ideas On A Budget
7 DIY Garage Workshop Ideas
What backyard patio ideas are you thinking about trying this season?


Latest posts by Erika Towne
(see all)