Gender reveal parties are a popular way to share your joy with your family and friends, but sometimes it's tough to come up with a good idea for your party.
Here's some fall gender reveal party ideas that won't cost you too much.
1. Ghoul or Boo-y Baby Reveal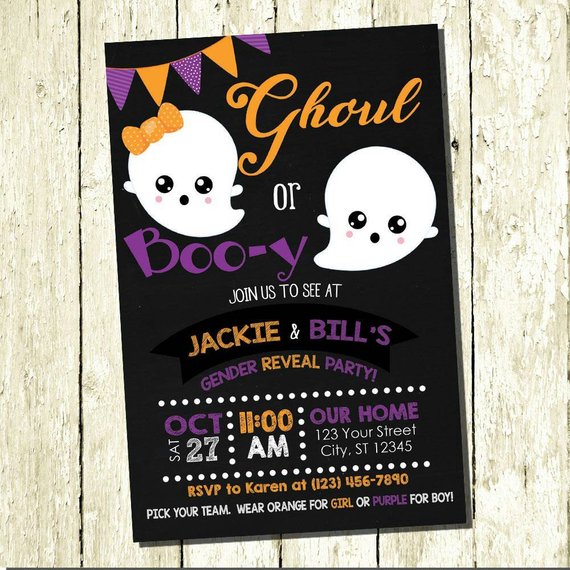 Weave in a little bit of the Halloween festivities with these Ghoul or Boo-y gender reveal invitation. It's too cute to be scary. You can find the invitations here on Etsy.
2. Boy or Girl Candy Apples
Candy apples just seem to scream fall. Rose Bakes shows you how to make candy apples in just about any color. Allow your guests to cast their vote by picking their favorite candy apple.
Fall Gender Reveal Ideas for Parties
3. Gender Reveal Fire Pit
A fire pit is a nice thing to gather around on a cold fall night so why not incorporate it in your gender reveal party? DIY Bullseye shows you how to change the color of your bonfire.
Gender Reveal Party Smoke Bombs
4. Football Gender Reveal

Fall is football season, so why not embrace it? A football gender reveal is perfect for your favorite football fan. It breaks when you kick it! You can find it here on Etsy.
5. Waddle It Be Gender Reveal Cake
Sharing the gender of your baby with your family is a big deal, so why not do it during Thanksgiving? Consider making a "Waddle It Be?" gender reveal cake. We found it here on Pinterest.
Related Post
More Gender Reveal Party Ideas for Fall
6. Cookie Gender Reveal
Get your friends to help you find out the gender of your baby. The Bearfoot Baker shows you how to make pumpkin seed cookies for the great gender reveal.
7. Boy or Girl Jack-o-Lantern Pins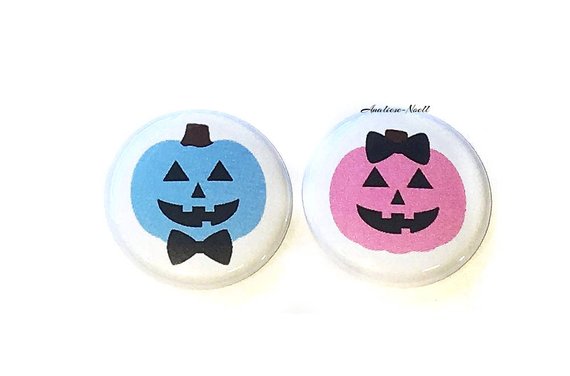 Add a splash of Halloween to your October gender reveal party. These cute jack-o-lantern pins are the perfect way for your guests to show their allegiance to Team Boy or Team Girl. You can find them here on Etsy.
8. Smash the Pumpkin Gender Reveal
Speaking of pumpkins, think about making the pumpkin a key part of your gender reveal.
9. Volcano Gender Reveal
This one isn't really fall themed, but it's a good one to get the kids involved. Teaching Mama shows you how to make a gender reveal volcano.
What are your favorite Fall Gender Reveal Party Ideas?
Have you had an October Gender Reveal Party or a November October Reveal Party?  Share below.


Latest posts by Erike Towne
(see all)