Looking for fantasy football draft party ideas? There are a lot of guides out there telling you who to draft for your fantasy football team and when. They'll tell you who a steal is in the sixth round and who will be the best receiver in the draft.
What they won't tell you is how to make sure everything that happens around the draft goes well. We're talking the ultimate draft party.
So with that in mind, here are 11 things you can do to make your fantasy football draft party a memorable one.
Fantasy Football Draft Party Events
The Competition Before the Competition
Picking first in the draft lottery is a big deal, which is why The Sport Buzz suggests having a competition before the competition. Think about a beer pong tournament before the draft with the winner picking first, or a weight loss competition or a foot race.
Halftime Show
The draft party doesn't have to be all work, consider having a halftime show halfway through the draft. All Free Holiday Crafts says a silly dance off or entertainment could be the perfect thing to make your party memorable.
Fantasy Football Party Decorations
Draft Board
Any live fantasy football draft needs a draft board.
Etsy has some great Fantasy Football Draft Kits including a board.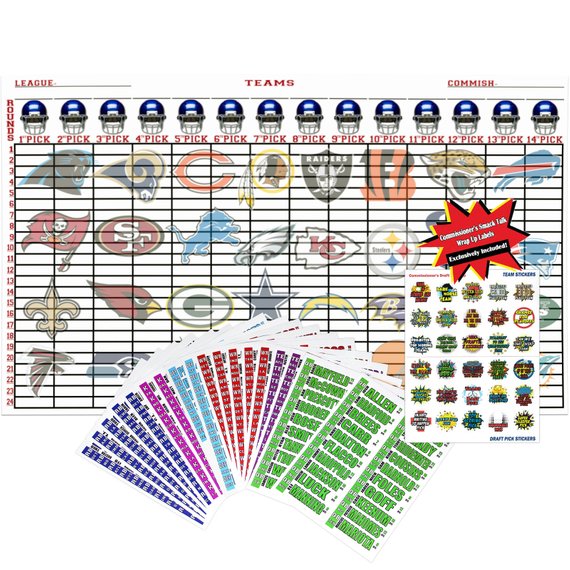 Check out this bestselling Fantasy Football Draft Kit on Etsy here.
Cheat Sheet War Room takes a look at some of the best draft boards available for this year's draft.
The nice part about draft boards is that since each person likely is into a different team, everyone can use a board with their own team's logo. This can make all the difference in a fantasy football party.
Make a Podium
One Quora user gave this awesome answer to a question about draft parties, create a podium. If you want it to really feel like a draft, don't just have a draft board, but a podium too. That way each time a team's manager selects a player, he or she can step up to the podium and make a real big deal out of it.
This is sure to make everyone laugh but it will also be something that very few people at the party expect!
Custom Decorations
Decorations at any draft party are great, but it's even more special when you make things directly related to your draft league. Peerspace suggests creating custom decorations like coasters with your favorite players on them or a slide show with funny plays from last season. Make it fun, and maybe a little humiliating.
Fantasy Football Prizes
Winner and Loser Trophies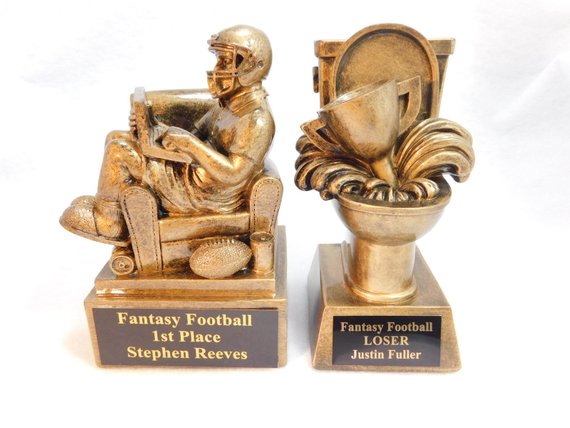 As with any good fantasy football league, the winner should be celebrated.  Lakeside suggests a super prize for the winner, as in a trophy. If you don't want to make one yourself, think about buying one, like this one on Etsy.
Fantasy Football Party Clothing
Fantasy Football T-Shirts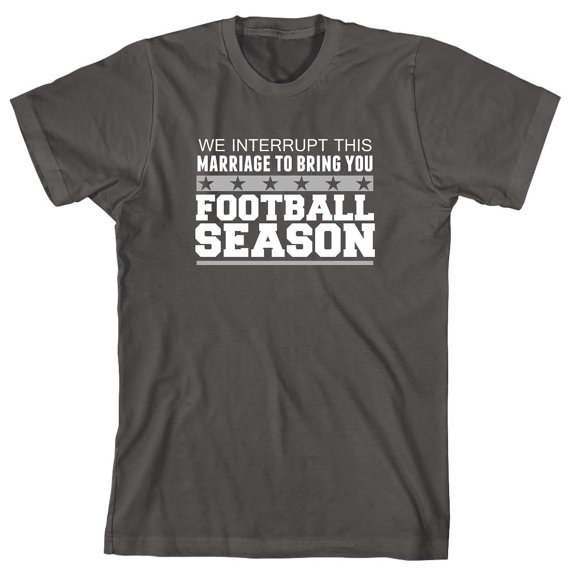 Everyone gets a shirt. According to a forum post on The Fantasy Footballers, a gift for everyone in the league makes a party that much better. Consider a shirt like this one on Etsy and if you're really into razzing last season's loser, get him or her a very special shirt just for draft day.
Fantasy Football Party Food Ideas
The Ultimate Snack Tray
Good snacks are what make a good draft party, but a good presentation can take your snacks from okay to, well, ultimate. With that in mind, check out Upstate Ramblings' tutorial on how to make an ultimate football snack stadium.
Football Themed Snacks
In addition to the ultimate snack tray, add in some specialty, football-themed snacks. Consider deflate-gate football chips. A.C. Moore has this great recipe.
Limit the Drinks
Enjoying an ice cold on draft day is one thing, but limit the number of drinks available. As Suburban Men points out, there's a fine line between pre-gaming and making some stupid draft day moves that come back to haunt you for the rest of the season.
Ensure that there are enough drinks to go around, but don't let the party get too out of hand especially if it's one among coworkers or other people you might later see in a professional setting.
Fantasy Football Party Hosting Tips!
Make Sure the Wi-Fi is Ready
LTD Commodities suggests having a handout with the Wi-Fi name and password. You can hand them to each guest as they walk in the door. Or if you're really feeling fancy, you can create a QR code for guests to scan so they can log on without asking you for help.
This will save you time because you already know that people will be asking for the Wi-Fi information as soon as they walk in the door. By having a handout ready, you can save yourself quite a bit of hassle.
Give Advanced Notice
It won't be as fun if you can't get full attendance and since draft parties happen at a busy time of year, it's important to let your guests know in advance.
Try to give them at least two weeks notice before the big day.
Send out Draft Party Invites
We love this set of customizable invitations on Etsy. You can download and print at home or take to a print shop. Buy them here.

What are you doing for your fantasy football party?


Latest posts by Erika Towne
(see all)