She-shed.
It's not a curse word. It's sometimes a tongue-twister. Try saying she-shed five times fast and see what happens. But it is always a retreat.
What is a she-shed?
A retreat. That's really the only solid definition of a she-shed. A retreat you can call your own. After that, it can be anything.
A she-shed is your crafting corner. It's your quiet place to curl up with your latest book. It's your home office. The beauty of a she-shed is it can be whatever you make it. The whole point is that you remove yourself from the chaos of your house and possibly the people around you and have a quiet space all to yourself.
This does not mean "no boys allowed", but it does mean you can invite who you want inside, or no one at all.
I have no money, how do I make a she-shed?
For many people, making a she-shed starts with taking an existing space and recreating it. An old shed in the backyard is the common example, but you can also recreate your back porch or remodel the backyard treehouse. It's about creating a space to your liking.
She-sheds don't need plumbing or electricity, though they can certainly have that.
All that a she-shed really needs is what will make you comfortable. You can decorate it how you want. You can add the furniture you like. You can make it as sparse or as cluttered as you want. The amount you spend on a she-shed is entirely up to you.
If you need some inspiration, here are some she-sheds that will have you scrambling to get started.
A Crafter's Paradise
If you're a serious crafter, you know your supplies take up every available space possible. That's why this she-shed by Craft Shack Chronicles is just what you're looking for. Not only does it have a long, wide counter to work on, but it has the space to store everything.
Backyard Haven
I am incredibly jealous of what Ella Claire Inspired did with this she-shed. Admittedly she had a little help from a major hardware store, but that doesn't change the fact that she created a great space to drink a glass of wine with her friends, or take a mid-morning nap.
Porch Turned She-Shed
Tonita did something a little different for her she-shed. The blogger on Shabby Chic Tiny Retreat created this nice little spot to have a drink and watch the sunset. She added lace to her porch, found a few chairs and she was ready to go.
Reader's Retreat
Curling up with a good book never felt so good. This reader's retreat created by Kloter Farms offers a place to sit and read, plenty of books to choose from, and a place to write if the mood moves you.
Perfect Gardening Spot
Mia's Interior created this little gardener's haven. It's surrounded by flowers on the outside. Inside, there's a place to hang all your gardening essentials and a basket for your soiled clothes. There's also a place to wash and prep all the fresh veggies you picked.
Writer's Corner
Sometimes the kitchen table isn't the best place to blog, which is why this Garden Blog Retreat created by The Devine Life is simply divine. It has all the essentials: a comfy chair, natural lighting, and a great view.
Rustic Retreat
Kim at Living Vintage Co. created this rustic she-shed that really makes you feel like you're returning to nature. I'll admit I like the interior, but it's overshadowed by the exterior. It feels like you're discovering a little shack in the middle of the forest. I can picture myself sitting in the rocking chair, sipping an iced tea and enjoying the quiet.
Farmhouse Workspace
This one's a little bigger than your average she-shed, but The Shabby Creek Cottage really hit a home run with this space. The high ceilings make the space feel immense. Plus, you have a dining area and a sitting area.
The Home Office
This home office space was created by Home Glow Design. If you can't tell, she's an interior designer, which really ups the game. I love this home office. It's open and airy, but still has everything you need to get some work done and take a little time for your side projects.
She-Shed for the Whole Family
Liz at Hoosier Homemade has made an amazing she-shed that can be shared with the whole family. I love the fact that she has a chair just for her, but also has the ability to turn the room into the perfect spot for a family game night. It's the best of both worlds.
The Beach Away from the Beach
Danielle at Finding Silver Pennies created this coastal she-shed. It's basically a mini beach cottage in her backyard. With cushioned wicker seating, seashells galore and large doors that open to allow the sunlight in, you can almost hear the sound of the ocean at Danielle's beach getaway.
What would your ideal she-shed be for?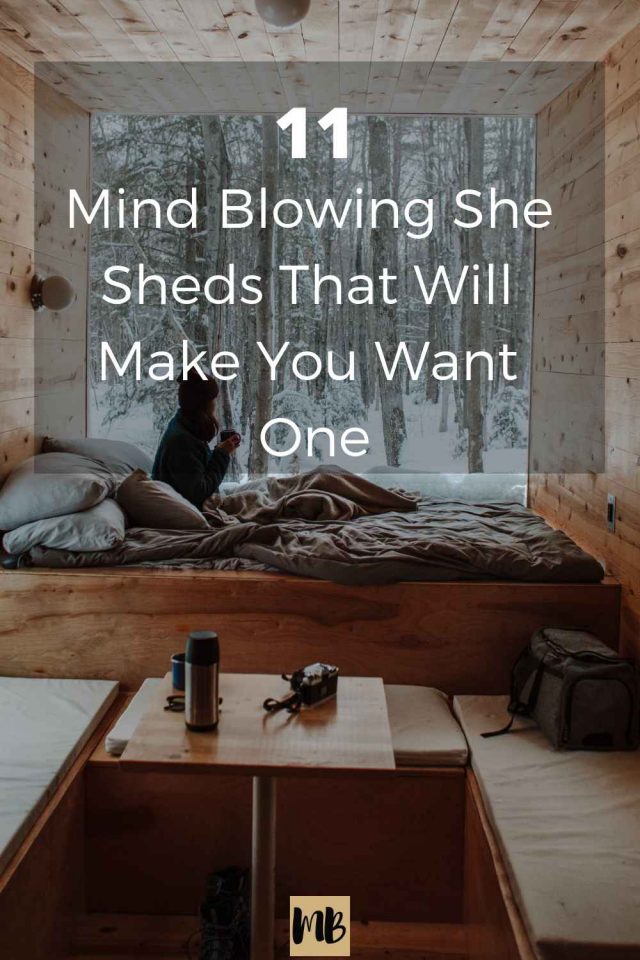 Erika is a freelance writer with big money goals. She tracks her progress towards her goals with the free mobile app
Personal Capital
.

Latest posts by Erike Towne