Saving money is always celebrated in the personal finance blog world.
When someone cuts their housing expense by $200 or cuts their phone bill by $20 we cheer!
Although lately I'm wondering if we're making a big mistake by treating cuts across all spending categories equally.
For example, it's not uncommon to read on a personal finance blog (including this one):
"My monthly grocery bill is down by $50 by buying more X and less Y"
"I don't pay for a gym membership and just do this activity instead."
I can't help but read these statements and wonder if the alternatives proposed are really worth the money saved.
For example, to the person who says they hike instead of paying for a gym membership – are you hiking vigorously and frequently enough to adequately replace access to weights and other resistance equipment?
To the person who cut their grocery bill by $50 – would you be healthier if you put that $50 back into your grocery budget?
Have We Gamified Saving Money So Much That We're Missing the Point?
It's depressing but this body is the only body we're ever going to have.
Maybe we should be just as concerned about making investments in our body as we are about making financial investments, if not more concerned.
We know lifting weights is critical to slowing down the aging process and keeping metabolism up and new research on gut health is showing just how critical it is to brain function.
If we challenged ourselves to optimize our health instead of our optimizing our spending, would we be making the same decisions?
I would guess that many of us would spend differently and probably more in the health and fitness-related categories.
How Do We Determine What & When to Spend In These Areas?
Lately I've considered increasing my budget for health, food and fitness.
Specifically, I've changed my mind on spending in three areas.
A)  Paying for expertise
I would argue that there is value in paying for expert coaching.
A strength and conditioning coach, for example, can correct your movement so you get more out of each exercise and avoid injury.
An exercise as simple as the plank can feel like an entirely different exercise when a coach points out how to activate your glutes and core.
I know that I was personally doing the plank wrong for over a decade before a coach pointed it out.
Others might find that paying for a nutritionist is valuable.
Or at least paying for books and other educational materials on food, diet and exercise.
The personal finance community is a group of do it yourself-ers (and it can be hard to pay other people to do things you think you can do yourself) but paying for 1×1 attention related to health and fitness may be worth it.
B)  Paying for access to the equipment I need
Whether the higher cost is for building my own home gym, access to a commercial gym, or better quality produce, I don't want to shy away from paying for things that will improve my health.
I don't think having a slightly higher than average grocery bill is anything to be embarrassed about (unless your cart is full of Cocoa Puffs!)
C)  Paying if it keeps me consistent
One of the greatest challenges with getting fit is staying consistent and I know I personally workout more often when my workouts are organized and social.
I had a home gym for a few years but I workout more consistently now that I go to the gym with a friend and have joined a sports league.
I recently signed up for ClassPass after seeing that another blogger had signed up. I got $40 off a trial membership and essentially got five classes for $10 total. I decided to try out yoga and boxing at two gyms near me.
I've heard from friends that ClassPass works in other cities so you can use it while traveling. That's awesome.
If you would like the same $40 coupon, sign up for ClassPass here.
Not everyone can workout in their home gym like Mr. Money Mustache and keep their motivation up.
My husband is like that but, unfortunately, I'm not.
If you need a little extra motivation to stay consistent with nutrition or exercise, don't shy away from paying for it.
Maybe you'll get to a point where you can cut back but don't let the fear of spending money keep you from getting there in the first place.
If you are interested in building a home gym, learn how to get cheap home gym equipment.
Let's Share When Spending Money Improves Our Health
Instead of sharing how we saved money on our grocery bills and our workout routines, I propose we start sharing how we're using money as a tool to improve our health.
Because that's all money is, right?
Just a tool.
Sometimes I think we get so caught up in the game, it can seem like saving a bunch of money is the goal and not the tool to eventually achieve our goal.
I'll go first.
Here is how I'm using money to improve my health:
I pay $120 per month to participate in a sports league and stay consistent.
I buy slightly more expensive foods like almond butter, whey protein, and grass-fed meat. I fuel my body for performance and health.
I think if we all start reframing how we talk about money & health, we can help others (and ourselves) remember that health should not be sacrificed for the sake of saving money.
How do you use money to improve your health?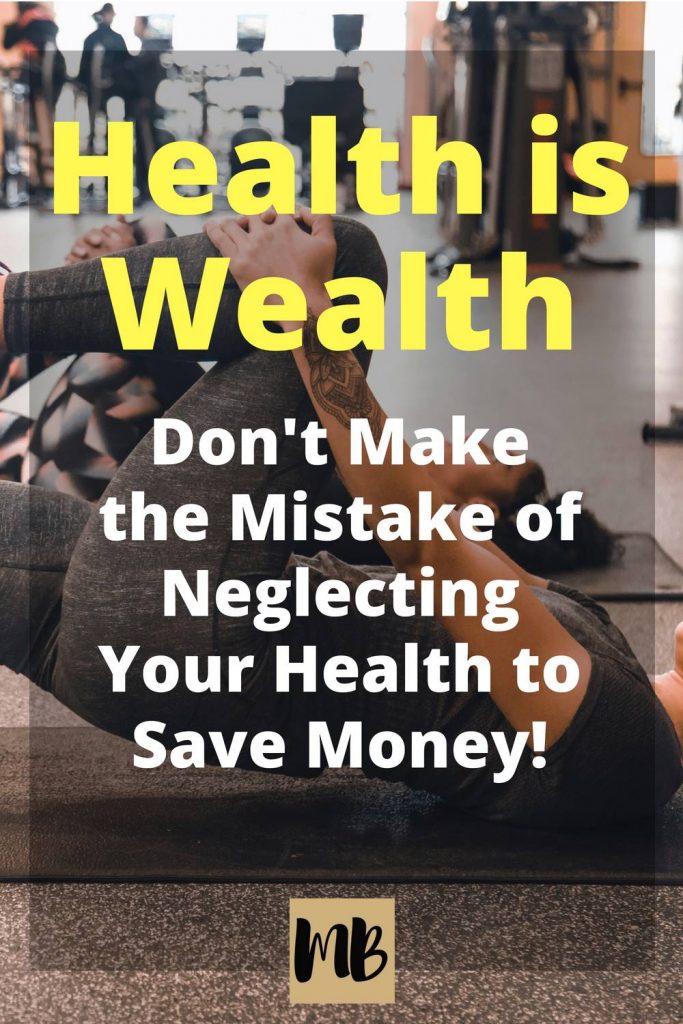 Latest posts by Millennial Boss
(see all)