Saving money feels really good, but at the beginning of your journey, you may need some extra motivation. These savings trackers provide you with a visualization of your progress to help you feel excited along the way.
PS – If you're looking for a debt pay off tracker – download our debt pay off tracker for free at the bottom of this post.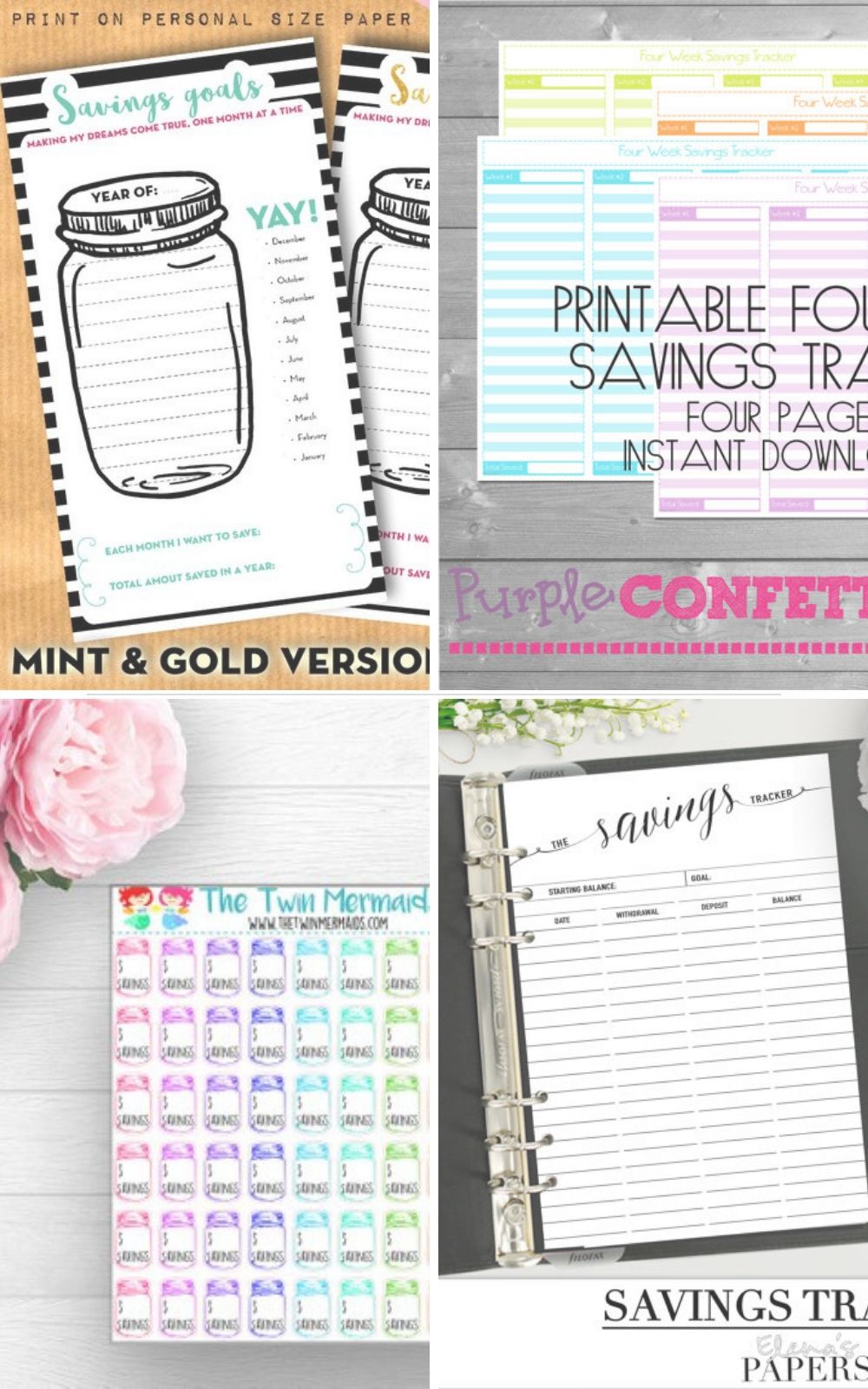 1. Bullet Journal Printable Financial Spreads ($5.72)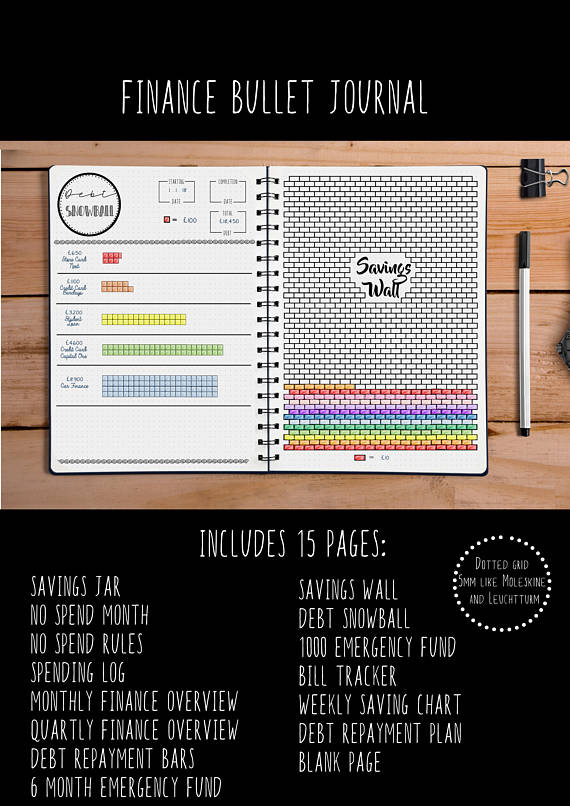 Use these 15 spreads in your bullet journal to track your growing savings, your shrinking debt, and everything in between. Download these printables and use them for years to come!
Buy this on Etsy here.
2.City Girl Savings Tracker for Traveler's Notebook ($6.00)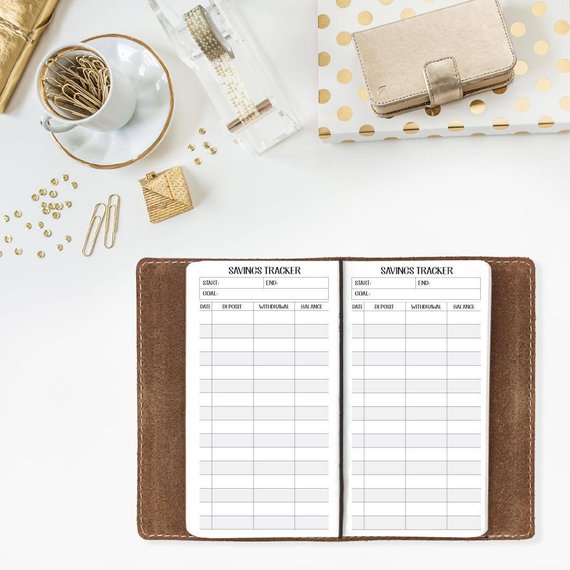 Use this basic savings tracker in your Traveler's Notebook. Like the spread, but not the size? Choose from three sizes. This product has 40 sheets.
Buy this on Etsy here.
Savings Tracker Printables
3. Lovely Planner Personal Savings Goal Tracker ($4.00)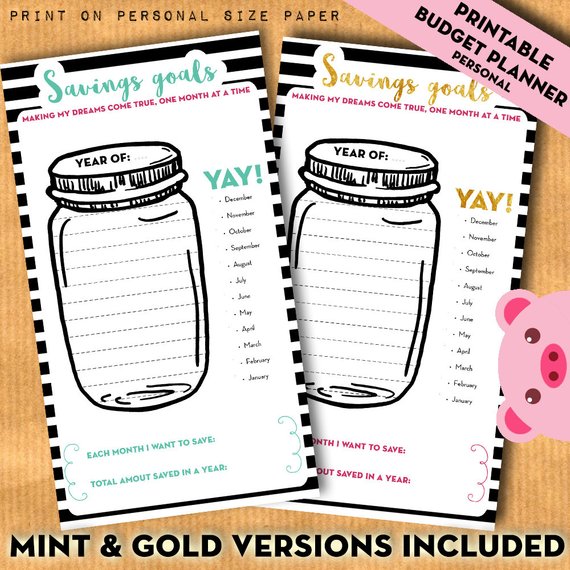 These printable charts feature a cute mason jar design to track your savings over the course of a year. Sized to fit your Filofax or personal planner of choice.
Buy this on Etsy here.
4. Purple Confetti Papers Printable Four Week Savings Planner ($5.00)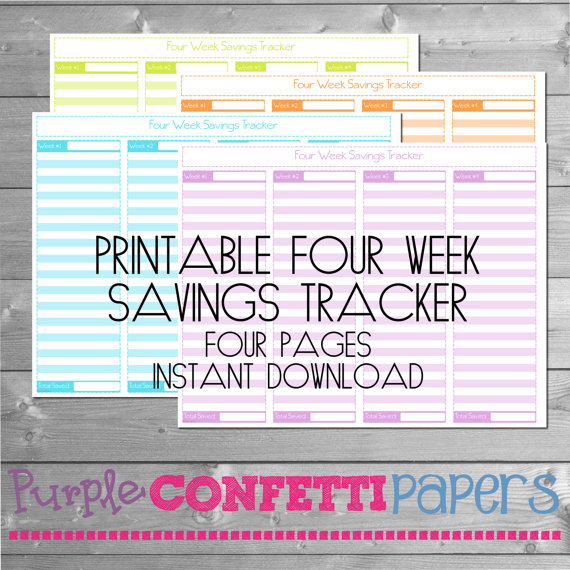 Track your savings each week with this printable sheet. Available in four colors.
Buy this on Etsy here.
Related posts:
5. Savings Mason Jar Planner Stickers ($3.50+)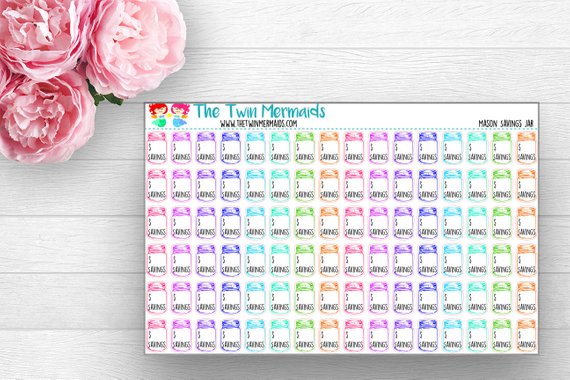 Switch up your savings tracking with these cute and colorful mason jar stickers. Sheet contains 96 stickers!
Buy this on Etsy here.
6. Savings Tracker for Happy Planner Mini ($4.25)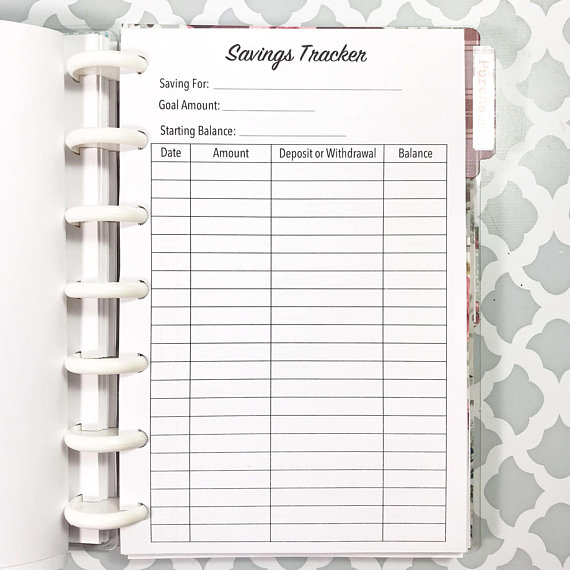 This straightforward savings tracking sheet fits perfectly in the Happy Planner Mini. This is a physical product.
Buy this on Etsy here.
More Savings Printables
7. Fancy Script Savings Tracker for Filofax ($1.59)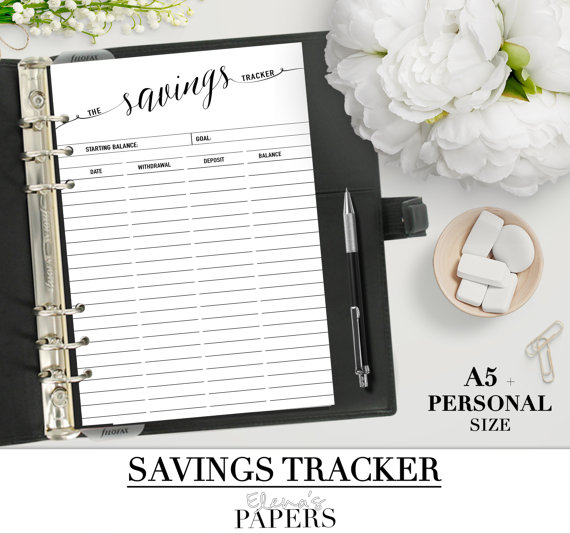 Add a little elegance to your planner with this fancy script savings tracker. Designed to fit your A5 personal planner.
Buy this on Etsy here.
8.  City Girl Planners A6 Savings Tracker ($5.00+)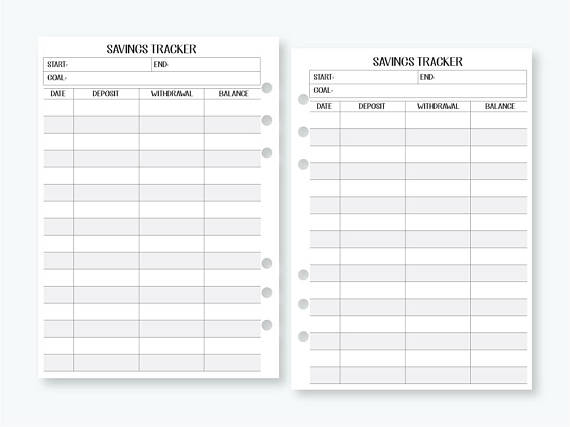 This savings tracker fits your A6 planner. Sold in packs of 15 or 30 double sided sheets.
Buy this on Etsy here.
9. Clementine Creative Printable Savings Tracker ($3.00)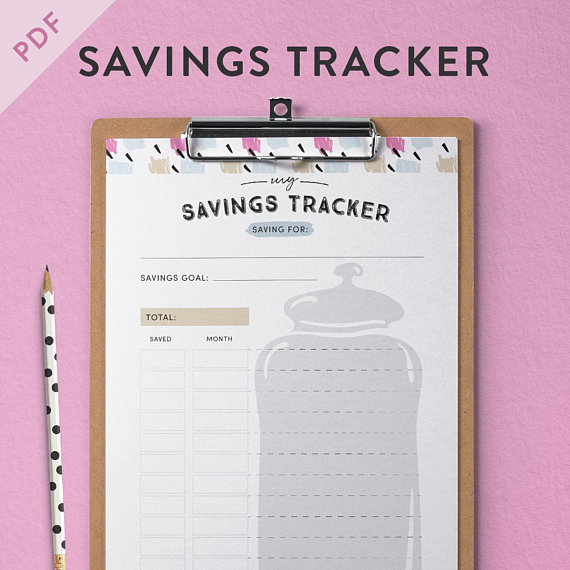 This cute savings tracker sheet can be used to record your progress over the course of a year. Four convenient sizes are included with your purchase.
Buy this on Etsy here.
Cute Savings Tracker to Print at Home
10. Printable Mason Jar Savings Tracker Spread for A5 Bullet Journal ($1.99)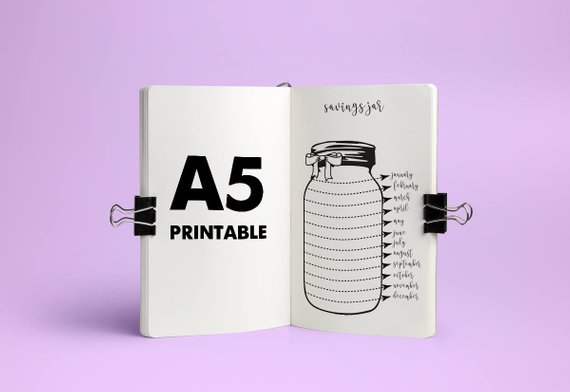 Add this savings jar printable to your A5 planner to track your savings progress for the next year. Perfect for a bullet journal!
Buy this on Etsy here.
11. 52 Week Savings Challenge Budget Planner Insert ($4.00)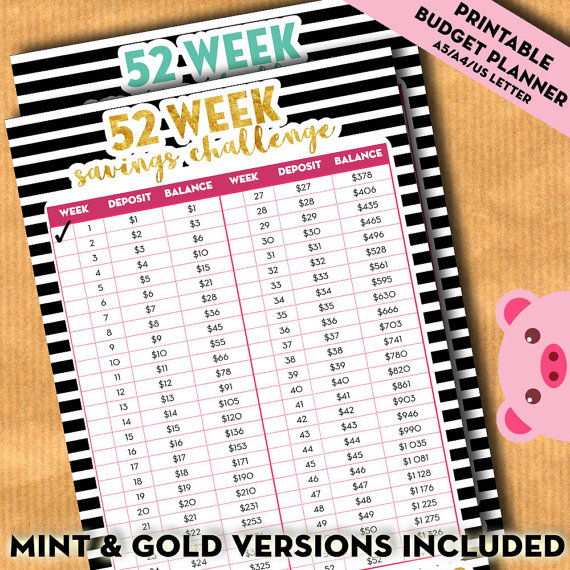 Trying out the 52 Week Savings Challenge? Use this printable to keep you on track. Fits into your A4 or A5 personal planner.
Buy this on Etsy here.
How do you stay motivated to pay off debt and grow your savings? Share your best tips below!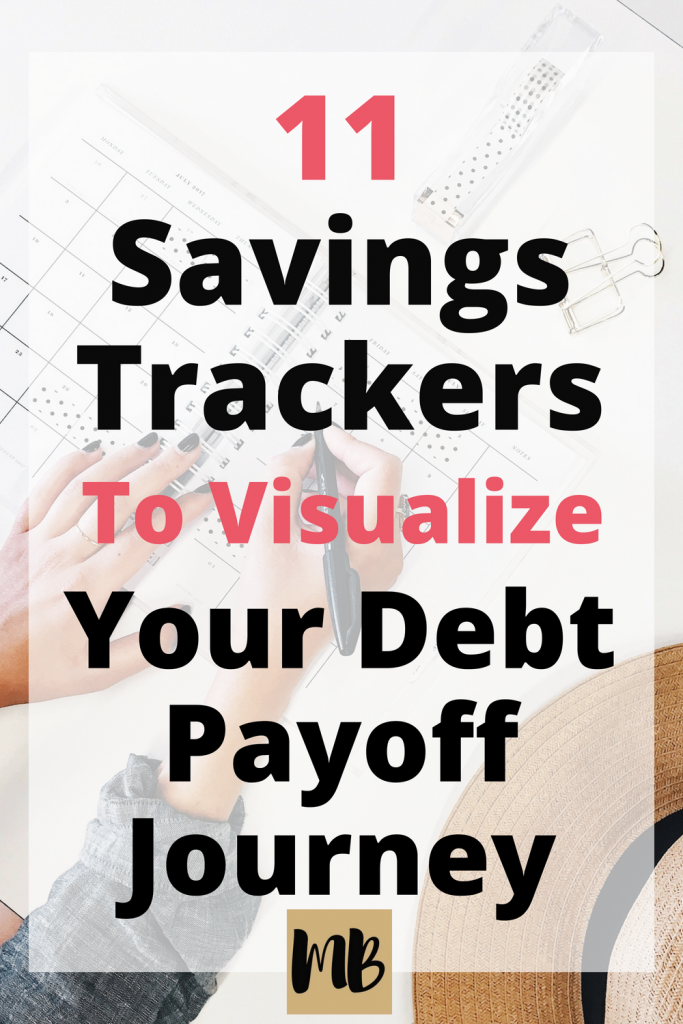 Tiffany is a writer and frugal saver. She tracks her progress towards her financial goals with the mobile app
Personal Capital
.
Latest posts by Tiffany Ingle