Guys, my mind is totally blown by this Feature Friday today.
Our guest has a typical corporate day job.. but a very unique side hustle.
She moonlights as a romance novelist, bringing in over $8,000 per month in sales!
Crazy! I love it!
I asked her to share her story of self-publishing romance novels with us today.
How One Woman Started A Successful Side Hustle Writing Romance Novels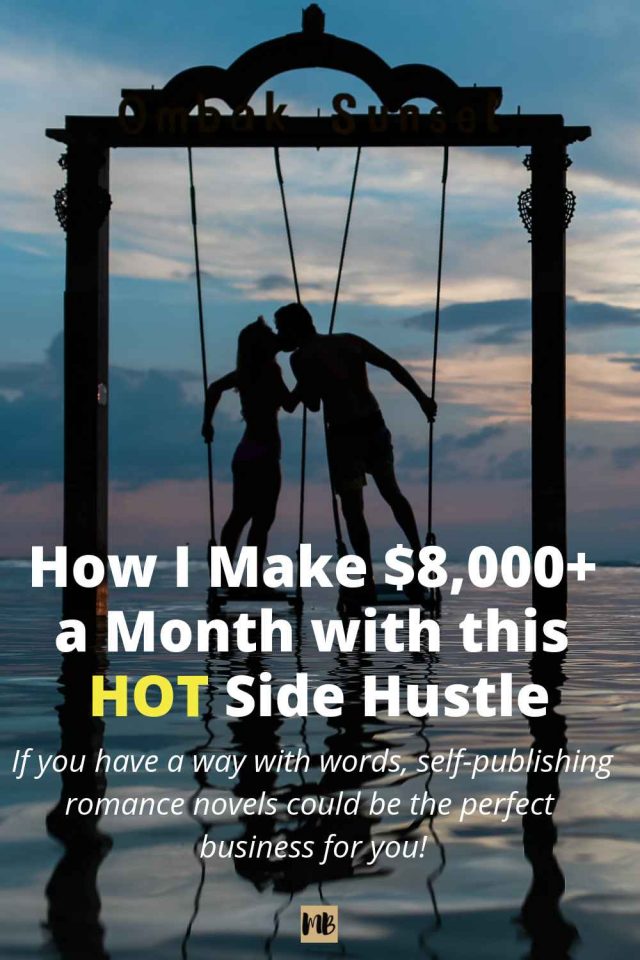 What is your business?
I write and self-publish romance novels. I'd prefer to keep my pen name secret but I am on twitter at @250Kto1million or email [email protected]
If you are still employed full-time, please share a little but about what you do in your day job.
I still have a day job. I won't go into details for privacy's sake (no one at work knows about my side hustle), but it's your typical cubicle farm job, though in NYC so it pays better than most other parts of the country.
Who were some influencers in your decision to be an entrepreneur?
I was on the subreddit for Financial Independence on Reddit and someone posted about writing erotica for extra money. I like to write and erotica sounded right up my alley (no pun intended), so I jumped in.
Originally it was only for beer money or the occasional mani/pedi. A lot of people on the sub-reddit for erotica had made the switch to romance novels for almost ten times the money so I thought…why not? The rest is history.
How did you prepare to take the leap both financially and in your business?
There isn't a lot of overhead when it comes to self publishing, especially these days with ebooks. If you have a laptop/computer and Word Program, you can jump right in!
Of course to be suc-cessful you should invest in a few things. My only real expenses are:
1. Vellum ($250): It's a program to write and create ebooks. Some people use Scriviner, which is a little less user-friendly but does a lot more and is cheaper.
2. Photoshop ($10/mo): I make my own covers, which is a very valuable skill since paying someone to make them can run into the hundreds of dollars. A lot of people have created nice covers for free on Canva.
3. Stock photo subscription. I use DepositPhotos for $30/mo which is probably more than I need to pay, but I can afford it these days. I just like being able to download multiple shirtless male torsos to have my pick. 🙂
4. Domain. I bought my own WordPress domain and a professional email for mailchimp (which will soon require it) to send out newsletters to my fans.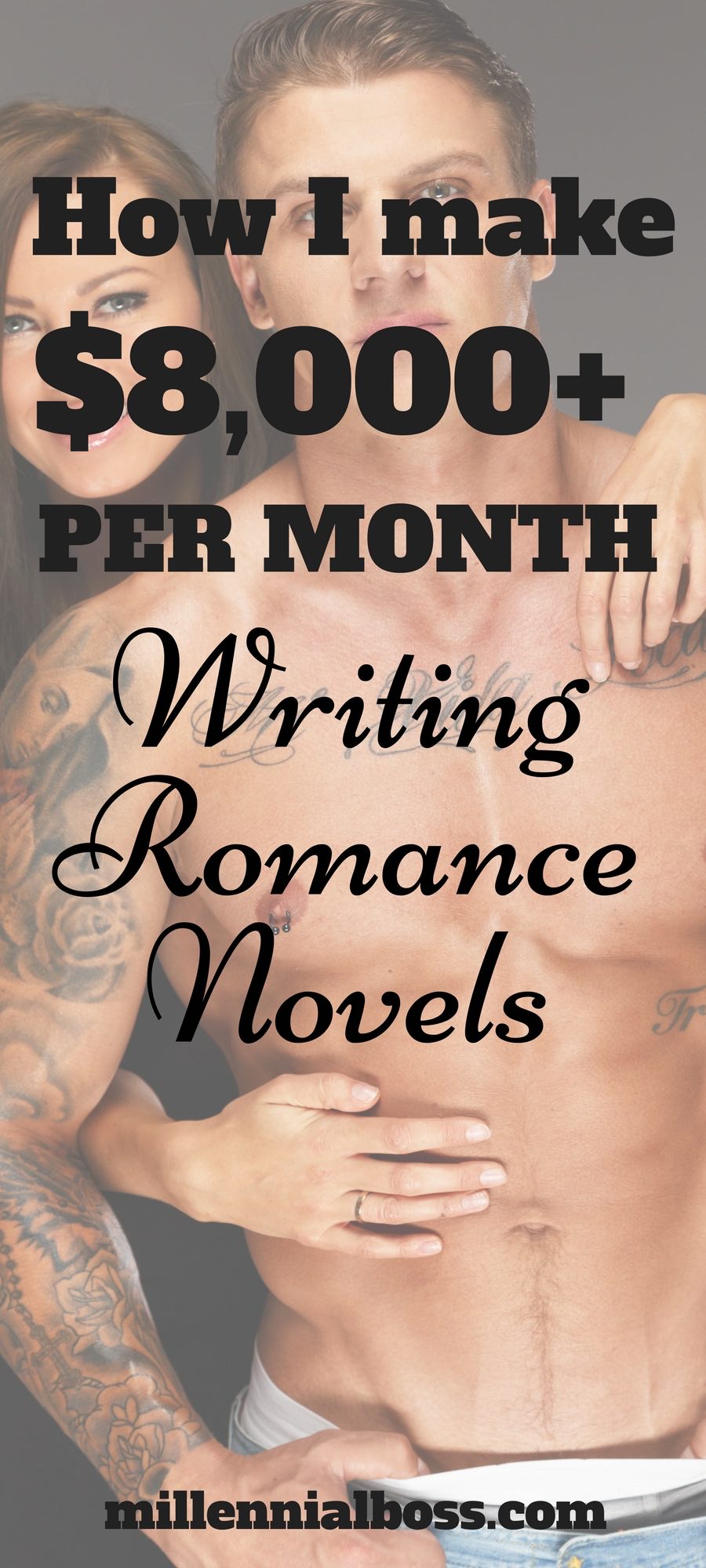 If you quit your job, were you already making money on the side before you decided to quit your job?  If you are still working full-time, what would make you leave your job?
My day job is…okay. It has the same hassles that others have, namely a demanding boss. There are coworkers I don't want to leave in the lurch. Since my ultimate goal is Early Retirement it doesn't make sense to walk away from that added (and very nice) income, since I can currently do both.
That isn't to say I haven't been tempted on some days. When I reach my FI (not RE though) goal of $1 million (hence the twitter name) and am making a steady income from writing, then I'll rethink quitting.
Who else works on your business with you? Did you hire anyone to help? When did you decide to bring that person on and how did you find them?
I have a few beta readers who preview my work and a good friend who edits for me. I do pay for ARC readers (Advance Reader Copies), who are readers that leave reviews to bump up interest in your book. Some of these are fans or friends, mostly just people I've met through forums, groups, etc. Otherwise, solo mia.
Can you share any financial details about your business?
These days I easily make 4 figures a month. I have six novels out now and the last one just netted me ~$6,000 by itself the first month after release. It also boosted sales of older books so total it is more like $9,000 in that 30-day period.
Each book I publish adds more and more to the monthly sales total, which is nice. So yes, I've surpassed my day-job, which was a goal of mine at the beginning of the year.
By the end of the year I want to make 5 figures a month, which is close at hand!
What was your worst day so far as an entrepreneur and what was your best day? What happened on those days?
Best Day: when my first book was published and miraculously made it to the Top 10 of my Romance subcategory. I nearly cried. I bought a bottle of champagne to share with the only other person in the world who knew about my writing.
Worst Day: Realizing I had accidentally uploaded my rough draft instead of the final book. A few readers got that version before I fixed it, but not before leaving me nasty 1-star reviews which are still there.
Do you have any advice for writing a romance novel.. or any novel?
Reviews. Early on, each negative review for your work is like a dagger to the heart. It can get so bad that it makes you want to give up, period. I know people who have. Readers take note! There are people behind the reviews you leave so keep that in mind when your only comment is: "This book was poop!" (Not one of my reviews…thankfully).
Constructive criticism is good, being mean sucks.
Now that I've got more books under my belt, it doesn't bother me as much. I think everyone who puts themselves out there with a business needs, or at least will develop, a thick skin.
What is one small "trick" or piece of advice that you have learned about reaching customers or making sales? Please be specific and provide something actionable for us.
My "business" is specific so I'll say this for other writers: reach out to other writers, even if you think they are way out of your league. You'd be surprised at how accommodating many of them are.
I love it when aspiring writers reach out to me and go out of my way to be helpful. Like any business, writing is all about getting your name out there. Ask to do newsletter swaps, ask if you can send your book to their ARC lists.
Give us two truths and a lie about yourself so we can get to know you better personally!
Just to keep up with the sexy theme
1. I once made money doing phone sex 2.
I've been skinny dipping in the Mediterranean Sea
3. I'm a member of the Mile High club
Related Posts:  
Learn How to Write Romance Novels for Money
We LOVED this guest so we asked her to come on our podcast, Fire Drill Podcast, to tell us more!
Check out the episode here: How I Make $8k Per Month Writing Romance Novels on Amazon
You can also listen to the episode below by clicking play:
How to Become a Romance Novelist
If you're looking to become a romance novelist yourself, you may want to try following seven tips laid out in this article by Writers Write:
1. Write what you read. Basically, write the type of romance novels that you yourself would want to read.
2. Be prepared to work long and hard.
3. Keep your day job. You might not earn money immediately as a novelist, so it's a good idea to keep your day job initially so that you have a reliable stream of income to support your living expenses.
4. Read voraciously. The more you read, the better writer you become.
5. Anticipate future trends. Try to write about things that you think readers will be interested in in the future.
6. Hone your craft. Practice makes perfect.
7. Cultivate laughter. Things won't always go your way, so learn to laugh off the little setbacks.
Do you have a side hustle to share?
If you have a unique side hustle like writing romance novels for money, please share it with us: Get Featured on Millennial Boss
Or join our email list below to receive more crazy money-making ideas.
J paid off nearly $100k of debt and is on her way to financial independence. She hosts a
Podcast
and is obsessed with tracking her money saved via the free app
Personal Capital
(although she won't tell you what it is). She loves her dog and drinks iced coffee year round. She also is the creator of
The Side Hustle Course
where she teaches people how to sell printables on Etsy and blog.
Latest posts by Millennial Boss