Please note: This article does not pertain to issues of corporate wrongdoing, harassment, or any other violence in the workplace. Please speak up in those situations!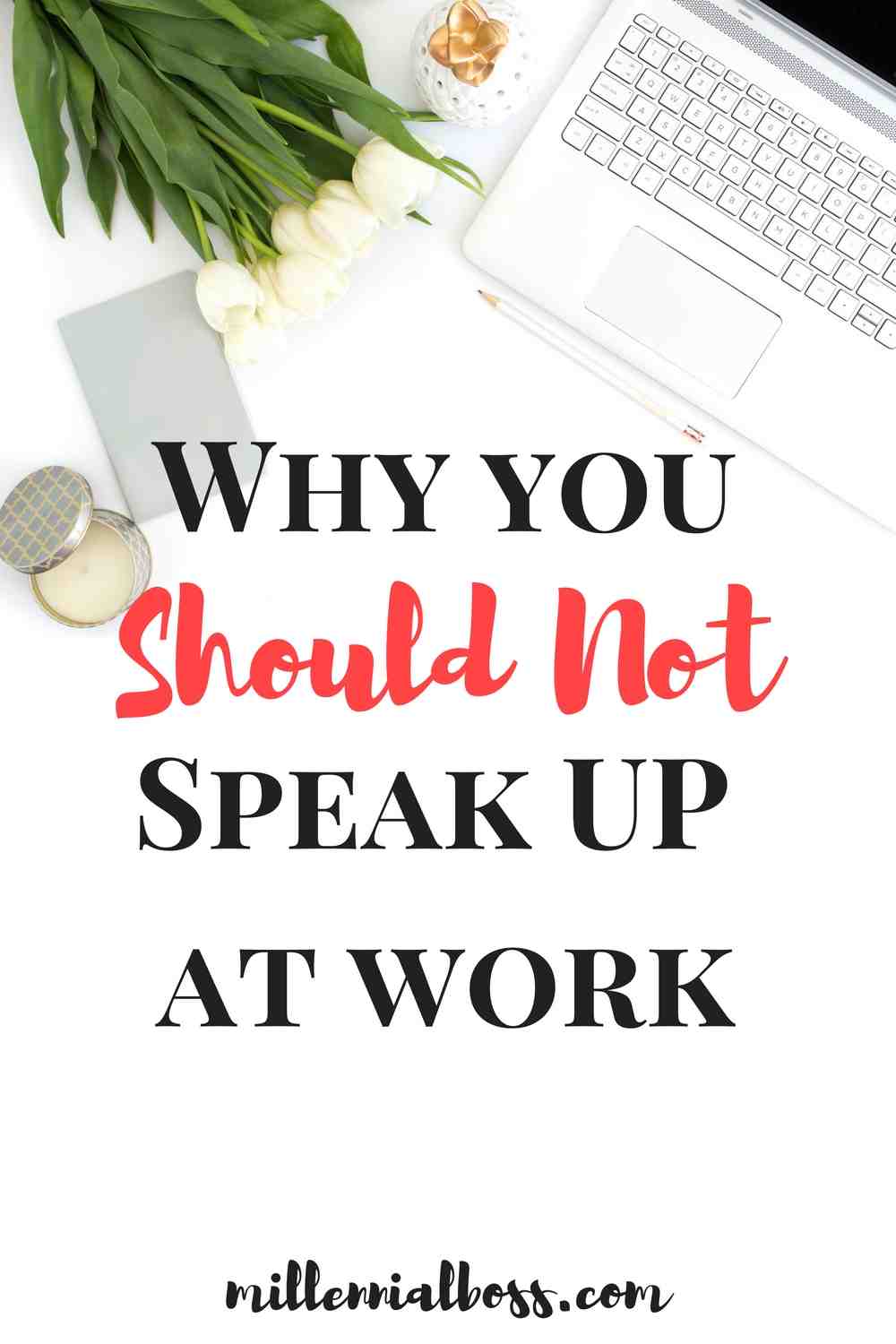 You've probably heard that people who speak their mind are rewarded at work. Specifically:
Management likes people who speak up and aren't afraid to point out when things can be done better.
How can problems be solved if no one knows they exist?
Somebody has to be the one to say it.
Just like the advice to follow your passion, I've found that the advice to speak your mind at work is horribly misguided.
If you want to be wealthy, don't speak your mind.
A study on the difference in habits of rich people and poor people found that rich people speak their mind only 6% of the time yet poor people speak their mind 69% of the time.
What the rich realize is that relationship building is the key to success and that speaking your mind can actually damage relationship building.
Building relationships is more critical than getting your point across.
But doesn't holding back on your thoughts and opinions mean you're being fake?
Don't hate the player, hate the game.
Research has shown that an extroverted (and maybe slightly fake) work personality can help you get ahead.
I used to hate being fake but I have accepted that suppressing my own opinions sometimes is critical to getting ahead at work.
I no longer see it as being fake, but as being wise.
I've learned to speak up at just the right times and hold back when sharing my true thoughts would damage a relationship.
Practice good judgement and don't tell it like it is.
So when should you share your true opinions at work and when should you hold back?
There isn't an easy answer to this question.
It's fairly obvious that you shouldn't say anything that would be considered harassment, discriminatory, offensive, etc.
But what about in these situations?
When asked what can be improved by a higher up.
When asked an opinion about a coworker.
When asked for your true thoughts on an important initiative.
On one hand, direct communication is the key to getting things done quickly and efficiently.
On the other hand, it's important to know your circle of influence.
Influencing someone and telling someone your opinion are two entirely different things.
Don't be that person who stands up at the end of a huge meeting and embarrasses their boss.
Senior leaders occasionally meet with employees many levels down from them to check in. After a giving big picture update, they often conclude the meeting by asking everyone, "What is going wrong in the department? What can be better?"
At this point, some naive person always stands up and offers some suggestion (AKA complaint) that 1) doesn't require someone five levels up to fix and 2) makes their boss and department look bad.
Even though the senior leader has promised to only use the information for good, the feedback slowly trickles back to that person's direct management who become very mad.
Even though HR departments will say otherwise, some sort of retaliation probably happens even if it's indirect.
Make your boss look good.
What that naive person who stood up didn't realize is that the strategy should be making your department and boss look great to a senior leader.
This approach will lead to more resources for the department, greater pool of money for that department to divvy out at year end, and ultimately greater support from senior leadership.
That support will trickle down to the individual level somehow – especially if you're known as someone who makes the office look good on the regular.
The naive person who stands up and makes the department look bad isn't helping their case. The senior leader doesn't leave the room thinking how great that person is and how much they want to give him a raise.
Instead, they're thinking about the negativity and the problem they are now having to address with management.
Don't be known as the problem person and SIT DOWN anytime you feel that urge to stand up and tell the big boss how you really feel.
Take those feelings and try to influence the right person to change the situation.
Again, I'm not talking about workplace wrongdoing or harassment. In that case, expose it and help others.
When senior leaders come to town, it's showtime.
One lesson my former boss taught me is that your department should always be "on" when senior leadership comes to visit the office. We literally called it "showtime."
Some readers may philosophically disagree with this approach but I've seen it work.
Using this approach, my team and my boss's team became known as the top team in our line of business.
At year-end, when we had to fit all of our employees into a bell-curve for yearly performance reviews, I saw the benefit.
Every year, I got more direct reports into the highest performance category despite technically only being allowed to put 10% in that category.
This resulted in higher raises and bonuses for my team.
I also got more money and my boss got more money because the big boss perceived us as having a great team. The other managers reporting to the big boss did not get the same treatment.
It's not all about money.
Our perception as a strong team allowed us to have more support for our ideas and ultimately create more success for the department with less obstacles.
You catch more bees (AKA more executive support) with honey.
That's always good.
Don't rat out your coworkers.
Even though you know your office mate spends the first four hours of everyday on Facebook and the last four hours on Instagram, do not say anything.
It's not your job to police the office and it actually backfires on you.
Here's why:
For those of you who watch The Bachelor, think of this common situation.
Everyone in the house hates one of the contestants and decides to use their 1×1 time to tell the Bachelor or Bachelorette how much this person sucks.
To their surprise, they end up going home in the next rose ceremony and the person everyone hates stays.
They're left in the limo crying and wondering why their good deed wasn't rewarded. They were just trying to protect the Bachelor or Bachelorette from getting burned.
It's pretty obvious to those of us watching what happened – don't waste your 1×1 time talking about someone else and instead spend the time making the other person feel good about you!
Your 1×1 time with your boss is an opportunity to strengthen your relationship and you waste it when you spend it talking about someone else.
Try to leave every meeting with good vibes and let your boss associate you with positive thoughts always.
Don't be the accidental debbie downer.
Results win over everything.
I re-read Tim Ferriss's book The 4-Hour Workweek: Escape 9-5, Live Anywhere, and Join the New Rich
at least once a year. That book changed my life and made me realize that it only takes a few hours of focused work to achieve incredible results.
For this reason, it really doesn't matter if your coworker is on Facebook half the day or leaves the office at 4 when you stay until 6.
Results trump hours worked any day.
Encourage a results focused culture and don't rat on your coworkers for skipping out early on a Friday. You may want that freedom eventually too.
Don't burn a bridge you may need later.
Facebook girl knows you ratted her out to your boss since you're the only person who can see her screen within a reasonable distance.
Now you need her to come through on an important project and she now hates you.
Awesome.
Don't create this situation for yourself.
If it's not an HR issue or corporate wrongdoing, then it's not worth sharing your grievances.
(But if it is an HR issue, corporate wrongdoing, sexual harassment and you see it – then yes, please speak up!)
This isn't Survivor. Stay out of the gossip circle and keep your opinion to yourself.
Remember that show Survivor where people are stranded together in a remote place and have to make alliances to not only survive but to not get voted off the island?
Work isn't Survivor.
Work is a place where people need to coexist from the hours of 9-5 without having mental breaks or screaming matches.
The goal is to not get down to one person standing but to keep a high performing team.
Next time a coworker tries to pull you into a gossipy conversation about another coworker, get out of it ASAP.
Remember the study on the differences between rich and poor people I mentioned earlier. Turns out that rich people gossip less frequently than poor people too.
6% of self-made millionaires gossip versus 79% of the poor.
Here's why:
Don't burn bridges at work.
By participating in gossip, you're indadvertedly limiting your future relationship building opportunities.
Here's an example I've seen:
Everyone doesn't like coworker X for whatever reason and you kind of agree so you offer up your own opinion.
Then two weeks later you need to work with person X and realize they aren't so bad after all and you actually need a relationship with them to get something done – but everyone now thinks you're two-faced for participating in the bashing of person X and now you're their best friend. This sounds like middle school but it happens in offices across the country.
Stay out of it.
Gossip makes you look bad.
Participating in gossip makes you look untrustworthy and unprofessional – even when the other person is participating too!
People may wonder if you can use discretion and control your emotions if you so readily share your opinion of others.
Managers like to put predictable people in front of clients and upper management.
Don't be a wild card and don't tarnish your reputation talking about someone else!
Your coworker will find out.
People can't keep secrets anymore.
The person you're gossiping about will probably find out and it will make it harder to work with that person in the future.
It's likely to be awkward until you leave or they leave and that might take awhile.
Make it easy on yourself and suddenly have to rush off to somewhere next time someone tries to drag you into a gossip circle.
Don't complain, influence and do.
How can you get what you want without directly stating what you want? Influence.
So many employees share their opinions rapid fire but few have mastered influence.
Building rapport with your colleagues and influencing them is way more effective than word vomiting your opinion.
We all know that employee who complains that everything stinks and everyone stinks, but does nothing about it.
Fix problems when you spot them. If you don't have the power to fix, influence the people who do to fix them.
Make your boss's life easier
A manager is hired to lead a team to execute on a plan.
Managers like direct reports who help them execute that plan.
Managers are frustrated by direct reports who try to rebel against the plan or make a fuss about the plan.
Most times, the plan is coming from upper management and the manager doesn't have a choice, and your fuss is making it 100 times harder for them to do their job.
The average individual contributor does not get paid to set strategic direction.
If you don't like that, then become a manager and work your way up to where you get paid to set the plan.
You won't get there (to management) by sharing your opinion about how horrible of a plan it is.
You'll get there by taking the questionable plan, tweaking it so it succeeds, and executing it so well management loves you for it.
I saw this situation play out at my old job.
Senior management wanted us to use a new tool and everyone hated the tool. Many groups made this huge stink about how awful the tool was and how it would ruin their productivity, their life, etc.
My team decided that we had to figure out a way to make this tool work and took a no excuses approach to it. If we gave the tool a solid chance, and it didn't work, only then could we go back to our leadership with the results. We could not complain before we even gave it a shot.
We owed it to our leadership to give it a shot or else why were they getting paid the big bucks to lead us?
While everyone else complained about the tool, my team just dealt with it and used it. We became the go-to for best practice of the tool.
At the end of the quarter, we were seen as the group who gets things done.
Do speak up when it matters!
I'm not saying you shouldn't give your boss important feedback when you feel an initiative will fail or is dangerous.
The lack of a speak-up culture was a key contributor to the Challenger Space Shuttle Disaster.
It's just important to use discretion on when you should speak up and when you shouldn't, and be self-aware to know if you are influencing or complaining.
And of course, you should always speak up in situations of corporate wrongdoing, workplace violence, if you spot harassment, etc. It's extremely noble and difficult to speak up in those situations but so important.
Use discretion when speaking up at work
Overall, there are so many times when sharing your opinion at work is so not worth it.
(I'm not talking about HR situations, danger, or corporate wrongdoing here. I'm talking about all other times).
Sometimes though, it will benefit you to speak your mind at work.
If you want to know when to share your opinion to get ahead in your career, check out the post on the 5% of your work that actually matters. If you speak up on the 5% of work that actually matters, it will help you get ahead.
This post is part of my career series, The 5 Things No One Tells You That Are Critical to Career Success. The other posts in the series are as follows:
Why Working In Your Passion Is Overrated
The 5% Rule And How It Can Help You Get Ahead
Why Woo Girls are Beating You at Life
Do any of these workplace scenarios resonate with you?
Got Money Goals?
Join 1,200 subscribers who receive weekly financial inspiration from Millennial Boss.
J paid off nearly $100k of debt and is on her way to financial independence. She hosts a
Money Podcast
and is obsessed with tracking her net worth via the free app
Personal Capital
(although she won't tell you what it is). She loves her dog and drinks iced coffee year round.
Latest posts by Millennial Boss