In the past two weeks, I have donated over 200 items of clothing. I typically donate one or two bags of clothing a year but decided it was go big or go home this year.
I donated 90% of our clothes to Goodwill
Before this recent purge, I had no idea how many pieces of clothing I owned.
I can tell you now that my fiancé and I had over 200 articles of clothing in our closets. Say what?!
I am not sure how the situation got this bad but it did.
Well, I sort of know. My fiancé and I both worked in the sports industry in the past five years so we got a lot of free athletic gear from those jobs.
I also didn't become budget conscious until two years ago so I had a lot of clothing from my early and mid twenties.
In the last two weeks, I have went through each and every article of clothing, taking a picture and putting it in a suitcase for Goodwill.
You need to take a picture of each item in case you get audited later.
My goal was to donate as many clothes as possible to get a bigger tax deduction.
How to go through your clothes for Goodwill
My approach to donating was different this time.
Past purging efforts failed because I refused to donate items that were still in good condition, items that I wore occasionally, and items that still fit. There were so many times when I would put an item in the donation bag just to change my mind and pull it back out two minutes later.
Now, I realize how ridiculous it is to have 4 similar sweaters in different colors, 10 workout shirts, and 10 sets of pajamas, sweatshirts, and free t-shirts from years past.
I also eliminated 75% of my professional attire. I recently realized that I never want to work in an office that requires formal dress. So I decided to leave myself two or three nice office outfits and I donated the rest.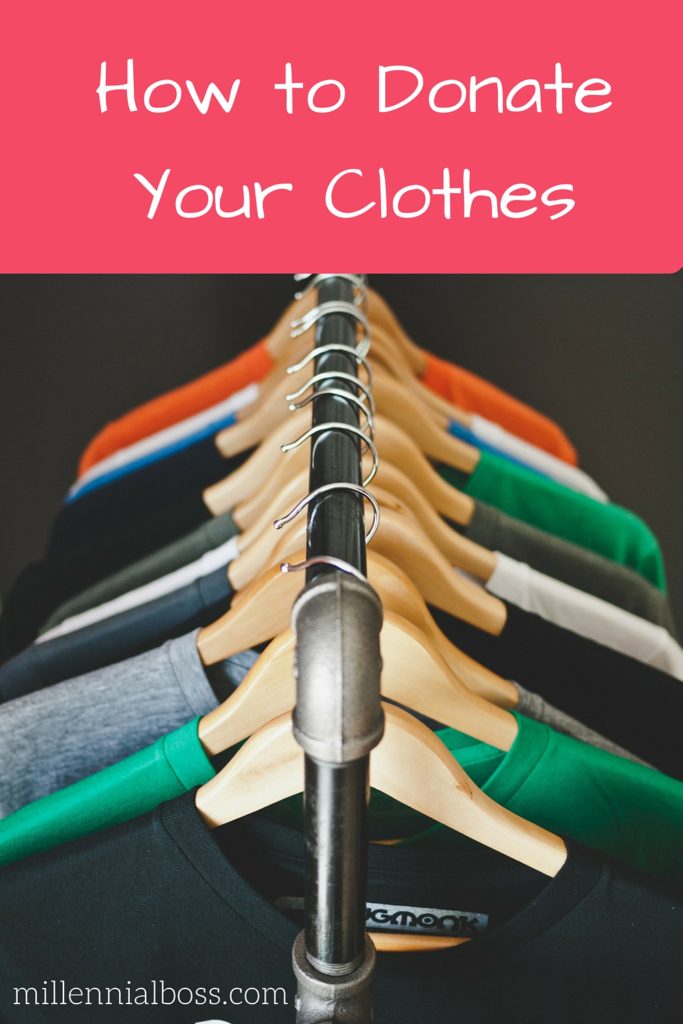 I also donated almost all of our old college gear. It made me sad to get rid of the sweatshirts and t-shirts with my college's name on them but it had to be done. I have the memories and don't need the stuff.
How I decided what clothes to leave
My strategy was to leave only two or three items of clothing in each category. For example: three nicer work shirts, three-workout t-shirts, two pairs of jeans, two casual t-shirts, etc.
I'm contemplating performing a second round of purging to get the number down even further.
I've read that you only need a small number of clothes in your wardrobe to have a signature style. I tried to think about that as I was eliminating clothes.
I don't have a signature style quite yet but I kept asking myself as I held up each item if I would want it to represent my signature style.
Could you make money selling clothes on eBay?
I probably could have made more money selling my clothes on eBay. I didn't sell any of my clothes online because I didn't want the overhead of having to post the items individually, answer questions, and deal with different customers.
I itemize my taxes each year and just wanted to go with the tax deduction. If I had more time and didn't have so much other stuff I was selling online, then I would definitely sell each item one by one on Craigslist or eBay.
Related articles: How I Saved $26,000 in 7 Months
How to donate to Goodwill for the tax deduction
For those of you that have never donated to Goodwill before, you need to count the items prior to getting to the store. The donation attendant will then give you a blank receipt signed and dated and then you fill out the donation amount yourself. I didn't realize that the first time I donated and I hadn't gone through all of the items prior for a final count.
Goodwill also has a donation tax guide that you can use to figure out the fair market value of each item. You deduct the total of your donations on your taxes. I have been taking pictures of everything I donate just in case I am audited.
Although the tax deduction won't immediately help the wedding fund, it gives me peace of mind and space in my new apartment!
So bring on the minimalism! I'll have to report back and let you know if I regret donating so much stuff! I have a feeling though that I am going to love it!
Related articles: How I Made $4,500 on Craigslist
Have you ever donated to Goodwill or sold items on Craigslist? What prompted the purge?
Get FREE Money Tips
Join our email list and receive helpful tips to improve your life and business